Heat FC Soccer Club celebrates 24 student-athlete signings
February 28, 2016 - 9:20 pm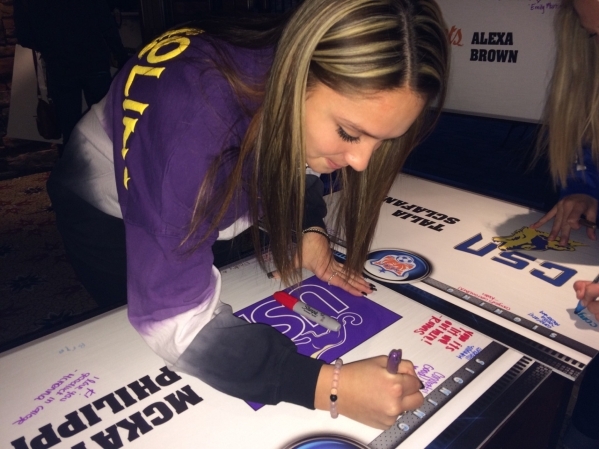 The Heat FC Soccer Club, the competitive soccer program of the Southern Nevada Soccer Association, hosted its annual college signing ceremony Feb. 3 at Red Rock Country Club. Twenty-four student-athletes who will be continuing their soccer careers at the collegiate level were honored.
Club members signed with schools such as Cornell University; Pepperdine University; UNLV; University of Nevada, Reno; the University of North Carolina at Greensboro; Washington State University; the University of Texas; and the University of Houston.
Being part of the club means taking soccer to the next level.
"They don't play high school soccer because the league has a 10-month league format, so there are way too many conflicts with high school soccer," said Key Reid, president of Heat FC and the Southern Nevada Soccer Association. "We've noticed that kids get injuries because they're overplaying, so the kids sacrifice and don't play high school soccer, and some of our kids play on youth national teams and things like that. … Some of the kids are first-generation going to college, so that's something we really try to push."
Key Reid is the son of U.S. Sen. Harry Reid. The soccer program's graduates come from across the Las Vegas Valley.
Amanda Schmutz, co-director of the club's U15-U18 Age Divisions, said signing with so many schools reflects the caliber of coaches and staff. She said that when players are young, soccer is about competing and having fun, but she also sees the hunger in them to achieve in the sport. Every player brings something to the table that makes them unique, she said, and colleges look at players individually, as what is right for one school may not be right for another. She has two daughters in the system, ages 8 and 9.
"This has been the fifth year I have been with HFC, and … every year, we've had 20-plus students, boys and girls, graduate and go on," Schmutz said. "It's expected, yes, but not because of luck. It's the coaches who work hard, the players who work hard, and having great students on and off the field — so expected, yes, but not taken for granted."
Tom Amick, Elite Clubs National League director, also has children in the system, ages 9 and 12. He said he likes working with young players.
"Usually when I get them, they are just starting, and they don't know a lot about college soccer," Amick said. "It's really cool for me; I see a lot of growth for them, not just on the soccer field but emotionally, socially and them becoming better players … growing as people, not just as athletes."
He said they made a lot of sacrifices to get to where they are today.
Karli Berry, 18, has signed with Cornell University. As an Ivy League school, it offers no athletic scholarships. She is set to graduate from Bishop Gorman High School. She said she loves the sport for the teamwork and camaraderie.
"It pushes me every single game," she said. "I love that it's a team sport; there is something to be learned every practice, every game. Nothing can stop me from growing in the sport, and that's what I love most about it."
She said being involved meant a lot of traveling, particularly on the weekends, and to keep up with her schoolwork, she would study and do homework on the road.
In its 10th year, Heat FC has become one of Nevada's largest competitive soccer clubs. It offers a full range of playing options for youths, from recreational through the highest competitive levels, as well as for adult players.
Courtney Merrill, 17, a student at Faith Lutheran High School, signed with Pepperdine University. She purposely looked for a faith-based school, one that had both a great education program and excellent soccer program. She plans to study biology; her father is a Pepperdine alumnus who studied law.
"It's a little nerve-wracking when you get into the recruiting process … but once you talk to coaches, it becomes easier and easier, and you become more comfortable with the process," Merrill said, adding that she began the process as a freshmen and signed on her junior year.
Emily Martin, 18, a student at Bishop Gorman, chose to sign with the University of Texas. She said when other schools learn she is from Las Vegas, they ask if it's super hot or if she lives on the Strip.
"As we've been going on, we are becoming more and more competitive, and I just was with some of my college teammates, who live in Dallas, and they were, like, 'Oh, who do you play for?' and I said, 'Heat FC. You probably haven't heard of it, living in Dallas' … but they had," Martin said. "So, we are definitely getting on the map."
The Southern Nevada Soccer Association offers recreational programs, Henderson United Youth Soccer and Southern Highlands United Youth Soccer. These recreational programs follow the U.S. Soccer Federation's guidelines for player development. Heat FC is also a member of both the Elite Clubs National League and National Premier Leagues.
"This is such a special night for these student-athletes and their families," Reid said. "Through their hard work and dedication, each one of these student-athletes will have the opportunity to attend college and continue to play the sport they love at the next level. We love sending kids to college and wish them the best in their individual college journeys."
Visit heatfcnevada.com or call 702-568-0400.
— To reach Summerlin Area View reporter Jan Hogan, email jhogan@viewnews.com or call 702-387-2949.