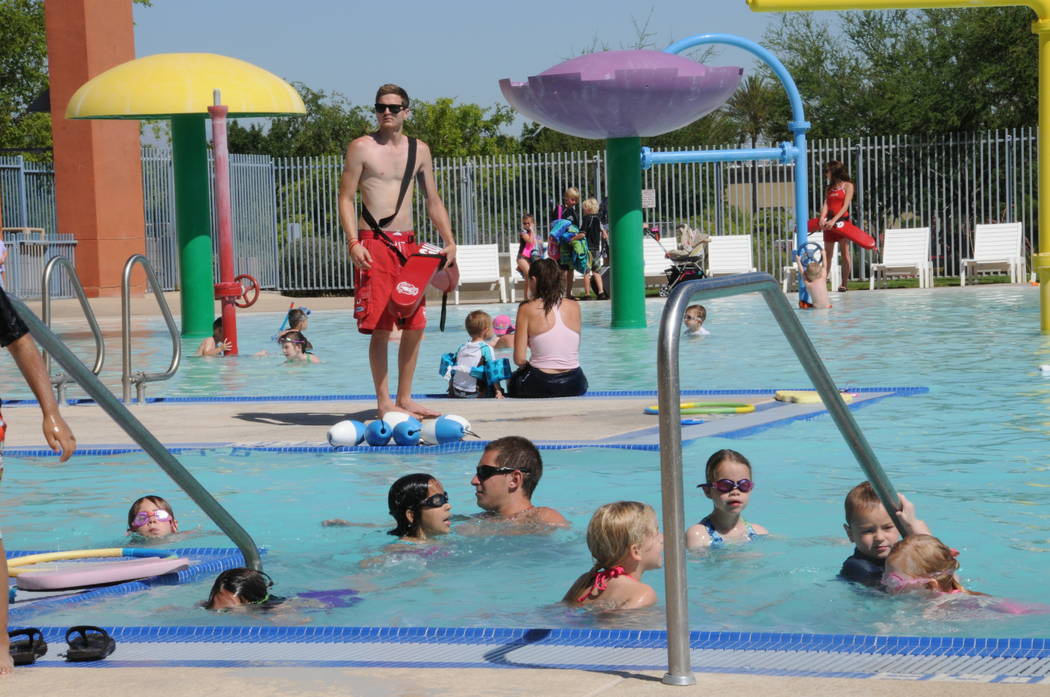 The Guinness Book of World Records will have one eye trained on Henderson on Thursday.
The Whitney Ranch Aquatic Complex is taking part in the World Waterpark Association's World's Largest Swimming Lesson at 9 a.m., an annual event that aims to raise awareness of the safety importance of swimming lessons. The Henderson pool is expected to be one of more than 600 locations taking part, with the hope that the combined participation beats the previous record of 36,564 people set in 2014.
"Definitely with all the agencies participating, I think there's a shot," City of Henderson Public Information Officer Kim Becker said, adding she's expecting 50 to 100 locals to come out.
During the event, certified water safety instructors and lifeguards will give safety tips and teach people how to swim or how to improve their technique. There's also an open swim after the hourlong free event, and information on the city's swimming lessons will be provided.
"We've had lifeguards give an overview of water safety," Becker said. "We typically see people that already swim that want to take part, and adults who don't know how to swim."
The ultimate goal of the event is to get more kids involved in swim lessons and prevent child drownings. There were eight fatal child drownings in Southern Nevada in 2016, six of them children 4 years old or younger, City of Henderson Recreation Services Director Angela Summers said in a statement.
The city joined with the event years ago to reduce those numbers.
"An event like this, not only is it fun, it lets parents know how important swimming lessons are," Becker said.
Flyball Tournament
Dogs of all breeds and mixes are converging in Mesquite on Saturday and Sunday for one reason: to compete.
The Rising Star Sports Ranch is hosting a flyball tournament over the weekend, with teams from California, Utah, Nevada and Washington expected to attend.
Flyball is a team dogsport in which four dogs must navigate a 102-foot course and eight jumps and trigger a box with a spring that throws a tennis ball the dog must catch, grab and carry back to its owner. Then the next dog must run the course and so on until all have completed it in order, with none dropping the ball.
Admission is free and spectators are welcome, though non-participating dogs are not.
The recreation notebook appears Tuesdays online and Wednesdays in print. Contact Ben Gotz at bgotz@reviewjournal.com. Follow@BenSGotz on Twitter.
Calendar
Saturday: World's Largest Swimming Lesson, Whitney Ranch Aquatic Complex, Henderson
Saturday: Running with the Devil, Las Vegas
Saturday and Sunday: Flyball tournament, Mesquite