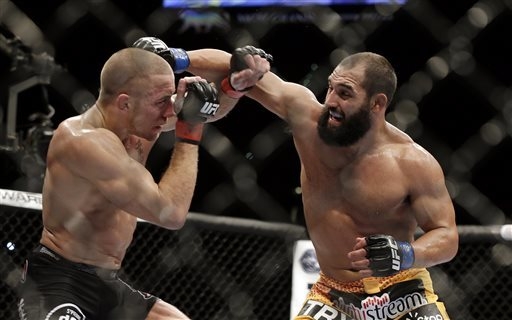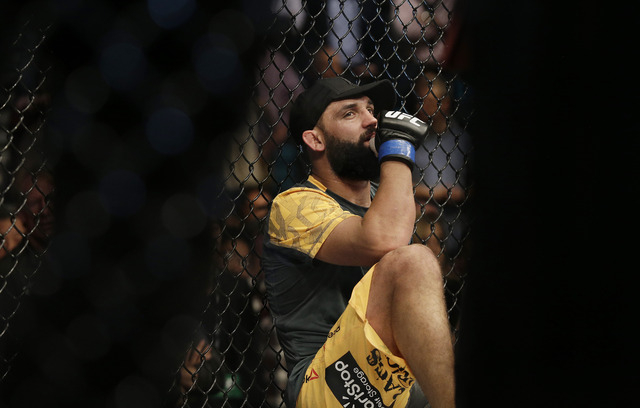 A group of supporters gathered around Johny Hendricks late Friday afternoon in Dallas and erupted in cheer as if he had won the Ultimate Fighting Championship welterweight title.
He hadn't.
What Hendricks had done was earn the right to fight for that belt Saturday night against Robbie Lawler in the main event of UFC 171 in Dallas.
Hendricks had failed to make the 170-pound weight limit at 4 p.m. Friday when he stepped on the scale at 171.5 pounds, putting in jeopardy his chances for winning the belt.
Hendricks would still have been able to fight Robbie Lawler had he missed weight, but only Lawler would have been able to win the belt. A Hendricks win would have resulted in the title remaining vacant.
But the fight is a full go for both sides after Hendricks was indeed able to drop the extra 1½ pounds about 90 minutes after his original attempt. Fighters are allotted an additional two hours to make weight if necessary.
A group of UFC officials, Texas athletic commission representatives, members of Hendricks' Dallas-based training camp and some of his most ardent supporters gathered around the scale as Hendricks attempted to make the weight a second time, in a video posted online.
When the commission official running the scale announced, "170," the group erupted in cheers.
Hendricks clapped his hands together and gave a loud, "Woo!"
Mike Dolce, Hendricks' nutritionist and conditioning coach and the best known weight-cutting guru in the sport, said in a text message to Fox Sports that the scale in the hotel may have been damaged and responsible for Hendricks' belief he was on weight the first time.
Lawler didn't seem concerned with all the drama going on around his opponent.
"I just control what I can control. I made sure I made weight and we're going to fight tomorrow night. It's not a big deal," Lawler told ESPN.com. "I believe in myself no matter what his weight was, if he was heavy or light, it doesn't matter."
Not being able to fight for the belt would have likely been a devastating blow to Hendricks, who said recently he considered Saturday night's fight his "first title defense."
Hendricks wholeheartedly believes he beat longtime champion Georges St. Pierre in November. He was crushed when St. Pierre was awarded the split-decision victory.
The four-time NCAA Division I wrestling all-American and two-time national champion from Oklahoma State soon got new life, however.
St. Pierre announced a few weeks later he was taking a hiatus from the sport and vacating the belt. UFC president Dana White, who also expressed his belief Hendricks had beaten St. Pierre, immediately announced Hendricks would fight Lawler for the belt.
Hendricks knew he had to move on and put the perceived slight of the judges behind him.
"I've got a very tough opponent in front of me. If I don't focus all on him, then sort of the same thing can happen. As soon as the judges announced what they said, I sort of had to put that in the back of my mind. Also as soon as I got the fight with Robbie, everything else just disappeared. I have another great opportunity. And I don't want to waste it," Hendricks said last week on a conference call.
Even though St. Pierre reigned over the division so long, Hendricks insists it would feel just as good to beat Lawler for the belt.
"It was never about Georges. It was always the belt. The belt means everything," Hendricks said. "So with a win (Saturday), my goal will be reached. I can't think backwards. Look at our division, it's pretty stacked with very talented people in the top 10.
"Now that Georges walked away, it's time for one of us to make our own mark. That's pretty much what I'm looking at."
The bout caps a pay-per-view event that features two other pivotal bouts in the welterweight division.
Former title challenger Carlos Condit will fight former Strikeforce champion Tyron Woodley. Another Strikeforce champion, Jake Shields, will fight Hector Lombard, who is 2-2 in the UFC since entering the organization on a 24-fight winning streak.
Diego Sanchez takes on unbeaten prospect Myles Jury in a lightweight bout as part of the 7 p.m. event.
Four preliminary card bouts will air live on Fox Sports 2 (Cable 319) at 5 p.m. The remainder of the card will stream online on the UFC Fight Pass subscription service, beginning at 3.
Contact reporter Adam Hill at ahill@reviewjournal.com or 702-224-5509. Follow him on Twitter: @adamhilllvrj.