Here are 5 players to watch during the Albuquerque-51s series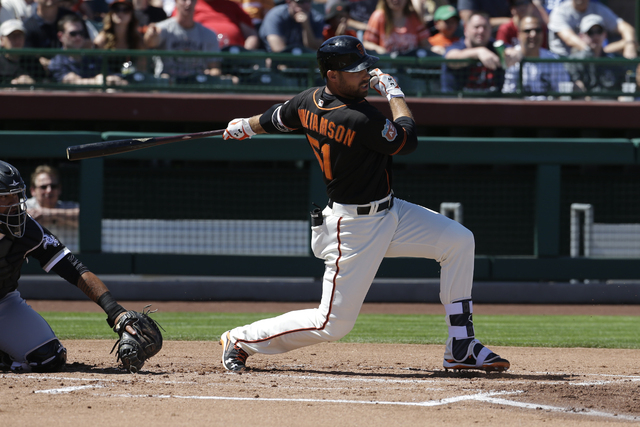 The 51s headed out on a quick four-game road trip Wednesday night. Here are four players to watch in the series against Albuquerque, which begins Thursday:
Robert Gsellman, RHP, Las Vegas
Gsellman, one of the New York Mets' top pitching prospects, was promoted to Triple-A on Wednesday. He will slide into Seth Lugo's spot in the rotation, making his Las Vegas debut on Saturday.
Gsellman was 3-4 with a 2.71 ERA in 11 starts at Double-A Binghamton this year.
"He's a sinker-slider type of guy with a changeup, but he's got a hard sink. His velocity's pretty good," manager Wally Backman said. "He's a real competitor, fields his position well, holds runners well, does all the things outside of pitching."
Seth Lugo, RHP, Las Vegas
With Gsellman being added to the rotation, the 51s shifted Lugo to the bullpen.
Lugo has been a starter throughout his minor league career, with the exception of 2014, so keep an eye on how he adapts to his new role. Lugo has the ability to hit mid-90s on the radar gun, something which he should flash more of out of the bullpen.
"It's a good move for him, I think, and he thinks it's a good move for him, as well, from what he said to me and (pitching coach Frank Viola)," Backman said. "It's an opportunity for him to really show his arm strength out of the bullpen."
Jeff Hoffman, RHP, Albuquerque
Hoffman began the season as the No. 68 prospect overall per Baseball America. So far this year, he's shown why.
Hoffman is 3-3 with a 2.67 ERA for the Isotopes in 11 starts. He'll make his 12th Thursday night opposing Las Vegas lefty Sean Gilmartin. He took a no-decision earlier in the year against Las Vegas, giving up two runs in six innings in late April.
Tyler Anderson, LHP, Albuquerque
Anderson, a Las Vegas native and graduate of Valley High School, was a Rockies first-round pick in 2011.
He's scheduled to start on Sunday in just his fourth Triple-A outing.
In the first three, he's 1-1 with a 2.12 ERA. Two of those three were quality starts and in one he gave up three runs in five innings. Anderson finished 2014 7-4 with a 1.98 ERA in 23 starts but his progress was slowed last year by an injury.
Brandon Nimmo, OF, Las Vegas
The outfielder comes into Thursday's game on a seven-game hitting streak, hitting .429 in that span with a pair of home runs. Nimmo collected three hits and three RBIs in Thursday's win over Tacoma and had multi-hit efforts in three of the four games in that series.
In the field, he's also adjusting to moving around more. Nimmo played almost all of his games in the first two months of the season in center field but in the last six, he's played each outfield position twice.