He's 41, but Padres' Maddux offers value in certain spots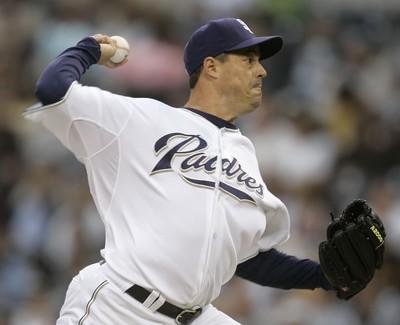 It's almost like old times for Greg Maddux. At 41, he's again in one of the strongest starting rotations in the major leagues, this time with the San Diego Padres.
Maddux is neither dominant nor a heavy favorite most times he pitches — as he was with the Atlanta Braves from 1993 through 2003 — but the Las Vegan continues to produce quality starts.
The Padres, near the top of the National League at 33-23, are winning despite being weak offensively. That's because right-handers Jake Peavy, Chris Young and Maddux make a triple threat on the mound.
One-third of the way into the baseball season, solid trends are forming. One of many strategies to being a winning baseball bettor is to identify pitchers and teams that tend to be undervalued in certain spots.
"What happens is the public kind of avoids and doesn't want to bet on some of these teams," said handicapper Kelso Sturgeon (kelsosportshandicapping.com). "Bookmakers know people are going to bet on the New York Yankees, so they make them pay.
"You have to go back and really study these pitchers. You've got to be very selective. You have to understand you can't keep betting the big favorites."
Peavy, 7-1 with a 1.68 ERA, is in his prime and rarely comes at a cheap price. Young (6-3, 2.42) and Maddux (4-3, 3.92) often provide value, especially at home.
Young is 2-1 with a 0.66 ERA in four starts at Petco Park, where he's a small favorite today against the Los Angeles Dodgers.
Maddux is 4-1 with a 2.73 ERA, allowing 30 hits in 33 innings, in five home starts. But he has been roughed up in six road starts, going 0-2 with a 5.08 ERA and allowing 45 hits in 33 2/3 innings.
The Padres, with their combination of solid pitching and shaky hitting, have gone under the total in 16 of 24 home games.
Maddux now flies under the radar, for the most part. When he returns to the Yankees, veteran Roger Clemens frequently will be an overpriced favorite for a team that is 24-31.
Here's a look at other pitchers to consider betting on or against:
American League
• Dan Haren, Oakland: After winning 14 games in each of the past two seasons, Haren (6-2) led the AL with a 1.64 ERA going into his start against Boston on Monday. Also keep an eye on A's starters Chad Gaudin (6-1, 2.41) and Joe Blanton (5-3, 3.81).
• Felix Hernandez, Seattle: Only 21, Hernandez is an overpowering prospect destined to be one of the majors' best. He had an arm injury early in the season, but when healthy, he's tough to beat.
• Edwin Jackson, Tampa Bay: Not long ago, Jackson was the Dodgers' top prospect. He struggled with the Triple-A 51s and is making no progress with the Devil Rays, going 0-7 with a 7.77 ERA in 10 starts. Bet against the 23-year-old Jackson and consider betting on his teammate James Shields (5-0).
• Ervin Santana, L.A. Angels: The trends for Santana are undeniable. The Angels right-hander is a cash machine at home, where he's 4-1 with a 2.41 ERA, and a definite bet-against pitcher on the road (0-5, 9.30).
National League
• Tom Gorzelanny, Pittsburgh: The Pirates' top young left-hander the past two years was Zach Duke. But as Duke (2-6, 5.73) has suddenly declined, Gorzelanny (6-3, 2.53) has picked up the slack.
• Cole Hamels, Philadelphia: In his second year in the majors, Hamels is maturing into a reliable starter. The left-hander is 8-2 with a 3.55 ERA and has 91 strikeouts in 83 2/3 innings.
• Tim Lincecum, San Francisco: After adding free agent Barry Zito to a rotation that included Matt Cain, Noah Lowry and Matt Morris, the Giants promoted the 22-year-old Lincecum in May. The organization's top prospect, Lincecum is 2-0 with a 4.05 ERA in six starts. He has 39 strikeouts in 40 innings.
• Brad Thompson, St. Louis: Injuries forced the Cardinals to move Thompson (4-1, 4.37) into the rotation, and the Las Vegan has pitched well. But betting on St. Louis' Kip Wells (2-10) is not a swell idea.