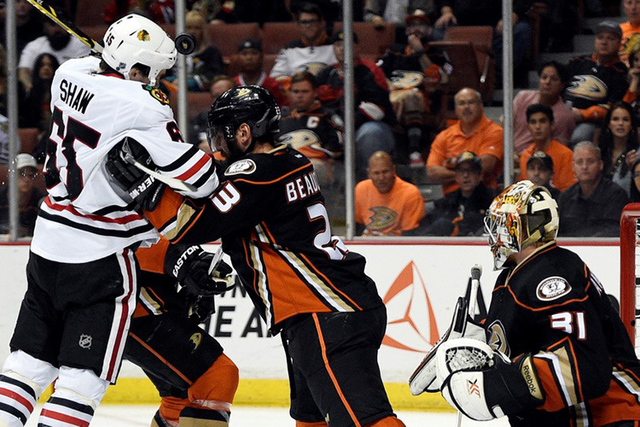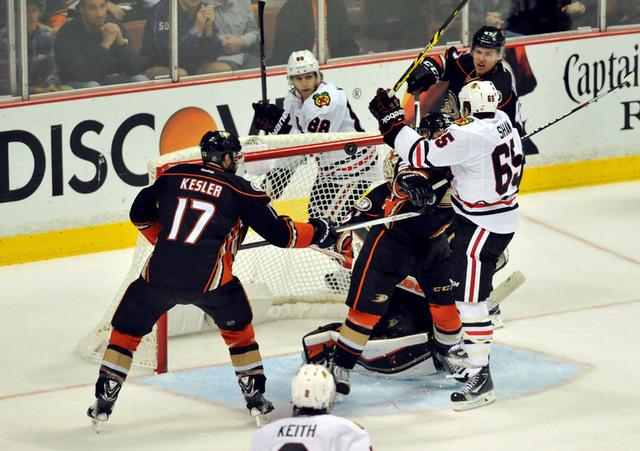 It would've been one of the most spectacular goals in NHL playoff history had it counted.
Chicago Blackhawks center appeared to score the winning goal by head-butting the puck into the net at 8:47 of double-overtime Tuesday night against the Anaheim Ducks in Game 2 of the Western Conference finals.
However, Shaw's heady play was disallowed following a review because of a rule which states "Apparent goals shall be disallowed when the puck has been directed, batted or thrown into the net by an attacking player other than with a stick."
At least we'll always have video of the hockey header.
Shaw's play helped spearhead Chicago's 3-2 win over Anaheim in triple overtime in the longest game in the Blackhawks' 89-year history. Marcus Kruger scored the winning goal 16:12 into the third extra session as Chicago evened the series 1-1.
After the game, Shaw said he'd played a little soccer growing up in Canada and thinks head-butt goals should count because of their high degree of difficulty.
"If anyone can pull it off, I think they should call it a goal, just how cool it is," he said.
Check out the video below.