Hoffman quick to catch on
November 16, 2012 - 2:12 am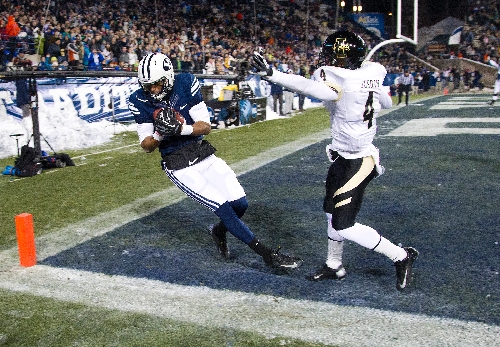 For Brigham Young receiver Cody Hoffman, his 2012 success can be attributed to fundamentals. Whether it's in the film room or the practice field, the junior from Crescent City, Calif., finds his attention to detail as his greatest weapon on game day.
"I think just knowing the defense and where they are going to be and where you should be is what helps me," Hoffman said of the value he places on pregame film study. "We have an idea of what's going to work, and we make sure the scout defense sets it up for us."
A lot has worked for Hoffman since his days at Del Norte High School. Despite his good hands and 6-foot-4-inch frame, he was barely recruited out of high school. He eventually landed at BYU after a teacher, who played football with Bronco Mendenhall at Oregon State, called the coach.
In less than three seasons, Hoffman as climbed to No. 7 on the Cougars' career reception list with 168 and needs to average 67.7 yards in the next three games to become BYU's first 1,000-yard receiver since Dennis Pitta and Austin Collie did it in 2008.
Hoffman, who caught three touchdown passes in the first half last week against Idaho, will make his return to Northern California on Saturday when BYU (6-4) plays at San Jose State (8-2). The game will be televised on ESPN2 (Cox 31) at 7:30 p.m.
"We are going to do what we know best and just stay within the fundamentals and the play-calling," he said. "They think they are a better team than us, and we are going to show them who is better."
■ HEALTHY AND HAPPY – Senior quarterback Riley Nelson has declared himself almost all the way back from the back injury he suffered against Weber State on Sept. 8.
"To be able to run and convert on third and fourth downs makes all the difference in the world," Nelson said. "It feels good to be back. I'm not all the way there, but it's making all the difference in attitude, psyche and confidence."
Nelson combined for 440 yards passing and four touchdowns in BYU's past two games, at Georgia Tech and against Idaho. He also ran for a combined 66 yards and a touchdown and was sacked once.
■ NO BOISE REMATCH – BYU will play a team from the Mountain West Conference in the Poinsettia Bowl in San Diego on Dec. 20, but it won't be Boise State even if the MAACO Bowl Las Vegas passes on the Broncos.
"There will be no rematch," Poinsettia Bowl executive director Bruce Binkowski said. "Neither team wants that."
Boise State beat BYU 7-6 on Sept. 20 in Boise, Idaho. Las Vegas gets the first selection from the MWC. The Poinsettia Bowl chooses second and has said it prefers San Diego State.
■ BASKETS IN BROOKLYN – The BYU basketball team (2-0) meets Florida State (1-1) today in the Coaches vs. Cancer Classic in Brooklyn, N.Y. The game will be televised at 4 p.m. on truTV (Cox 54). The Cougars will face either No. 22 Notre Dame or St. Joseph's on Saturday, also on truTV. The time hasn't been determined.
■ ROSE RECRUITS – Basketball coach Dave Rose will discuss his November recruiting class at 5:30 p.m. Monday on BYUtv (Cox 352).
Among the Cougars' five signees are Nick Emery and Jakob Hartsock, the younger brothers of former star players Jackson Emery and Noah Hartsock. BYU remains in the mix for highly touted Chicago prospect Jabari Parker, who will make his official visit to campus Nov. 24.
Dave McCann is a news anchor for KSL television in Salt Lake City and is the play-by-play voice for BYU sports on BYUtv. He also is the host of True Blue, which airs Mondays at 5:30 p.m. on BYUtv. McCann can be reached at dmccann@ksl.com or on twitter: @DaveMcCannKSL.