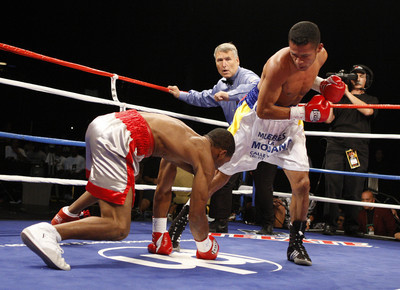 It was perhaps the most action-packed 61 seconds of boxing this year.
Kendall Holt was on the verge of being knocked out in the first round Saturday night at Planet Hollywood's Theater for the Performing Arts, getting dropped twice by Ricardo Torres in the first 40 seconds.
But Holt regrouped and landed a huge right hand to knock out Torres and take his WBO junior welterweight title, avenging a Sept. 1, 2007, loss to Torres in Colombia.
Holt's stunning reversal of fortune officially came at 1:01 of the first round of their 12-round fight, a turnabout that left an announced crowd of 3,226 shocked by what it had just witnessed.
"This is better than a dream come true," said Holt (24-2, 13 knockouts). "I know I beat him the first time, and now everyone saw what happened tonight."
Torres appeared to be well on his way to retaining the title and proving his win last year was no fluke.
He sent Holt to the deck with a right hand 15 seconds into the fight. Holt got right up, shaking his head to let everyone know he wasn't hurt. But a few seconds later, he was on his back again, as a Torres left hook dropped him.
"I never saw the first knockdown coming," Holt said. "I looked away, and I was distracted for a split second. The second knockdown, I saw it coming, but I couldn't do anything about it. But I wasn't hurt, so I just got to let it go."
Then it was Holt's turn. One second, the 27-year-old from Paterson, N.J., was backpedaling, and the next he was striding toward Torres, unleashing a huge overhand right that caught him flush on the temple.
Torres crumpled to the canvas in a heap, and referee Jay Nady wasted no time stopping the fight.
"I wasn't going to give up," Holt said. "I caught the guy perfect and was pretty sure that would end it.
"Let the blood flow. Let 'em see the blood. I may go down, but I get back up. I may lay down, but I laid him back down."
Torres (32-2) said he had no one to blame but himself for losing the belt, though he claimed there was a head butt just before Holt's knockout punch that contributed to his demise.
"I had him," Torres said through an interpreter. "He was in my hands. I got careless, and he got me. I was off-balance, and I never saw that last punch."
Holt, who closed as a minus-240 favorite at Planet Hollywood's sports book, went to Torres after the fight and thanked him for the rematch.
"I told him, 'Thank you for the opportunity. You didn't have to do this. I wouldn't be a world champion if you didn't give me the second chance,' " Holt said.
The undercard was highlighted by the Top Rank debut of super lightweight Lamont Peterson, who was impressive in scoring a ninth-round technical knockout over Rogelio Castaneda.
Peterson (25-0, 12 KOs) dominated from the opening bell and had Castaneda in trouble in almost every round.
He unleashed a huge right hand midway through the ninth round, sending Castaneda to the canvas. He was able to continue, but with 10 seconds remaining in the round and his fighter getting pummeled, Castaneda's trainer, Israel Piceno, threw in the towel to stop the fight.
Contact reporter Steve Carp at scarp@reviewjournal.com or 702-387-2913.