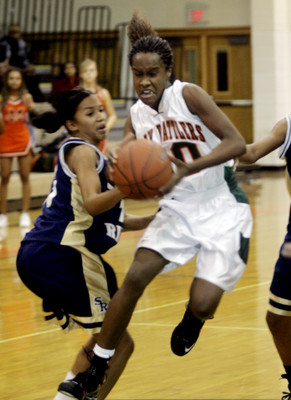 A lesser player might have cowered, might have succumbed to failure, but Chelsea Hopkins gritted her teeth and power-stepped Mojave's girls basketball team to a gutty
56-49 overtime win over visiting Shadow Ridge on Thursday night.
Hopkins sat dejected after she was called for traveling on the Rattlers' last possession of regulation, stewing on her mistake for roughly five seconds after the Mustangs' last-ditch shot sailed over the basket. But she swallowed her pride and took the ball on the first possession of overtime.
And she made the exact same move that prompted the traveling call.
Shimmy right, shimmy left, shimmy right, power step to the hoop, layup, good.
This time, there was no travel. This time, Hopkins — and the four other Rattlers on the court — pumped their fists, realizing they had the game within their grasps.
"She's the player that keeps fighting, no matter what," Mojave coach Rochuel Grayson said. "She knows within herself that if she makes the same exact move at the same exact time, it'll fall."
Added Hopkins, who finished with 31 points, 11 rebounds and six steals: "I was upset, no doubt, but at the same time I knew I still had time to take over and win the game. I thought about it for a second, kept my composure and went out and played."
The layup sparked a 12-5 Mojave scoring edge in an overtime period that the Rattlers completely controlled. And the one-sided overtime followed a similarly lopsided fourth quarter, as the Rattlers came back from a 37-22 deficit after three. Hopkins scored 16 points in the fourth quarter.
After falling behind because of a combination of poor fundamentals — 13 turnovers and bad weak-side defense — Mojave seemed almost allergic to movement. The Rattlers' post players seemed content to watch Hopkins dribble around the perimeter.
But as the tide turned, Jasmine Osteen (10 points, eight rebounds), Terreya Hymon and Clarissa Cannon played a bigger part of the offense and a major role in the comeback.
"I can't say enough about the bigs," Grayson said. "We're trying to find some chemistry between the bigs and Chelsea. Once we get them involved, it's gonna be hard to guard both.
"The bigs are hungry, though — they want to show Chelsea that they have her back."
• Legacy 64, Cheyenne 59 — At Legacy, Kindrea Poole scored four of her team-high 26 points in overtime to lead the Longhorns.
Poole also had 21 rebounds and five assists, and Brianna Watkins scored 18 points for Legacy.
Raven Hicks scored 28 points, including a shot with nine seconds to go in regulation to force overtime, for the Desert Shields.
• Liberty 54, Foothill 51 — At Foothill, Jade Washington had 16 points, eight steals and seven assists to lead the Patriots to the overtime victory.
Daynice Cochran scored 16 points for Liberty. Mercedes Starr's 3-pointer near the end of regulation capped an 18-6 Falcons run and forced overtime. Bridgette Rigon led Foothill with 15 points.
• Basic 68, Del Sol 25 — At Basic, Bri Perone scored 13 points to lead the Wolves.
Lauren Johnson and Maya Darby each scored 11 for Basic, which led 17-2 after the first quarter.
Sash Zaro scored 12 points for the Dragons.
• Cimarron-Memorial 49, Arbor View 28 — At Cimarron, Karyn Turner and Catherine Wyre combined for 41 points as the Spartans rolled.
Turner scored 22 points and Wyre 19, with neither player logging much time in the fourth quarter.
BOYS
• Cimarron-Memorial 70, Arbor View 60 — At Cimarron, Mike Cutright had 49 points and 13 rebounds for the Spartans.
Cutright was coming off a 39-point effort against Shadow Ridge on Tuesday. Darington Banks led the Aggies with 19 points.
• Basic 74, Del Sol 72 — At Basic, Tyler Dobbins drained a 3-pointer with 10 seconds left in the second overtime as the Wolves survived.
Josh Ross led Basic with 21 points. James Holmes scored 16 and Jamal Joyner 15 for the Wolves.
Maurice Lawson had 27 points for the Dragons, who rallied from a 48-40 deficit after three quarters to force overtime.
• Cheyenne 69, Legacy 56 — At Legacy, Ricky Henry led five Desert Shields scorers in double figures with 16 points.
Demetric Williams, Elijah Johnson, Christian Lightbourne and Jaylen Henry each scored 10 for Cheyenne.
Sonny Sandifer led the Longhorns with 13 points.
• Mojave 72, Shadow Ridge 48 — At Mojave, Darian Norris had 23 points and Kevin James 19 points and 12 rebounds as the Rattlers coasted.
Tyler Marshall led the Mustangs with 18 points.
• Foothill 69, Liberty 58 — At Foothill, Ben Green had 15 points to lead a balanced scoring attack as the Falcons defeated the Patriots.
Kadeem Miner scored 13 and Evan Roquemore 12 for Foothill. Liberty's Justin King led all scorers with 24 points.