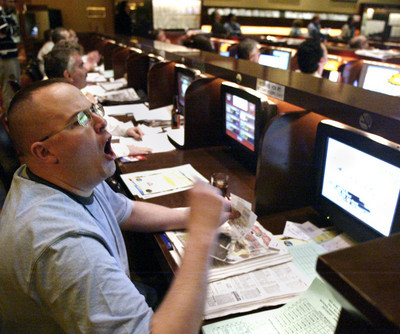 There aren't many occasions for happiness for an American soldier in Afghanistan. But U.S. Army Sgt. Christopher Lavezza managed to find some joy there on a pair of fateful days last spring.
Lavezza, an 11-year veteran of the U.S. Army and avid horseplayer, qualified online for the National Handicapping Championship in Las Vegas while he was stationed in Kabul, Afghanistan.
Lavezza, 32, placed eighth in a field of 200 people on April 14 in a preliminary online qualifier and then finished fourth in a field of 60 players on April 28 to qualify for the $1 million NHC, which took place Friday and Saturday in the race book at Red Rock.
"It took my mind off being in a war zone for a while, as I was concentrating on making the best selections possible," said Lavezza, an information systems specialist who is responsible for keeping the computer networks up and running in U.S. Army intelligence operations centers.
Lavezza, who was deployed in Kabul as part of Operation Enduring Freedom for a year — from September 2006 to September 2007 — went to bed on the night of the preliminary round thinking he had failed to advance after the first five of his 10 horses didn't place.
But he awoke the next morning — in a room he shared with six other soldiers in an Afghan house — to discover three of his final five selections were long-shot winners. The late surge lifted Lavezza into the final round, where he picked the first three winners — including two long shots that paid $25.80 and $17.60 — to propel himself to the head of the pack.
Needing to place sixth or better, or in the top 10 percent of the field, Lavezza picked the winner of the final race to finish fourth and qualify for an all-expenses-paid trip to Las Vegas.
"I was tickled pink," Lavezza said. "I was jumping up for joy because I never thought I was going to make it, because I know how hard the game is."
But the game is nothing compared to what Lavezza and his fellow soldiers faced every day in Afghanistan.
"It's pretty dangerous. You definitely have to be prepared all the time for (improvised explosive devices) that the Taliban likes to use to kill coalition forces with," said Lavezza, who is married and has a 5-year-old son. "They don't have cement roadways over there; they use dirt trails as roadways. There's a lot of mud buildings and old stuff from the Soviet war left over and rusting away. It's very sad, and it's a very poor country."
Lavezza, who has been stationed in Germany since September, finished out of the money in the NHC, which awarded $500,000 to winner Richard Goodall of Las Vegas, the only two-time Handicapper of the Year.
Lavezza placed 202nd in a field of 278 players who had to pick 15 horses each day, but he beat the only odds that truly matter by emerging unscathed from Afghanistan, where he worked in a compound behind the U.S. Embassy and survived several bombings.
"There were a couple bombs that went off. They were further out from where I was at, but they were still close enough to where it shook the ground," he said. "If a bomb did go off, you had to run into a concrete barrier to protect yourself from shrapnel.
"I had to do that a couple times in Kandahar. There were a couple incidents where they bombed the base and we had to run to the barrier."
Lavezza, originally from Hanover, Pa., had to wait until he was stationed in Germany — where "it was nice to finally see some grass again" — to request the time off to travel to Las Vegas, where he was reunited with his family.
On Wednesday, he flew from Frankfurt to Atlanta, where his father and brother joined him for the flight to Las Vegas. On Friday, Lavezza's wife and son joined him, making the family reunion complete.
"It's going to be nice," Lavezza said Thursday. "I haven't seen them since March."
Lavezza, who said he had a "wonderful" family dinner planned for Friday, was introduced to horse racing by his father and said he wishes he "could play every day."
He might get that wish. Lavezza is scheduled to be discharged from the U.S. Army in November and has his sights set on a job at Nellis Air Force Base.
Contact reporter Todd Dewey at tdewey@reviewjournal.com or (702) 383-0354.