How the Cavs took over XS Nightclub in Las Vegas in the middle of the night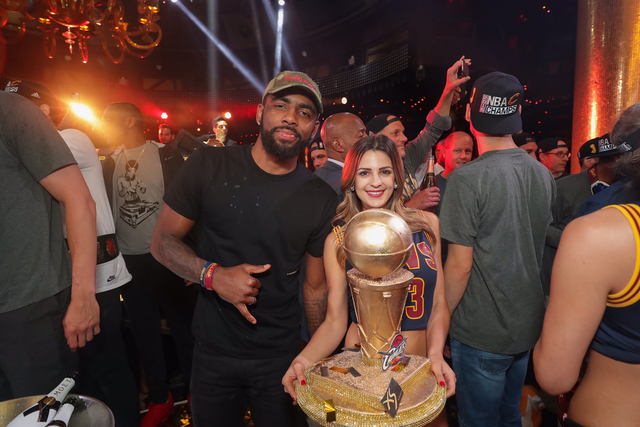 Tattooed J.R. Smith pulled off his Champagne-soaked shirt, dress code be damned, and exchanged Champagne sprays with an XS cocktail waitress, soaking her head fully.
Other Cleveland Cavaliers players grabbed Champagne from buckets of bottles awaiting their victorious hands, drank it and sprayed it.
And that is how the newly minted NBA champs took over XS nightclub in the middle of the night, after flying to Las Vegas right after beating the Golden State Warriors in Oakland on Sunday.
They arrived by plane at about 1 a.m. — Smith, LeBron James, Kyrie Irving, Kevin Love, Richard Jefferson, coach Tyronn Lue, team owner Dan Gilbert and other players and staffers.
They rode directly to the Wynn. This was all prepared beforehand, of course. There was a cake waiting, shaped like the NBA trophy, and cocktail waitresses wearing bikini bottoms and LeBron James tops.
The song DJ Alesso was playing one second before the team walked by a bikini-clad reception line was Khia's "My Neck My Back (Lick It)."
Social media is full of posts from XS revelers, revealing the usual extravagance reserved for celebrities in the club — a marked-off area for the stars, giant signs alerting everyone to their presence, and the thumping crowd.
Afterward, the Cavs dined on Italian-American food at Allegro restaurant in the hotel.
They returned to Cleveland later Monday.
We may not have an NBA team in Las Vegas, but we had THE NBA team here. That counts for something.
JOHN LEGEND'S LAP DANCE
Why is everyone ignoring the half-naked man who stripped on top of John Legend at Mariah Carey's Colosseum bed on Saturday?
Legend (singer of "All of Me," "You & I") was in Carey's crowd with his model wife, Chrissy Teigen, before he was escorted to a stage bed for this moment of star power synergy.
As many media reported, Carey stroked Legend for a moment with a pink feather while she sang "Touch My Body" — and you can clearly discern in YouTube videos she is singing with her mouth, throat and diaphragm, unlike rival lip syncers on the Strip who shall go unnamed.
Legend's eyes were covered by a red, fluffy blindfold. He crossed his arms, smiling. Teigen reacted quite happily, standing at her seat.
And then one of Carey's male dancers stood on the bed, faced the crowd, disrobed to his finely crafted abdominal muscles, all to primal hoots of a frenzied audience.
Yet, for some reason (Puritans? Not enough research?), "Entertainment Tonight" and ABC News, among others, completely ignored the male striptease staged over Legend's body, which was the denouement of this highly choreographed spectacle.
I don't like it when people ignore the steamy side of Las Vegas. We may have no humidity outside, but inside is an entirely different matter.
MODEL TOURISTS
Brazilian Victoria's Secret model Alessandra Ambrosio brought a bevy of attractive friends to the Strip for a weekend.
On Friday, they ate at Mizumi in the Wynn, then congregated around dance floor banquettes in Intrigue nightclub, surrounded by Champagne.
On Saturday, it was Encore Beach Club.
On Saturday night, they saw "Le Reve."
SIGHTINGS
Before Legend and Teigen saw Carey on Saturday, they dined on king crab, bone-in filet, and cabernet in STK in The Cosmopolitan hotel. He tipped well.
In the crowd for Mariah Carey in the Colosseum at Caesars Palace: On Friday, fashion designer Alexander Wang, and Kelsey Grammer with wife Kayte Walsh.
Seattle Seahawks' Richard Sherman partied with friends Friday at Marquee Dayclub in The Cosmopolitan.
James Woods ate at Capo's restaurant on Saturday.
Doug Elfman can be reached at delfman@reviewjournal.com. He blogs at reviewjournal.com/elfman. On Twitter: @VegasAnonymous