Hunter aims to 'Make That Man Proud' in Olympics
September 2, 2007 - 9:00 pm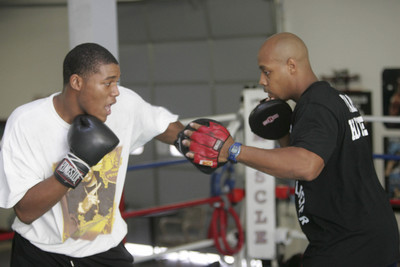 When you're a boxer and the bell first sounds, you're supposed to be on your own. Just you and the other guy across the way.
But when Michael Hunter readies himself to throw that first punch, he's not alone. He has the presence of another fighter with him: his late father.
To some, that might seem like an unfair advantage, two against one. But the reality is the 19-year-old Hunter has the unfair scenario. He is fatherless and, each time he steps through the ropes to compete, carries the burden of having to fight for two — himself and his deceased dad, who was shot and killed 19 months ago in Los Angeles after a confrontation with police on a hotel roof.
"It's hard, but I know he's watching over me," Hunter said of his father, who was known as "The Bounty" and was a journeyman heavyweight in the late 1980s and early '90s before a spiral into drug abuse short-circuited his career and led to his demise.
"He wanted to be with me for this," Hunter said last week.
"This" is Hunter's road to the 2008 Olympics in Beijing. He won the super heavyweight championship at the U.S. Olympic Boxing Trials last weekend in Houston. In a week, he will leave for the U.S. Olympic Training Center in Colorado Springs, Colo., where he'll spend the next eight to 10 months preparing for the various international styles he'll see in China next August.
"I'm excited," said Hunter, who graduated from Palo Verde High School last year and is a member of the Genesis Boxing Club. He trains at the team's gym on Redwood Street under the tutelage of Mike Newson and Bobby Chiodini, who have handled him for the last eight months.
"I've never been away for this amount of time," Hunter said, "but I think it'll be good for me. You see a lot of different styles of fighters at the Olympics, so this will help get me ready."
At 210 pounds, Hunter is a light super heavyweight. Chances are he will encounter fighters at the Olympics who are 50, 60, maybe 70 pounds heavier. But what he lacks in bulk he makes up for in movement and quickness.
"He's slick," Newson said. "Guys can't hit him. He moves so well in the ring. You don't see that in a big guy."
Hunter is 27-4 in 31 amateur fights and said he's still learning. But he also knows he has gifts, and, coming from a boxing background — his maternal grandfather, Norman Henry, was a matchmaker in Philadelphia in the 1960s and '70s — he has developed quickly.
"Maybe it's hereditary," he said. "I've always loved boxing. I played football in high school and was going to play basketball, but I broke my foot. That's when I started to concentrate on boxing."
In Houston, Hunter hardly was challenged. In the finals on Aug. 25, with the bid to Beijing on the line, he defeated Kimdo Bethel of Albany, N.Y., 14-7.
"I'd seen most of the guys I had fought before, and the guy I was fighting in the finals, I'd beaten him twice before," Hunter said. "I was a little nervous because I knew what was at stake.
"But once I got in the ring, I pretended I was just sparring and we're in my gym. That helped relax me, and I just took care of my business."
Newson and Chiodini believe they are coaching a budding gold medalist and a future professional world champion.
"He's special," Chiodini said. "I watch the way he carries himself. He's got a way about himself that makes you believe he can go all the way. Plus, he's got unbelievable talent, and he's willing to listen, work hard and get better."
Said Newson: "His drive is like no other. He's really motivated. He wants to help his family and his friends and make his dad proud."
That, more than anything, is what resonates with the younger Hunter. It's why he has adopted the slogan "Make That Man Proud. RIP." He had a special T-shirt made that has his father's likeness with those words stenciled on it. He wears the shirt whenever he enters the ring to compete.
"It's my way of paying respect to him," Hunter said. "But it's not about the shirt. It's about the message. It's important to me that I make my father proud. He was a genuinely good person. A cool guy.
"It's sad what happened to him, how the drugs got to him. But I learned from what he went through, and I don't plan on going down the same path."
Hunter is a role model for the 30 youngsters who train at Genesis Gym. More than half are at-risk kids who have had brushes with the law and are hoping to use boxing to get their lives on track. In Hunter, they see someone who, unlike them, never has had a run-in with the police or used drugs or run with a gang and instead is on the precipice of accomplishing something they only could dream of: becoming an Olympic champion.
"These kids look up to Michael," Chiodini said. "They see what he's accomplishing, and it gives them hope. He'll work with them, help them. They love Michael."
While Hunter loves to help others, he is not prepared to go on his Olympic journey by himself — at least spiritually. But at some point he will be known for his accomplishments rather than being the son of a former boxing champion who followed in his father's footsteps.
"I feel I'm becoming more my own person," he said. "But I'm just trying to do what I feel in my heart is right. I loved my dad. He was good to me, and I don't want to forget him. That's why he's always in my thoughts.
"I think I'm my own guy. The other stuff is a reminder to me to stay focused."