Hurdles don't keep Bryant from crown
October 15, 2013 - 10:58 pm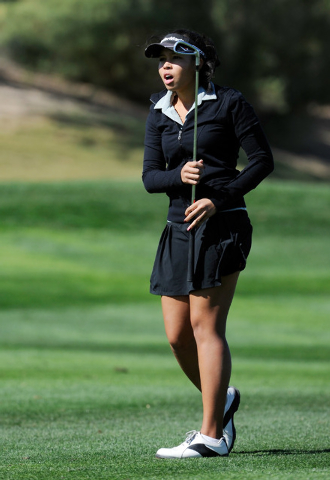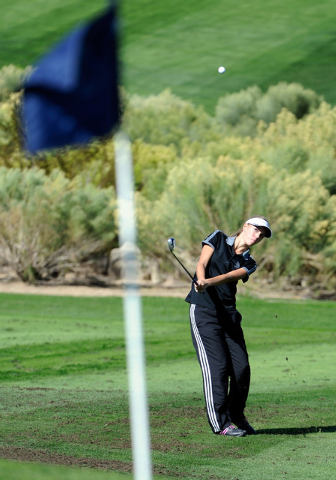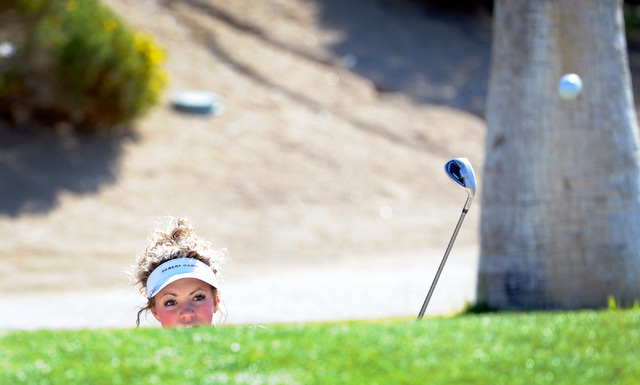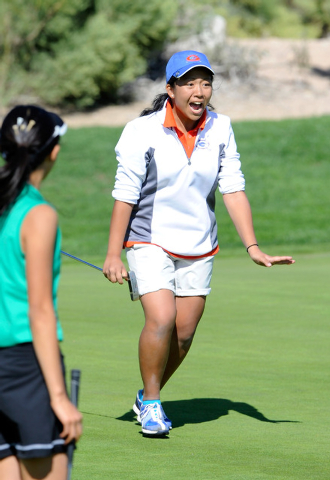 Most golfers can't overcome adversities like a rugged course, chilly winds, an 11 on a par-4 hole or a four-shot deficit with five holes to play.
Cimarron-Memorial senior Aspen Bryant faced all those obstacles Tuesday and still won the Division I Sunset Region tournament at Siena Golf Club.
Bryant led Desert Oasis junior Allison Weiderman by four strokes at the turn but unraveled to start the back nine after ending up in a hazard off her tee shot, the rough once and the sand twice. Bryant took an 11, and Weiderman parred the hole and darted into first place by three strokes.
"When I shot an 11 on (the 10th) hole, I tried to go for it, and I kept trying to go for it, and I ended up just missing and missing worse and worse every time," said Bryant, who carded an 11-over-par 83 — nearly seven shots higher than her season average. "I knew 10 was kind of a freak thing for me … I just didn't really talk anymore, smile or anything. I just thought, that's not me, so keep playing."
Keeping her poise, Bryant was consistent over the final eight holes — parring five of them and birdieing the par-3 14th — to stay in the hunt. Weiderman was steady as well, with four pars and a birdie on the back nine. But the junior came undone on the 16th, where she was 4 over and handed the lead back to Bryant.
"I aimed a little wrong; I was rushing a little bit because I was cold," said Weiderman, who finished second with an 85. "I tried to remain calm, focused and just play my game and play the course."
Bryant parred the last three holes to seal the win.
Bishop Gorman senior Katie DeJesus shot 86 to place third and help lead the Gaels to the Sunset team crown with a score of 372. Desert Oasis (395) took second, and Palo Verde (422) placed third. Gorman and Desert Oasis advanced to next week's state tournament at Bear's Best Golf Club.
Arbor View sophomore Betsy Branton placed fourth with a 91, and Desert Oasis sophomore Ashley Malone (92) took fifth by virtue of a scorecard playoff over Bishop Gorman freshman Megan Orgad (92).
Bryant, Branton, Palo Verde juniors Alison Ryu (95) and Morgan Zimmerman (95), Cimarron-Memorial freshman Rachel Larsen (96) and Centennial freshman Kianna Arizmendi (96) qualified for state as individuals.