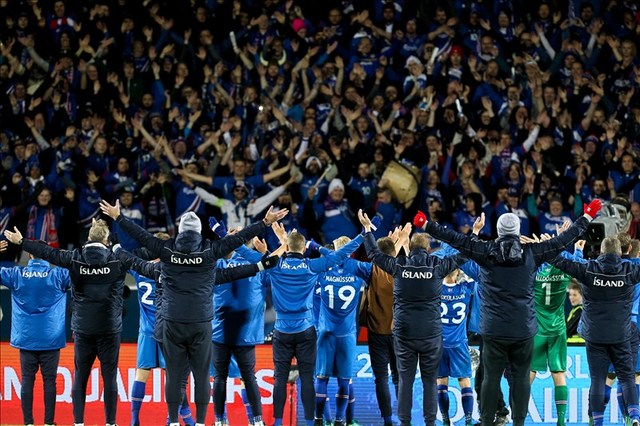 The world caught Iceland fever last summer when the small nation stunned England for a 2-1 victory to advance to the quarterfinals of the UEFA Euro in France.
Everyone loves a good Cinderella story, especially during March Madness. So it was no surprise to see other teams steal Iceland's vivid "Viking War Chant."
The Minnesota Vikings adopted the chant and had the new U.S. Bank Stadium rocking with fans clapping their hands above their head. Pretty cool for a country of 300,000 being emulated in the United States.
The French soccer team and its fans used the chant after defeating Germany in the semifinals of the Euro tournament, one match after eliminating Iceland. Maybe a sign of respect?
Even the French national handball team was doing it. OK, that's where Iceland midfielder Aron Thrandarson draws the line.
"It was a very cool to see at first, not so much now," Thrandarson said. "It was very hyped in the Euro and it was trending. It's too much now when the French handball team is doing it."
Thrandarson won't have to worry about seeing the popular clap on Wednesday when Iceland faces Mexico for a friendly at Sam Boyd Stadium. The home of UNLV could possibly have 20,000 plus fans screaming for Mexico.
That's not to say Iceland fans don't travel. About 10 percent of the Icelandic population was in France to see its team upset the English powerhouse.
Iceland won't have a single player from the 2016 Euro roster competing in Las Vegas. Mexico is expected to play seven players with World Cup experience.
"We won't have our strongest team, but you never know in football," said Thrandarson, who also plays club soccer in Norway. "There are always surprises when players are motivated. I think these young guys want to prove themselves and gain experience."
Iceland proved that the little guys always have a shot, but the country had a talented roster in France with players coming from top clubs in Germany and England. The Icelanders are ranked No. 21 in the FIFA rankings for a reason.
"If we somehow get a win here (Las Vegas), that would be the real shocker," Iceland coach Heimir Hallgrimsson said. "I was very surprised when I saw Mexico's roster."
Hallgrimur Jonasson was supposed to be on Iceland's A-team during that memorable run last summer. He played every match with the senior squad for five years until he was told he wasn't going to France.
"That was hard to accept," said Jonasson, 30, a defender who plays club soccer in Denmark. "I was picked for every single game for five years. I was proud of my team and happy to see them beat England, but I wanted to be there. I want to prove to them that it was a mistake leaving me off."
Jonasson said most of the people in Iceland speak English and often learn from watching American television shows. Jonasson learned from watching American cartoons and Thrandarson brushes up on his English by watching "Prison Break."
"I wish I had more time to see Las Vegas but we're here for a game," Jonasson said. "I've seen 'The Hangover' and my friends have told me stories."
The 22-year-old Thrandarson grew up watching Barcelona matches in the early 2000s and was a fan of Mexico's Rafael Marquez, who played eight seasons with the Spanish club. Marquez will suit up for El Tri on Wednesday.
"Going up against the legend Rafa Marquez is exciting," Thrandarson said. "I remember him playing with Ronaldinho. It was great football."
Contact Gilbert Manzano at gmanzano@reviewjournal.com or 702-383-0492. Follow @gmanzano24 on Twitter.
Iceland vs. Mexico
■ When: 7 p.m. Wednesday
■ Where: Sam Boyd Stadium
■ Tickets: UNLVtickets.com
■ TV: Unimas, Univision Deportes