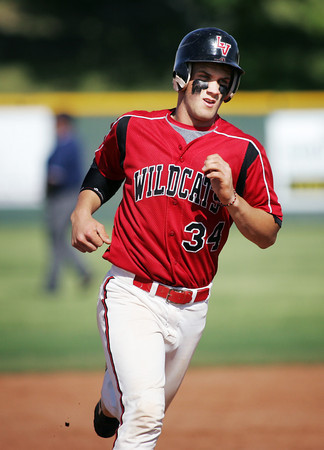 GYMNASTICS
Sloan rallies to claim U.S. women's crown
Bridget Sloan won the U.S. women's gymnastics championship, overcoming an early deficit to outscore Ivana Hong 117.55-117.25 to capture her first title.
Sloan, a member of last year's Olympic team, was trailing by 0.85 points coming into Saturday's finals in Dallas, but caught up and overtook Hong after the floor exercise, the third of four routines. She closed with a vault score of 15 to seal the title.
Rebecca Bross, the leader after the first round, finished third.
Rounding back into form after taking several months off, Olympic champion Nastia Liukin performed on balance beam and scored a 14.7, which was 0.25 better than in her return Thursday.
As national champion, Sloan is a favorite to be one of the four gymnasts selected to the U.S. team that goes to the world championships in London in October.
TENNIS
Murray, Del Potro set for Rogers Cup final
Andy Murray of Britain defeated Jo-Wilfried Tsonga of France and Juan Martin Del Potro of Argentina ousted Andy Roddick of the United States in the semifinals of the Rogers Cup in Montreal.
Murray and Del Potro will play for the title of the $3 million hardcourt tournament today.
Murray will vault past Spain's Rafael Nadal into a career-high second in the ATP rankings behind No. 1 Roger Federer of Switzerland when they are released Monday. Nadal, returning from a knee injury, lost in the quarterfinals.
Murray ousted the seventh-seeded Tsonga, 6-4, 7-6 (8).
Del Potro beat Roddick, 4-6, 6-2, 7-5. He also defeated the fifth-seeded American in a third-set tiebreaker in the final of a tournament in Washington on Aug. 9.
Also: Top-ranked Dinara Safina of Russia needed 56 minutes to eliminate Italy's Flavia Pennetta 6-2, 6-0 in the semifinals of the Cincinnati Open in Mason, Ohio.
Safina will meet Serbia's Jelena Jankovic for the championship of the $2 million event. Jankovic beat Russia's Elent Dementieva in a ragged semifinal match, 7-6, (2), 0-6, 7-6 (6).
Safina reached her eighth final in 14 tournaments this year.
MISCELLANEOUS
Gorman's World Series game delayed by rain
Bishop Gorman's second-round game in the American Legion World Series was pushed back to early today because of persistent rain delays in Fargo, N.D.
The defending national champion Titans will meet Midland, Mich., at 7 a.m. PDT.
Gorman originally was scheduled to play Saturday at 4 p.m. PDT, but rain Friday night and late in the morning Saturday disrupted the tournament schedule, pushing all games back.
Also: Former NBA player Grant Gondrezick, the younger brother of late UNLV basketball standout and radio broadcast analyst Glen Gondrezick, has pleaded guilty in a mortgage fraud case that involved the sale of 24 homes in Houston suburbs.
U.S. Attorney Tim Johnson announced the plea by the 45-year-old Gondrezick on Friday. The former Houston resident faces up to five years in prison, a fine of up to $250,000 and more than $1 million in restitution for conspiring to commit wire fraud.
Prosecutors say the former Phoenix Suns and Los Angeles Clippers player submitted invoices for fraudulent home loans to pay for renovations and upgrades never performed.
Swimmer Michael Phelps is still nursing a sore ankle from the car accident he was in Thursday, but the Olympic gold medalist intends to resume training Monday.
In a message on his official Facebook site, Phelps also expressed concern for the woman involved in the car crash, which occurred when she ran a red light, according to Baltimore police.
Cristiane "Cyborg" Santos got Las Vegan Gina Carano to the mat with 20 seconds to go in the first round and pounded her relentlessly until the referee stopped the bout with one second remaining to win the main event of the Strikeforce mixed martial arts card in San Jose, Calif.
Santos captured the women's featherweight title with the victory.
HARPER RECEIVES ROBINSON AWARD
Former Las Vegas High baseball standout Bryce Harper won the Jackie Robinson Award on Saturday for being the Aflac National High School Player of the Year.
The award was presented by Robinson's granddaughter Sonya Pankey and Hall of Fame shortstop Ozzie Smith during a ceremony in San Diego.
Harper, who hit .626 with 14 homers and 55 RBIs as a sophomore last spring for Las Vegas, previously was named Baseball America's national High School Player of the Year.
Harper has enrolled at the College of Southern Nevada and will forgo his final two years of high school.
LAS VEGAS REVIEW-JOURNAL