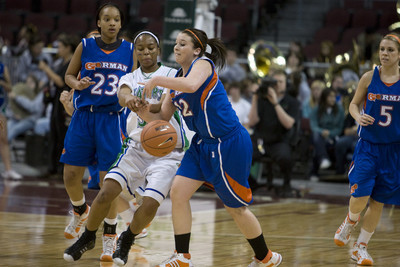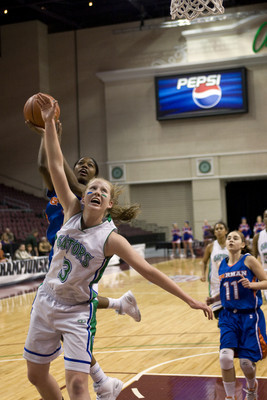 Bishop Gorman's only real moments of concern Thursday came nearly three minutes into the third quarter.
The Gaels, who were breezing through their Class 4A state basketball semifinal against Green Valley, watched junior guard Aaryn Ellenberg crumple to the floor with an ankle injury.
Fortunately for Gorman, Ellenberg should be OK. And the Gaels were far better than that Thursday.
Gorman scored 27 points off turnovers in the first half en route to a 24-point lead and cruised to a 71-44 victory over the Gators at the Orleans Arena.
The Gaels, the three-time defending champions, will meet Centennial (31-2) in the state final at 6 p.m. today, and Ellenberg expects to be in the lineup.
"It's pretty good," Ellenberg said of her ankle.
"I went up for the ball, and when I came down, there were just a lot of feet there. I just landed wrong."
Ellenberg didn't play the final 13 minutes yet finished with 23 points, six rebounds and five steals.
She helped the Gaels (29-4) force 15 turnovers in the first half, and Gorman scored on all but one of them.
"We wanted to take them out of their game," said Gorman coach Sheryl Krmpotich, whose team led 17-5 less than five minutes into the game. Gorman also started quickly against Silverado in the play-in game Monday on its way to a 29-point win.
"I think losing on Friday (to Centennial in the Sunset Region final) woke us up," Krmpotich said. "You learn more out of a loss than you do from a win.
"We were fortunate that we got a second chance."
Gorman played most of the final quarter without either of its starting guards, as Amber Lane went down with what Krmpotich called "a cramp in her knee." Lane, too, is expected to play tonight.
With a 58-29 lead after three quarters, the Gaels didn't need their best ball-handlers.
"We knew we had to come out and just jump on them," Ellenberg said. "We just got into a rhythm."
Dannielle Diamant added 17 points for the Gaels.
Aja Flippen had 15 points and 10 rebounds for the Gators (28-4).
"We just didn't get into the flow of the game until later on," Green Valley coach Lorenzo Jarvis said. "Nerves had a little bit to do with it, but Gorman is just a great team."
Jazmine Jarvis added 14 points for Green Valley, which made 11 of 49 shots (22.4 percent) and had 26 turnovers.
"We played hard, and we played to the whistle," Lorenzo Jarvis said. "I'll take this team over any team in the state."
Contact reporter Bartt Davis at bdavis@ reviewjournal.com or 702-380-5230.
In-depth high school sports coverage
Slideshow