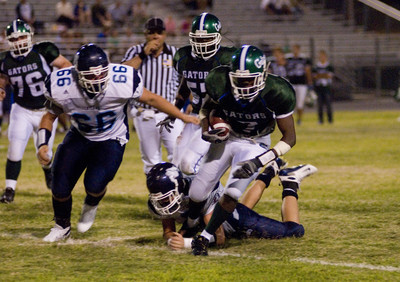 While Centennial celebrated its 24-20 road win over Green Valley on Friday night, heads were hanging on the other sideline, and not just because of the loss.
Players and coaches on the Green Valley sideline were thinking about senior LaQuan Phillips, who left the field on a stretcher in the second quarter after what appeared to be a serious back or neck injury.
Gators coach Matt Gerber said Phillips had no feeling from the neck down when he left the field. Gerber said Phillips was taken to Sunrise Hospital.
"It puts it in perspective a little bit," Gerber said. "It's sort of like what we told the kids at halftime. You don't know when it's going to be your last play. You don't take a play off. Sometimes it takes something tragic like that to make kids understand that."
Phillips, a defensive back, went down with 7:25 to play in the second quarter. Gerber said he thought Phillips had taken a helmet or shoulder to the back.
Phillips lay face down, not moving after the play. Trainers from both sidelines and the Green Valley team doctor were on the field quickly, and paramedics arrived in less than 10 minutes.
The game resumed after an 18-minute delay.
"That there, you never want to see that as a coach, whether it's on your team or an opponent," Centennial coach George Baker said. "Every coach cringes at even the thought of that."
Brandon Wright had two fourth-quarter touchdown runs to help the Bulldogs (2-0) hold off the Gators (1-1).
Green Valley came out of the locker room inspired after halftime, and Derrick Stevens returned the second-half kickoff 92 yards for a touchdown to cut Centennial's lead to 10-7.
The Gators pulled to within three again with 9:27 left on a 42-yard TD pass from Nick Libonati to Jordan Miller.
After Wright's second TD of the fourth quarter, a 16-yard run with 1:42 to play, Green Valley made it interesting with Libonati and Miller hooking up again, this time on a 36-yard TD pass to make the score 24-20. But just nine seconds remained, and Centennial covered the onside kick to seal the win.
Chris Henderson completed 10 of 17 passes for 117 yards, and his 31-yard pass to Matt Holley with nine seconds left in the first half set up Scott Hamilton's 1-yard TD run as the second quarter ended, giving Centennial a 10-0 lead.
"We've still got a long way to go in terms of execution, but I think we're further along than we were last year at any point, and I'm very happy with what we're doing offensively," Baker said.
The kicking game was supposed to be a strength for Green Valley with strong-legged kicker Nolan Kohorst, but the Gators failed on three chances to kick a field goal. Bad snaps led to two blocked kicks, and Kohorst's 36-yard attempt in the first quarter missed wide left.
Contact Prep Sports Editor Damon Seiters at dseiters@reviewjournal.com or 702-380-4587.
NevadaPreps.comIn-depth high school sports coverage