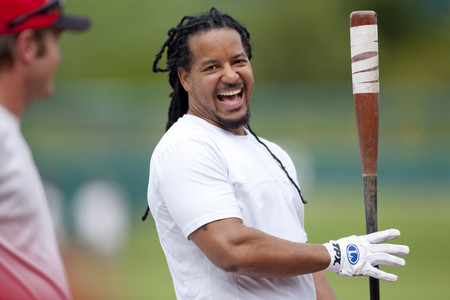 Even soccer-hating Americans were moved by the courage of six Iranian players who wore green wristbands in support of protesters back home.
And no one should be surprised by the Iran government's decision to "retire" four of the players. Now we must hope that is the worst discipline the athletes receive from their government.
During Iran's 1-1 tie with South Korea in a World Cup qualifier last Wednesday, the players showed solidarity with those protesting the dubious re-election of President Mahmoud Ahmadinejad. According to Britain's Guardian, the wristbands "acutely embarrassed Iranian officials."
So a backlash was expected, especially because Ahmadinejad closely follows soccer and is cracking down on any form of resistance.
The former head of Iran's soccer federation, pro-reformist Mohsen Safayi Farahani, was arrested Saturday.
Ahmadinejad also is believed to be behind the earlier firing of national team coach Ali Daei.
As protesters and government forces continue to clash in Iran, even sports aren't immune.
• WANT TO GET AWAY? — There was no private plane for Manny Ramirez on his trip to Albuquerque, N.M., to get back in baseball shape in the minors before returning to the Los Angeles Dodgers when his 50-game drug suspension ends next month.
According to ESPN, Ramirez flew Southwest Airlines on Tuesday and was stuck in a middle seat because he didn't print out his boarding pass ahead of time. Southwest has an open-seat policy, but passengers can move closer to the front of the line by printing boarding passes up to 24 hours before their flight.
Don't feel too sorry for Ramirez. A limousine was waiting for him when the plane arrived.
• WASN'T THERE, DIDN'T DO THAT — At first glance, Miami Dolphins rookie cornerback Vontae Davis' alibi has a dog-ate-his-homework feel to it. But he appears to be telling the truth.
A man who said he was Davis was arrested June 9 in Champaign, Ill., and charged with unnecessary vehicular noise and driving without a valid license.
Davis, the real one, said someone stole his wallet several months ago and he canceled his credit cards. Besides, he was going through the Dolphins' organized team activities on June 9.
Team spokesman Harvey Greene backed up Davis, telling the South Florida Sun-Sentinel, "There's no way he could have been in Illinois at 6:40 (p.m.) or whenever that happened."
• VIOLATION ODDS POSTED — Magazines are already out forecasting how college football teams will fare, but BetUS.com is concerned about which school will next commit an NCAA violation.
Here are some of the favorites: Southern California, 8-1; Ohio State, 9-1; Florida, 10-1; Mississippi, 10-1; Florida State, 12-1; Michigan State, 12-1; Alabama, 13-1; Michigan, 13-1; Iowa, 14-1; Tennessee, 14-1; and Georgia, 14-1.
We're shocked — shocked! — there are so many Southeastern Conference schools on the list.
COMPILED BY MARK ANDERSON LAS VEGAS REVIEW-JOURNAL