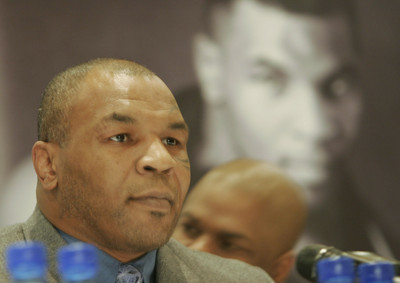 Mike Tyson's life reads like a movie script.
So it's no surprise the former world heavyweight champion said he has had talks with Academy Award winner Jamie Foxx about portraying him in a film based on his life story.
"I have a movie on the verge of happening, probably in two years from now," Tyson, 41, said Thursday before giving a speech at the Summit View Youth Correctional Facility in North Las Vegas. "Me and Jamie Foxx are going to do a collaboration. He's going to play me in my life story. We've talked about it many times."
Tyson, who lives in Seven Hills, spoke openly about his life, then fielded questions from the group of 86 Summit View High School students, ages 14 to 18, who reside at the only locked facility for youth in the state.
"I was in the same place these children were," said Tyson, adding that he was arrested for attempted murder at age 11. "I was in the juvenile system when I was 10 or 11, and one day Muhammad Ali came in and he spoke to us, and that lit a light bulb in my head and made me want to become a fighter."
Tyson, who said he hopes to inspire "even one kid" to turn his life around, has given similar speeches around the world in the past year to complete 45 days of community service stemming from charges of driving under the influence and possession of cocaine in Phoenix on Dec. 29, 2006.
Tyson (50-6, 44 knockouts), who retired in 2005, said his arrest in Arizona, and subsequent stint in a rehabilitation center, has changed his life.
"I learned all about my system. My mother died because she was an alcoholic, and my sister died because she was a drug addict. It ran through my whole family. I was born an addict," said Tyson, who claims he has been clean and sober for more than a year.
"I've never been clean and sober in my life. It's the first time I've been clean and sober. Even when I was training for a fight, there were no drugs, but I still drank."
Tyson, who lost three of his last four fights, said he was tired of his lifestyle.
"I got tired of losing. I lost the trust of my family, I lost the trust of my (five) children. I didn't like that lifestyle, and I wanted to change," he said. "I've been there and done that. I've seen the devil, and I don't want that."
Iron Mike, who at age 20 in 1986 became the youngest heavyweight champion in boxing history, said he had a difficult time dealing with the subsequent money and fame, and he cautioned the kids about getting in with the wrong crowd.
"If you get yourself connected with bad people, most of the time bad things will happen, and when you have positive people around you, positive things will happen," he said. "It's all about who you keep in your circle. I bet that's probably the reason most of us are here now. We got associated with gang members and those guys are negative and got us into the trouble we're into now.
"I got involved with some negative people and went to prison again (in 1992 for rape)."
Tyson said he's surprised at the serious crimes committed by kids these days.
"We were just robbing houses and robbing cars, and we thought that was fun back then," he said. "But nowadays kids are killing one another."
Despite spending three years in prison and blowing more than $300 million in career earnings — he filed bankruptcy in 2003 — Tyson said he wouldn't change a thing in his life.
"No, I don't think I'd do anything differently," he said. "I have no regrets in my life."
Contact reporter Todd Dewey at tdewey@reviewjournal.com or (702) 383-0354.