Italian swimmer Gremizzi's U.S. dream realized
November 5, 2013 - 12:16 am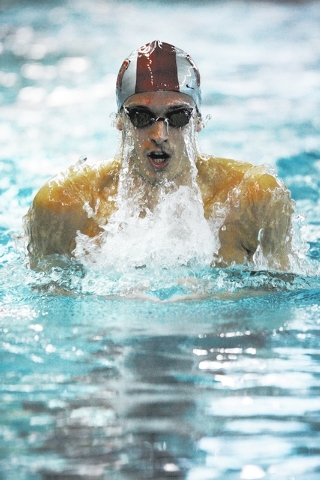 Growing up in Italy near the village of Bellagio on picturesque Lake Como — where actor George Clooney and other celebrities have vacation homes — UNLV swimmer Giacomo Gremizzi always was enamored with American culture and dreamed of attending college in the United States.
It's fitting that the senior ended up in Las Vegas, home to Bellagio, which was inspired by the tiny Italian resort town of the same name.
"It's really, really small," Gremizzi said of the town of about 3,000. "In 45 minutes, you can walk all over the place, but it's really, really pretty. You need to take a boat."
Watching Gremizzi swim has been a pretty sight for Rebels coach Jim Reitz, who compared his style to that of a great ballet dancer.
"He's got a great touch for the water," Reitz said. "Great swimmers have the ability to look like they're dancing. He's fluid in the water. In our sport we call it touch."
Reitz, who has helped send UNLV swimmers to every Summer Olympics since 1984, said Gremizzi has a chance to contend for All-America honors this season and to earn a spot on Italy's Olympic team in the 2016 Games.
"He definitely has a shot at that," the 34th-year coach said. "Absolutely."
The 2011 Mountain West 400 individual medley champion, Gremizzi opened this season with four wins in dual meets at Arizona and Arizona State en route to earning Western Athletic Conference Men's Swimmer of the Week honors.
He won the 200 IM (1:50.18) Oct. 25 at Arizona and placed first in all three of his events Oct. 26 at ASU — taking the 200 free (1:38.90), 200 breast (2:02.41) and 400 IM (3:53.99), his best event, in which he posted the seventh-fastest time in the nation this season.
The top 22 times in each event advance to the NCAA championships, with the top 16 finishers earning All-American honors.
"That time for me now is pretty good, but not enough to qualify," Gremizzi said. "I've got to swim faster than that."
Gremizzi, who already has shaved multiple seconds off his times from last season, continued his fast start in Friday's home dual meet against Toronto by winning the 200 IM (1:50.96) and 400 IM (3:56.25).
"This year, I feel pretty fast," he said.
Nursing a shoulder injury in the offseason turned out to be a blessing in disguise for Gremizzi, who used only his legs to swim for three months — during which he averaged 12 to 15 miles per week — and became a better swimmer in the process.
"He was kicking the whole summer," Reitz said. "As a consequence of that, he's coming in with his legs in better shape than they've been his entire life.
"He's appeared to add a whole new offensive weapon to his race strategy."
Gremizzi has dealt with injuries throughout his college career, something Reitz attributes to his tireless work ethic.
"He's so intense. It's not a matter of training hard enough, just smart," Reitz said. "(His intensity) makes him a world-class athlete and national championship competitor, but it can get in his way if we don't train him correctly."
The fiery Gremizzi said he inherited his drive from his mother, who enrolled her son in swimming classes when he was 2.
"My mother was really afraid of the water," he said. "But she said, 'I want my son not to be afraid.'"
Despite developing a fondness for American cheeseburgers and chicken wings, the hard-working 6-foot-1-inch, 164-pound Gremizzi can't seem to eat enough to satisfy his coach.
"I'm always on him to eat," Reitz said. "He's a skinny guy. There's not an ounce of fat on him.
"A middle distance swimmer burns a lot of calories. Michael Phelps ate 6,000 calories a day. You've got to eat a ton to keep from losing weight."
If only Gremizzi's mother was here making her homemade gnocchi, eating more probably wouldn't be a problem for him.
"That's my favorite back home. I miss it," he said. "She's going to come here in a few months to make it."
Just in time for the NCAAs.
Contact reporter Todd Dewey at tdewey@reviewjournal.com or 702-383-0354. Follow him on Twitter: @tdewey33.