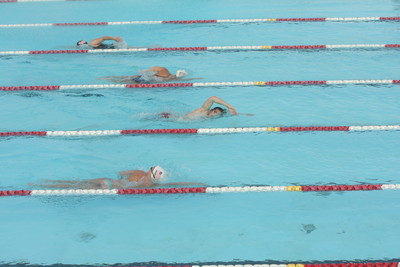 Imagine trying to swim without the use of one arm and one leg. Then imagine trying to swim competitively despite such obstacles.
Cortney Jordan has been doing it that way since she was 5 years old, when she first made her way into a pool. The fact she can't use her left arm and leg doesn't discourage her. She has more determination than most athletes who bear no afflictions.
Jordan, a 17-year-old senior at Coronado High School, was born with cerebral palsy. Yet her love for the water has enabled her to develop into an elite athlete.
Starting Sunday, Jordan's swimming skills will be on worldwide display when she competes in the 2008 Paralympic Games in Beijing.
Jordan will compete in six events over nine days at the Water Cube, the same venue where Michael Phelps made Olympic history by winning eight gold medals. For Jordan, it's the same chance of a lifetime experienced by her able-bodied brethren.
"The main thing I want to do is swim in the Water Cube because the pool looks amazing," Jordan said via e-mail from Okinawa, where the U.S. Paralympic Team is gathering prior to arriving in Beijing for Saturday's opening ceremony.
"I saw all the records broken and all of the medals won and it made me very excited, too, because I get the opportunity to swim in that same pool and hopefully do the same — win medals and break records."
Jordan got her first taste of international competition in 2006 when she competed in the International Paralympic Committee swimming world championships in South Africa. She won bronze medals in the 50-, 100- and 400-meter freestyles. In China, she will swim those events along with the 100 backstroke, 50 butterfly and 200 individual medley.
And she'll do it primarily on the strength of her right arm and right leg.
"My disability makes it difficult to move my left side, so in the water I drag my left leg," she said. "I've learned to use my left arm. In the water I can overcompensate with my right side so it's easier to move through the water."
Jordan hopes to get a chance to experience China. But with six races, she won't get much free time. If she gets to do any sightseeing, she'll be doing it with her family. Her mother, Nancy, father Dirk and older sister Mikaela will be in China serving as her personal rooting section.
Nancy Jordan said there was no way the family would miss this event.
"It's expensive, but we've saved for it and we'll be there," she said.
Cortney was born prematurely, and it was touch-and-go whether she would survive her first 48 hours. But she persevered, and her mom knew she had a fighter on her hands.
"When she was diagnosed, we all said we were in this together," Nancy Jordan said. "We've never looked at Cortney as disabled."
Neither does Cortney. At Coronado, she swims against able-bodied competitors and has held her own. The longer the race, the better she is.
"I don't perceive my disability as a burden," she said. "I think God made me this way for a reason, and maybe it's to experience all the talents I have. But I accept that and embrace my disability because it's part of me."
Nancy Jordan said: "She loves swimming. She loves to help other people with challenges. She works with the Paralympic Academy of Clark County helping the young kids. She's an inspiration to them."
A straight-A student, Jordan's plans include college, where she hopes to major in education as well as continue to swim competitively. But for now, her focus is on competing and winning.
"I hope to medal," she said. "However, if I don't I'll take what happened and how my races went and know what I did right and what I did wrong and prepare for 2012. The competition to make the team was intense, so to be able to have made the team is an honor, just amazing."
Contact reporter Steve Carp at scarp@reviewjournal.com or 702-387-2913.