Jackson, Kobe face cloudy future in L.A.
October 26, 2007 - 9:00 pm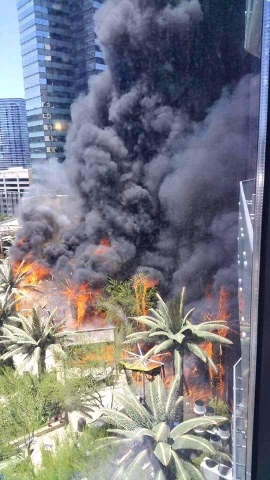 One coach's NBA career is about to begin, while another's might be on the verge of ending.
Former UNLV standout Reggie Theus is back in town today as the first-year coach of the Sacramento Kings, who face the Los Angeles Lakers at 7 p.m. at the Thomas & Mack Center in the Lakers' annual preseason visit to Las Vegas.
While Theus figures to be around for a while, Phil Jackson's future as Lakers coach appears tenuous.
Having had both hips replaced and being caught in the maelstrom of Kobe Bryant's ongoing unhappiness, the 62-year-old Jackson isn't sure if this will be his last season as coach. The new Basketball Hall of Fame inductee, who has won nine NBA championships as a coach and has a 919-393 record in 16 seasons, said a decision will be coming soon regarding his coaching future.
"As we go into the regular season, I'm going to evaluate where things are," Jackson said this week. "Right now I'm not sure what the future is. I'm concentrating on getting the team ready."
One complicating factor in Jackson's decision is that he dates the boss' daughter. His longtime relationship with Jeannie Buss could sway him to remain on the bench.
The Bryant situation can't be helping matters. The league scoring leader's relationship with owner Jerry Buss has soured. Bryant was angered by Buss' recent statement that he would be willing to trade Bryant, and he blasted Buss in the media. He also sat out three straight days of practice. During that time, Jackson met with Bryant and told him he needs to be a team leader.
Of course, Jackson didn't mean for Bryant to lead the Lakers in turnovers. The Lakers are 2-4 in the preseason, and Bryant has 30 turnovers. Jackson said Bryant's turnover troubles are because he's trying to do too much but also because Jackson wants the Lakers to push the tempo.
"There's a lot of focus on him," Jackson said. "Right now, he and I are fine."
Bryant will sit out the Lakers' preseason finale tonight because of a sprained right wrist he suffered against Utah on Tuesday at Anaheim, Calif. Bryant didn't travel with the team to Las Vegas.
Bryant told Jackson on Wednesday he thought he would able to play, but that plan changed Thursday.
"Today (the wrist) was a little bit stiff," Jackson said. "We thought it would be a good opportunity to just let him stay home and play without him."
Injuries are turning into a preseason theme for the Lakers. Forward Lamar Odom is recovering from shoulder surgery and Luke Walton is nursing a hip pointer. Bryant also has had a sore left knee.
Odom's absence is particularly worrisome. The Lakers were unable to add a rebounding, shot-blocking power forward in the offseason. Given how the team struggled defensively last year, Jackson knows it will be tough to get better without that important component.
"We have a real defensive challenge ahead of us," he said. "Our defense fell apart last year. We're in need of a defensive power forward. We've been starting Ronny Turiaf, and he has done a nice job for us so far. But Lamar's our best rebounder and we need him."
Jackson himself is holding up physically. He continues to undergo rehab on his hips. But the regular season is less than a week away, and with it comes few opportunities to rest, much less rehab.
Jackson is unsure how he'll hold up through the long grind of the regular season.
"Right now, I'm fine," he said. "Down the road, who knows? We'll see in the next few weeks."
The Associated Press contributed to this report.
GAME DAY
SACRAMENTO VS. L.A. LAKERS
WHEN: 7 p.m. today
WHERE: Thomas & Mack Center
TV/RADIO: ESPN (30)
PRESEASON RECORDS: Sacramento 3-4, Los Angeles 2-4 TICKETS: $92, $42, $32, $22, $11