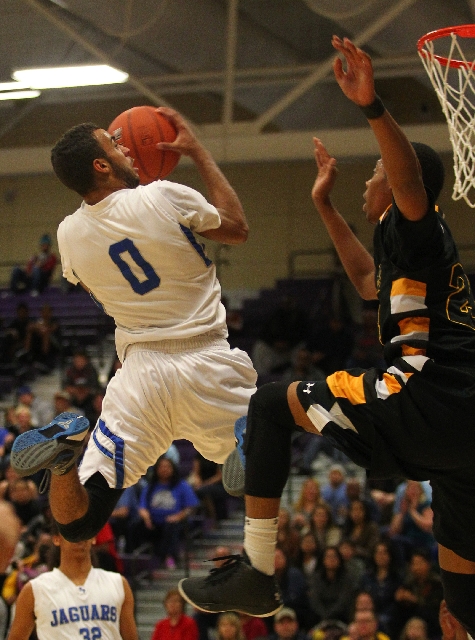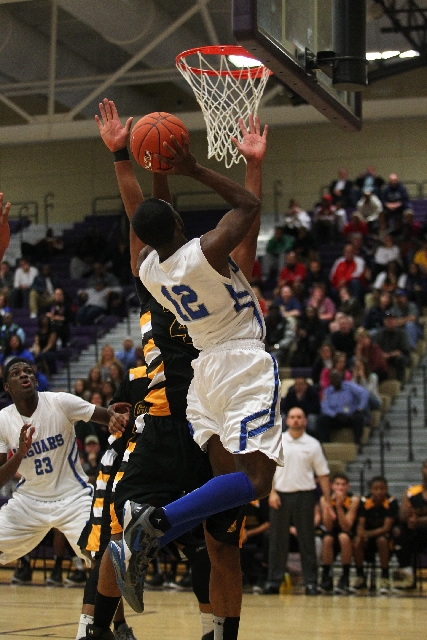 It was a matchup that seemed destined to happen almost from the moment the Nevada Interscholastic Activities Association realigned for this school year.
And it seems almost destined to happen again.
Julian Jacobs had 18 points, 10 assists, five rebounds and three steals as Desert Pines topped Clark 63-59 for the Division I-A Southern Region boys basketball title on Saturday at Sunrise Mountain.
Both teams advanced to this week's state tournament, and another battle in the state final wouldn't be a surprise.
"Absolutely. We know that," Desert Pines coach Mike Uzan said. "They're a big, very well-coached team. They're one of the best teams in the state."
The first half belonged to Desert Pines (26-3), as the Jaguars raced to a 41-23 lead at the break. Jacobs had 10 points, seven assists and five rebounds to lead the charge, and Desert Pines consistently got out in transition.
"We came out with energy," Uzan said. "We had to play last night, and we knew they had the night off. We knew we had to bring energy.
"There was a lot of emotions all week about tonight."
That helped the Jaguars shoot 19-for-35 from the field and own a 20-7 edge in rebounds in the half.
"We play a certain style, and it was important for us to be able to come out and play our game," Uzan said.
But Clark (28-2) came on strong in the third quarter to make a game of it. The Chargers opened the second half on a 12-0 run to cut their deficit to 43-35.
Clark continued to trim the Jaguars' lead in the fourth quarter and pulled within 59-56 after Sir Washington poked away a pass and converted on the other end with 1:27 to play.
Washington's 16-foot baseline jumper again cut Desert Pines' lead to three with eight seconds left, but Donavin Wright's free throw with 6.5 seconds left pushed the lead back to four, and Jacobs deflected a pass at midcourt and time ran out.
Wright scored 10 of his 16 points in the fourth quarter. Re'meake Keith added 10 points, five rebounds and two blocked shots for Desert Pines.
Diontae Jones had 15 points and eight rebounds for Clark, which saw its 22-game winning streak end. The Chargers' last loss was to Centennial on Dec. 8.
Washington added 13 points and eight rebounds, and Sherron Wilson had 10 points for the Chargers.
The region title was the first for Desert Pines, which advanced to state for the first time since 2002.
"This is a basketball school, and we're just happy to be part of the history and tradition here," Uzan said.
Contact prep sports editor Damon Seiters at dseiters@reviewjournal.com or 702-380-4587.