Jamaica defeats USA in Gold Cup semis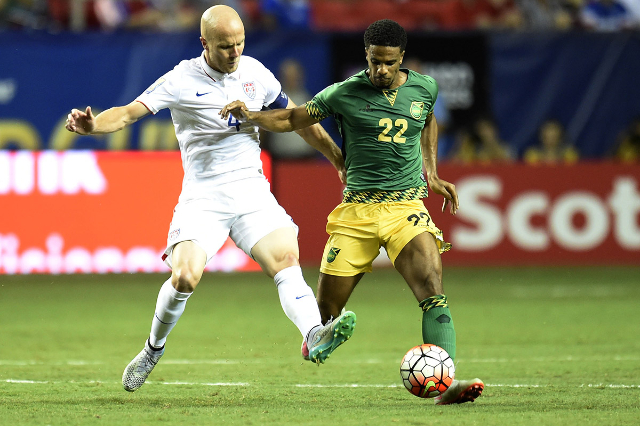 ATLANTA — Jamaica pulled off a stunner at the Georgia Dome, upsetting the U.S. men's soccer team 2-1 Wednesday to advance to the Gold Cup final.
Darren Mattocks and Giles Barnes scored first-half goals, and Jamaican keeper Ryan Thompson came up with just enough key saves to thwart a furious U.S. rally in the second half.
Jamaica advances to the Gold Cup final for the first time in team history. It will face the Mexico-Panama winner Sunday at Lincoln Financial Field in Philadelphia. The U.S. will play the Mexico-Panama loser in the third-place game Sunday in Chester, Pa.
Down 2-0 after a first half lacking urgency, the U.S. quickly cut into the deficit on a Michael Bradley goal in the 48th minute. Bradley followed Fabian Johnson's free kick from just outside of the box. Thompson stopped Johnson's shot but didn't corral it, allowing Bradley to storm in for an easy goal that cut Jamaica's lead to 2-1.
The U.S. kept the pressure on and had a plethora of opportunities but couldn't find the net and lost to the Jamaicans for only the second time in 23 meetings.
Jamaica stormed the field in celebration, while the frustrated Americans walked off the field, heads down in disbelief. Team USA was 13-1-8 in previous meetings against Jamaica.
The first half was reminiscent of past uninspiring performances by a U.S. team that was considered the favorite to win the Gold Cup and an even bigger favorite over Jamaica. Uninspiring, in fact, may be a little kind. It was ugly for the USA. The back line, which was criticized often during the tournament, was sloppy, giving the ball away multiple times and resulting in opportunity for underdog Jamaica.
Defender Kemar Lawrence's throw-in, deep into the box, found Mattocks, and the striker deflected it toward the far post. U.S. goalkeeper Brad Guzan got a hand on it, but the ball trickled down the goal line, off the opposite post and into the net to give Jamaica a 1-0 lead at the 30:54 mark of the first half.
Six minutes later, Barnes made it 2-0. A forward for the Houston Dynamo of MLS, Barnes hooked a right-footer around a less than formidable U.S. wall and beat Guzan to the near post, stunning the crowd at the Georgia Dome.