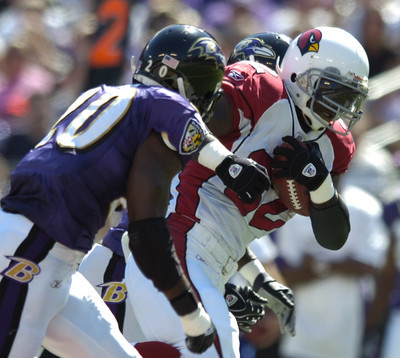 In a forgettable first season with the Arizona Cardinals, veteran running back Edgerrin James seemed to lose his edge.
The combination of playing behind a bad offensive line and for a bad team resulted in the worst year of James' career. He sulked while his former team, the Indianapolis Colts, won a Super Bowl.
But the critics who ganged up on James are backing off now, and the Cardinals are more competitive
"All three of their games have gone down to the wire," handicapper Andy Iskoe said. "Arizona has had a way of hanging in there."
Iskoe said he expects the Cardinals, 6-point home underdogs, to hang close enough today to cover the spread against the Pittsburgh Steelers.
Arizona (1-2) lost to Baltimore and San Francisco on the road by a field goal and beat Seattle at home by a field goal.
Matt Leinart has had problems at quarterback, and Kurt Warner replaced him last week, but the Cardinals still rank 11th in the NFL in total offense at 352 yards per game.
James is sixth in the league with 277 yards rushing. He is averaging 4.6 yards per carry, much better than the career-low 3.4 he averaged last season.
New Cardinals coach Ken Whisenhunt and offensive line coach Russ Grimm, both former Steelers assistants, have reworked Arizona's offensive philosophy.
"The Cardinals' running game has improved, and that's not really surprising considering their coaching changes," said Iskoe (thelogicalapproach.com). "The running game with James last year was nowhere to be found because of all the offensive line problems."
The Steelers are 3-0 straight up and against the spread after blowing out Cleveland, Buffalo and San Francisco. The Bills and 49ers have the league's lowest-ranked offenses.
Hines Ward, Pittsburgh's top wide receiver, is out today because of a sprained right knee.
"There's nothing negative I can say about Pittsburgh," Iskoe said. "Arizona has made enough progress that they can hang within six points. Their three games were all decided by a field goal, so why not this one?"
Iskoe analyzes the rest of today's Week 4 lineup:
• Oakland at Miami (-4) — I kind of like the Dolphins. It's a good scheduling spot for them, with the Raiders coming off a win and traveling across the country. At 0-3, the Dolphins could be looking at 0-7 if they don't win here. I'm concerned about the rushing defense for Miami, which has not been good.
But at the same time, the Oakland defense is down. I like the progress I've seen from Miami's offense. The fact quarterback Daunte Culpepper is making his first start for the Raiders probably is more of a negative than a positive.
• Houston (-3) at Atlanta — This normally would be a good spot for the Falcons. Joey Harrington has been maligned, but he's a capable NFL quarterback, and I expect him to show improvement.
The Texans are improved, although they will be without top wide receiver Andre Johnson again. I'm not sure they are improved enough to deserve being a road favorite. I prefer Atlanta getting 3.
• Baltimore (-41/2) at Cleveland — I look for this to be a low-scoring game. The Browns are facing a defense comparable to the Pittsburgh one they opened the season against. The Ravens have a pedestrian offense, and they come in knowing they are the better team, so they might have a conservative game plan. I look for this to go under the total (40).
• Chicago (-3) at Detroit — The Bears' problems go beyond the struggles of Rex Grossman at quarterback. I don't like a lot of what I've seen out of this team. Their running game is weakened, and they continue to suffer defensive injuries. I'm not so sure Brian Griese will make an immediate difference.
Both teams are coming off lopsided losses. I like the Lions in this one.
• Green Bay (-2) at Minnesota — It's hard to knock anything the Packers have done. They are 3-0 with wins against three teams that made the playoffs last season.
But the Vikings' defense is third in the league against the run, allowing 67 yards per game, and I'm not sure Green Bay can run the ball because its offense is built largely around Brett Favre. Minnesota is 1-2 with both losses by a field goal on the road.
• St. Louis at Dallas (-13) — The Rams are without injured running back Steven Jackson, and they have offensive line injuries. I initially liked this over the total (451/2), but I'm not sure St. Louis can do its part.
• N.Y. Jets (-31/2) at Buffalo — I'm always reluctant to lay points on the road, but this Bills team is banged up. It lost J.P. Losman last week, and Trent Edwards is expected to start at quarterback. Almost by default, I've got to look at playing the Jets.
I'll also look at this under the total (371/2). Buffalo will try to slow the game by running rookie Marshawn Lynch.
• Tampa Bay at Carolina (-3) — I've been more impressed with the Buccaneers and what they have accomplished. The Panthers' season-opening win at St. Louis is not nearly as impressive or significant as it seemed at the time. Carolina is a shaky 2-1. Tampa Bay has overachieved, and its 2-1 is more solid.
I give the Buccaneers a good chance to get a straight-up win in a game that could be decided by a field goal.
• Seattle (-2) at San Francisco — I like the Seahawks in this spot. The 49ers swept the series last season when Seattle was dealing with injuries. San Francisco's offense has struggled, ranking 31st in the league at 223 yards per game, and running back Frank Gore has not gotten off to the good start that was expected of him.
The 49ers' defense is allowing 334 yards per game, so they are being outgained by more than 100 yards on average.
• Kansas City at San Diego
(-12) — I prefer this under the total (39) rather than taking a side. I felt Chargers coach Norv Turner would have a negative impact on two teams this season, the team he left (San Francisco, as offensive coordinator) and the team he joined. I didn't think it would show up this soon. He never has been successful as a head coach.
To be fair, San Diego has not played an easy schedule. LaDainian Tomlinson has not been able to run the ball for three straight games, and that's the responsibility of the coaching staff to make adjustments. But I don't know if I want the points with Kansas City.
• Denver at Indianapolis (-10) — The Broncos have a horrible point-spread record, but I think that has been compensated for in this line, which under normal circumstances would be about 7. I don't know if the Colts' defense is as improved as it seems to be, and Denver has been successful moving the ball. I think Indianapolis will win, but I like the Broncos at plus-10.
• Philadelphia (-21/2) at N.Y. Giants — I like the Eagles, who got their offense going last week by scoring 56 points against Detroit. The Giants are missing Tiki Barber, and that makes them rely even more on the pass. Philadelphia will take away the passing game from Eli Manning and force the Giants to run the ball, which they haven't shown they can do. I prefer Eagles quarterback Donovan McNabb and his ability to lead a team.
Compiled by Review-Journal sportswriter Matt Youmans.