James, Ducks overrun UCLA
December 3, 2011 - 2:03 am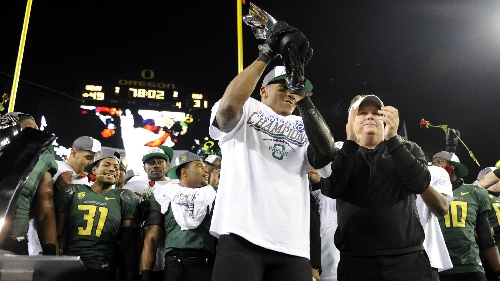 EUGENE, Ore. — As LaMichael James danced to celebrate Oregon's third straight conference championship, fans surrounding him shouted "One More Year!"
The junior running back ran for 219 yards and three touchdowns Friday night in the eighth-ranked Ducks' 49-31 victory over UCLA in the inaugural Pac-12 championship game. With the win, the Ducks earned a trip to the Rose Bowl.
There has been speculation that James, who set a league record with three straight 1,500-yard seasons, will bolt to the NFL next season.
But for right now, James was savoring the moment.
"Just being with my teammates, I cherish that," he said. "I don't think about 'one more year.' I just think about today."
While James partied, UCLA coach Rick Neuheisel paused before Bruins fans at Autzen Stadium and tipped his hat. The former UCLA quarterback was fired this week after four seasons at his alma mater.
The Bruins (6-7) played with passion for their outgoing coach and kept it closer than many thought they would, but it was not enough to overcome the Ducks (11-2), who head to a BCS bowl for the third straight season.
"They can take my job," Neuheisel said, gesturing to the locker room as he left the field, "but they can't take those boys away from me."
Neuheisel was fired following last weekend's 50-0 loss to No. 9 Southern California. The Bruins this week were granted permission from the NCAA to accept a bowl invitation despite their losing record.
"We made it a game, at least for a time. I was thrilled that we got that kind of effort, given the events of the last week," Neuheisel said. "I just am excited for these guys. They get one more game. They'll find out where soon."
Oregon will play the winner of the first Big Ten championship game today between No. 11 Michigan State and No. 15 Wisconsin in the Rose Bowl on Jan. 2. The bowl pairings will be formally announced Sunday.
The Ducks clenched roses in their teeth Friday as fireworks exploded above and confetti rained down. James danced with fellow running back Kenjon Barner.
With his three touchdowns, James moved into a tie with USC's LenDale White (2003 to 2005) for second on the league's career rushing TD list with 52.
James ran 30 yards for a touchdown on Oregon's first drive. He entered the game as the nation's top running back with an average of 142.7 yards per game.
UCLA tied it when linebacker Patrick Larimore intercepted Thomas and ran 35 yards for a touchdown. Neuheisel pumped his fist in celebration.
Thomas scored on a 10-yard keeper and then found freshman tight end Colt Lyerla alone in the end zone with a 7-yard scoring pass to make it 21-7.
UCLA narrowed it with quarterback Kevin Prince's flea-flicker to Nelson Rosario for a 37-yard touchdown.
Oregon was stung early in the game when dynamic true freshman De'Anthony Thomas fumbled after a hit by Tevin McDonald. Shaken up, the versatile running back, the Pac-12's co-freshman of the year on offense, did not return.
OREGON 49,
UCLA 31
■ KEY: LaMichael James ran for 219 yards and three TDs to power the Ducks to the Pac-12 title and Rose Bowl berth.
NORTHERN ILLINOIS CLAIMS MAC CROWN
DETROIT — Mathew Sims kicked a 33-yard field goal on the final play to cap a furious comeback that gave Northern Illinois a 23-20 victory over Ohio in the Mid-American Conference title game Friday.
The Huskies (10-3) trailed 20-0 after an abysmal first half before rallying behind quarterback Chandler Harnish. It was a delightful turnabout for Northern Illinois, which lost in the 2010 and 2005 MAC title games on last-minute TDs by Miami of Ohio and Akron.
Northern Illinois won its first MAC title since 1983.
Ohio (9-4) led 20-7 in the fourth quarter, but Harnish threw a 32-yard touchdown pass to Martel Moore, then a 22-yarder to Nathan Palmer to tie it with 2:52 left.
THE ASSOCIATED PRESS