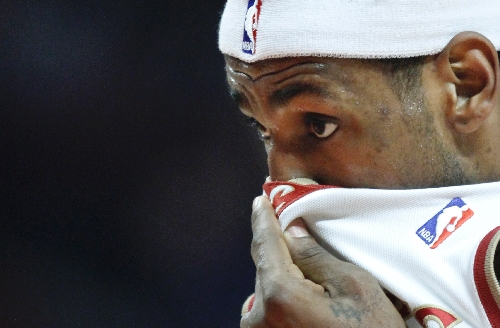 INDIANAPOLIS — At the moment, Duke basketball coach Mike Krzyzewski isn't thinking about Turkey in August. His thoughts are on beating West Virginia today in the national semifinals.
But at some point soon, Krzyzewski will put on his USA Basketball coaching cap and deal with the possibility that he might not have two of his best players when the Americans attempt to qualify for the 2012 Olympics at the FIBA World Basketball Championships.
The Cleveland Cavaliers' LeBron James and the Miami Heat's Dwyane Wade, two key components in Team USA's run to the gold medal at the 2008 Games, are hinting that they won't go to the worlds. James said Wednesday he has business ventures lined up for the summer, including a movie, and Wade is going through a divorce and custody battle for his two sons that could tie him up in court.
"We as a USA Basketball family have to understand each individual's situation as we move forward, and they're still part of our family whether they play or don't play," Krzyzewski said Friday before Duke's open practice at Lucas Oil Stadium. "My feeling is let's find out what everyone's doing and see where we're going."
James and Wade will also be free agents, and unless they are signed with an NBA team when the FIBA tournament begins Aug. 28, neither can play for Team USA. The tournament concludes Sept. 12, with the gold medalist qualifying for the 2012 Olympics in London.
Should the Americans fail to win in Turkey, they would have to qualify in 2011 at the FIBA Americas Tournament. They were forced to take that route the last time, after finishing third in the 2006 world championships in Japan.
Team USA won the FIBA Americas at the Thomas & Mack Center in 2007 without Wade, who was recovering from a shoulder injury, and then won gold in Beijing a year later with Wade back in the lineup and leading the team in scoring.
USA Basketball chairman Jerry Colangelo said James and Wade told him at the NBA All-Star Game in February that they would be with the team this summer. He's not convinced that has changed despite their comments.
"They have not indicated that to me," Colangelo said. "All I can tell you is players are going to respond when asked questions.
"It's all premature at this point. I'm not going to speculate in April who's going to be with us and who won't."
Colangelo and Krzyzewski said they will soon talk to all 27 players in the USA Basketball pool. From there, they'll wait to see who shows up at the team's minicamp in Las Vegas in late July.
"If someone can't make it for medical reasons, contractual reasons, family reasons, it gives someone else an opportunity," Krzyzewski said. "That's the purpose of the pool, so we can handle all those situations.
"This is an extra activity. This isn't what we do all the time. Things sometimes happen. Plus, let's not forget LeBron and Dwyane have each played in the last two Olympics. I don't think anyone should question their commitment to their country and to the national team."
Colangelo said: "I have a great relationship with these players. If they have a legitimate reason, I get it. But let's wait and see what happens over the next few months when we'll have a clearer sense of where things stand."
Contact reporter Steve Carp at scarp@reviewjournal.com or 702-387-2913.