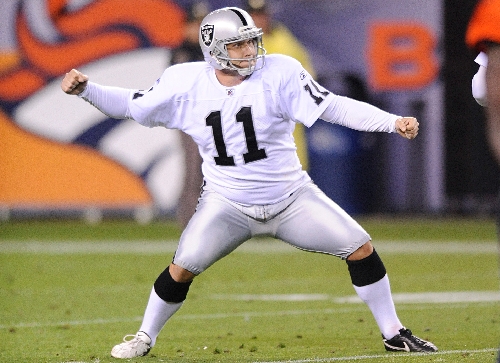 DENVER — Sebastian Janikowski tied an NFL record with a 63-yard field goal and the Oakland Raiders beat the Denver Broncos 23-20 on Monday night in a chippy and clumsy game between the AFC West rivals.
"I had a dream I broke the record and it was here in Denver," Janikowski said. "The ball really carries here."
The Raiders (1-0) won at Denver for the fourth straight season in coach Hue Jackson's NFL head coaching debut, and handed the Broncos (0-1) their first loss in a home opener since 2000.
John Fox lost his debut as Denver's coach, and he lost at least two playmakers in the process.
Pass-rusher Elvis Dumervil (shoulder) was relegated to situational duty for three quarters, and perennial Pro Bowl cornerback Champ Bailey injured his left knee making a touchdown-saving tackle of Darren McFadden, who ran 22 times for 150 yards.
The Broncos cut the deficit to 23-20 on Kyle Orton's 9-yard touchdown pass to Lance Ball with both Brandon Lloyd and Knowshon Moreno on the sideline, apparently with cramps, with 3:43 left.
Other than that, Orton had a tough night. He completed 24 of 46 passes for 304 yards with an interception. As he left the field, fans chanted, "Tebow! Tebow!" for second-year quarterback Tim Tebow, who had an awful camp and is probably the No. 3 QB behind Brady Quinn.
The Raiders salted away the win by controlling the clock and were able to line up in victory formation after Michael Bush's 12-yard run to midfield for the first down at the 2-minute warning.
"There's no consolation for close but we're still optimistic," Fox said. "We just happen to be 0-1 like half the teams in our football league."
After a first half filled with fouls, fists and frustration, the Raiders took a 16-3 lead into the locker room in wild celebration as Janikowski's 63-yard field goal fluttered over the crossbar as time expired.
That tied the mark set by Tom Dempsey in 1970 and matched by Denver's Jason Elam in 1998 at old Mile High Stadium.
The Raiders had gotten the ball with 24 seconds left in the half when safety Matt Giordano intercepted a pass thrown by Orton at the Raiders 24. A 15-yard facemask on Broncos defensive tackle Kevin Vickerson, one of 16 first-half penalties — eight by each team — helped Janikowski move into range.