Johnson, Scoffield fuel Basic
November 2, 2013 - 4:05 pm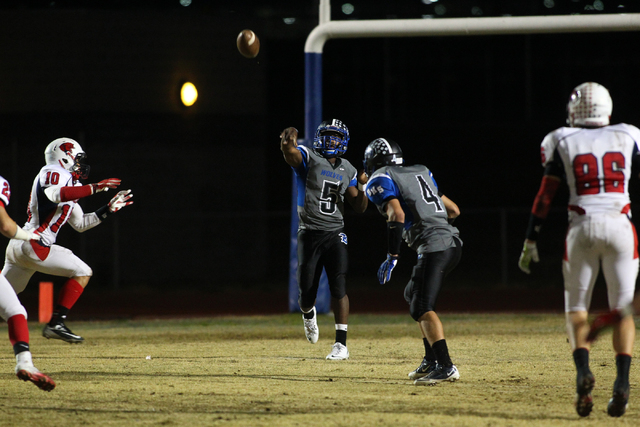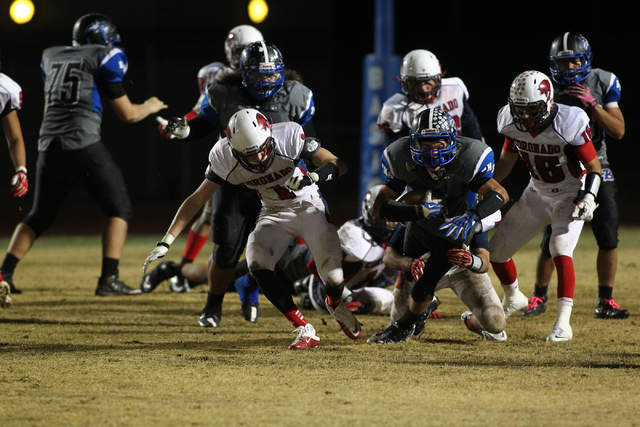 Antraye Johnson ran all over the field to help put Basic in a position to beat Coronado at home Friday night.
Just when it looked like he was going to be able to use his legs to ice the victory, it was his arm that helped seal a 35-27 win and a home playoff game.
Johnson ran for 288 yards and two touchdowns for the Wolves. Still, Basic (4-5, 3-2 Southeast League) was clinging to a 28-27 lead with just more than three minutes remaining in the game.
The Wolves held the ball inside their own 20 and looked as if they would allow Johnson to grind out a few first downs to run the clock. Instead, he took the snap and scrambled before finding a wide-open Jon Scoffield for an 84-yard touchdown.
Still, the game wasn't over. Coronado (4-5, 3-2) drove inside Basic's 15-yard line before fumbling the ball away with 1:22 remaining. Then, the Cougars blocked a punt and had one final play from the Wolves' 16. Jackson Cofer's throw to the end zone fell incomplete and there was holding on the play anyway.
As it turned out, Johnson's long pass did more than help seal the game. Basic needed to win the game by six or more points to clinch No. 2 seed from the Southeast League, according to the tiebreaker system.
Basic coach Jeff Cahill said he was well aware of the tiebreaker, leaving the Wolves no choice but to go aggressively for a score instead of simply trying to run out the clock.
Coronado settles for the third seed.
The Cougars were in position to win and grab second place after dominating the third quarter. Coronado took the second-half kickoff and scored on a 46-yard pass from Cofer to Michael Simpson. They tied the game at 21-21 on a two-point conversion.
Basic went three-and-out, and a bad snap on the punt allowed Coronado to take over at the Wolves' 20. The Cougars quickly took advantage with a 1-yard run by Cofer. Basic jumped offsides on the extra point attempt, prompting Coronado to go for another 2-point conversion, which was unsuccessful. That left the Cougars up by just six and allowed Basic to take the lead midway through the fourth quarter on a 4-yard run by Scoffield.
"The third quarter was rough. We came out and had some bad things happen, but we stuck together and this was a great team win," Basic coach Jeff Cahill said.
Scoffield added 134 yards on the ground to his two catches for 97 yards and two scores. Johnson, who lines up at running back, quarterback and wide receiver at various times, threw for 152 yards and two TDs.
Cofer completed 17 of 27 passes for 164 yards and two touchdowns. He also ran for 123 yards, but he fumbled after a long run inside the Basic 15-yard line with 15 seconds remaining in the first half to allow the Wolves to take a 21-13 lead into the break.
■ Canyon Springs 21, Las Vegas 14 — At Las Vegas, Kyhren Howard returned a blocked punt 63 yards for the game-turning touchdown, as the No. 6 Pioneers earned a home game for next week's playoffs.
On fourth-and-33, the Pioneers punted, but the No. 8 Wildcats blocked the kick. The ball bounced right into the arms of Howard, who raced untouched for the score and a two-touchdown Canyon Springs lead.
The Pioneers (8-1, 4-1 Northeast) pushed the lead to 21-0 on Bradley Alexander's 20-yard pass to Marck Cassino with just under four minutes remaining.
Two Trevor Swenson touchdown passes in a 1:10 span for Las Vegas made things close, but the Pioneers ran out the clock to earn the victory.
Canyon Springs held Las Vegas (5-4, 3-2) to 90 yards on the ground, 75 from Andrew Moreland. Swenson was 19-of-33 passing for 173 yards.
■ Green Valley 28, Silverado 6 — At Green Valley, Christian Lopez completed 15 of 21 passes for 184 yards and a touchdown to lead the Gators.
After a scoreless first quarter, the No. 5 Gators (7-2, 5-0 Northeast) jumped ahead on TD runs by Albert Lake and Larry Norman to take a 14-0 lead into halftime.
Jarrett Alipio connected with Austin Hunt for a 45-yard TD to give Silverado (3-6, 2-3) its lone score late in the game, but five turnovers hurt the Skyhawks.
■ Valley 74, Rancho 15 — At Rancho, Ray Taylor scored four touchdowns and accumulated 140 yards on just six carries for the Vikings.
Amari Calvillo-Tatum carried four times for 97 yards and a touchdown and scored on an 80-yard kickoff return for Valley (2-7, 1-4 Northeast).
Charlie Winters accounted for 93 yards and two touchdowns on nine carries for the Vikings.
Shawn Spencer led the Rams (0-9, 0-5), going 8-of-25 for 98 yards and two touchdowns.
■ Liberty 34, Foothill 12 — At Foothill, Tyler Newman threw for 249 yards and a touchdown and also had a touchdown run as the Patriots clinched first place in the Southeast Division.
Newman broke off a 70-yard touchdown run to give No. 2 Liberty (7-3, 5-0 Southeast) a 7-6 lead in the first quarter, and he connected with Bryan Roland on a 40-yard pass for a score to put his team up 27-12 in the third quarter.
Foothill (5-4, 3-2) had cut the lead to 20-12 on Justice Jackson's 25-yard touchdown run with 1:58 left in the third. But Liberty's Deseon McQuaig returned the ensuing kickoff 56 yards to set up the Newman-to-Roland TD pass on the next play, and Foothill never threatened again.
Drew Doxtator was 37-for-65 passing for 312 yards and a touchdown for Foothill, but he was sacked three times and intercepted twice.
■ Del Sol 28, Eldorado 20 — At Del Sol, Austin Higgins pounded his way to 158 yards and two touchdowns as the Dragons finished with their first win of the season.
The Dragons (1-8, 1-4 Southeast) held Eldorado to 67 yards of offense in the second half, most on a 40-yard touchdown pass that pulled the Sundevils within eight points with 43 seconds left. Del Sol recovered the onside kick and took a knee to run out the clock.
Joshua Brown totaled 215 yards of offense with two touchdowns, including a 53-yard run, to lead Eldorado (1-8, 0-5). Tyler Spivey caught five receptions for 73 yards and one touchdown.
■ Palo Verde 77, Durango 6 — At Palo Verde, Darrion Finn scored three touchdowns to lead No. 7 Palo Verde (7-1, 5-0 Northwest) over Durango (0-9, 0-5).
After the Trailblazers took a 6-0 lead with 5:49 left in the first quarter, when Ben Hayden's 20-yard slant to Caleb Booze capped a 14-play drive, the Panthers took control, scoring on their next eight possessions and adding three scores on defense and special teams.
Finn scored on a 40-yard interception return in the first quarter and a 19-yard run and a 55-yard punt return in the second. Ty Fuller scored two rushing touchdowns, 24-yarder run and a 90-yarder, the latter on the game's final play.
■ Arbor View 54, Sierra Vista 0 — At Sierra Vista, Anthony Smith rushed for 135 yards and three scores and the Aggies defense limited the Lions to 59 yards.
Mitchell Durkee recovered a punt blocked by Bishop Jones, and Herman Gray scored from 4 yards out on the next play to put the Aggies (7-1, 4-0 Northwest) on the board. Smith ran for all three of his scores in the first half, and Salah Boyce added a 24-yard fumble return for a touchdown to give Arbor View a 33-0 lead at the intermission.
The Lions fell to 2-6, 1-3 in division play.
Shadow Ridge 32, Spring Valley 7 — At Shadow Ridge, senior running back Cody Alfar rushed 22 times for 190 yards and three touchdowns to lead the Mustangs to a playoff-clinching victory.
Shadow Ridge (4-4, 2-2 Northwest), which earned the No. 3 seed in the Northwest League, outgained the Grizzlies 460-184.
Senior quarterback Dustin Puia completed 15 of 22 passes for 193 yards, while senior J Henderson caught six passes for 78 yards and intercepted Spring Valley senior quarterback James Donnelly twice.
Donnelly completed 5 of 16 passes for 58 yards and threw one touchdown, a 42-yard strike to senior Logan Cruz for Spring Valley (2-6, 1-3).
■ Desert Oasis 42, Bonanza 35 — At Bonanza, Jocquez Kalili scored the game-winner from 13 yards out with 21 seconds left to lift the Diamondbacks (4-4, 1-3 Southwest) over the Bengals (3-5, 0-4).
Richie Stammetti set up the winning score, finding Shawn Sanchez deep down the sideline for a 58-yard completion on third down from the Desert Oasis 22-yard line with less than a minute to play. Three plays later, Kalili bounced outside to the left with blockers ahead of him for the winning score.
Kalili was the star of the show for Desert Oasis, rushing for 264 yards on 38 carries and four touchdowns, including a 60-yard run on the third play of the second half. Kalili also returned a kickoff 94 yards for a touchdown in the first quarter.
Bonanza's Carlos Soto put up 169 yards on 19 carries with two touchdowns.
■ The Meadows 23, Needles 7 — At The Meadows, junior quarterback Jacob Gleason passed for 128 yards and two touchdowns to lead The Meadows.
The Meadows (7-2, 6-1 Division III Southern) drove 46 yards in seven plays on their first possession, scoring on a 13-yard pass from Gleason to Thayne Carlson. Gleason then hit senior R.J. Haskins with a 7-yard strike to take a 13-0 lead.
Needles (5-4, 4-3) only managed to run six plays from scrimmage in the third quarter, and its only score came on a 67-yard fumble return by senior defensive lineman J.D. Lucas late in the fourth.
■ Spring Mountain 54, Beatty 0 — At Spring Mountain, David Otuafi scored three touchdowns, and the Golden Eagles (5-2, 4-2 Division IV Southern) bolted to a 32-0 first-quarter lead on their way to a rout of the Hornets (2-5, 1-5).
Banasiak also tossed a 32-yard scoring pass to Isaiah Saromines and a 31-yard TD pass to Valmir Bokju. Saromines returned an interception for a touchdown, and Dashon Blanche added a TD run for Spring Mountain.
■ Indian Springs 32, Beaver Dam (Ariz.) 16 — At Indian Springs, Troy Heath tossed three touchdown passes to lead the Thunderbirds (6-3).
Heath connected with Mason Hamlin on scoring passes of 32 and 30 yards and hit Ryan Frank for a 40-yard TD pass. Heath was 6 of 10 for 187 yards.
Hamlin also returned a kickoff 80 yards for a score, and Craig Heeren added a 1-yard touchdown run for Indian Springs.