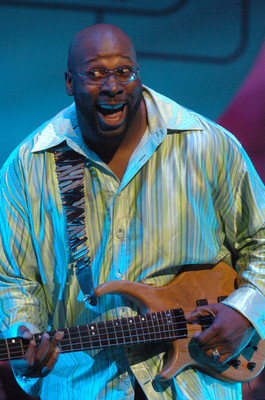 Wherever Wayman Tisdale went, whatever he was doing, chances were he was smiling.
Tisdale was a three-time All-American at Oklahoma in the mid-1980s before playing a dozen years in the NBA and later becoming an accomplished jazz musician.
But those who knew Tisdale, who died Friday at a hospital in his hometown of Tulsa, Okla., recalled not only his professional talents but a perpetually sunny outlook, even in the face of a two-year battle with bone cancer that took his life at age 44.
"I don't know of any athlete at Oklahoma or any place else who was more loved by the fans who knew him than Wayman Tisdale," said Billy Tubbs, who coached Tisdale with the Sooners. "He was obviously a great, great player, but Wayman as a person overshadowed that. He just lit up a room and was so positive."
Jeff Capel, the current Oklahoma coach, noted Tisdale's "incredible gift of making the people who came in contact with him feel incredibly special."
After three years at Oklahoma, Tisdale played in the NBA with the Indiana Pacers, Sacramento Kings and Phoenix Suns. The 6-foot-9-inch forward, with a soft left-handed touch, averaged 15.3 points for his career. He was on the U.S. team that won the gold medal in the 1984 Olympics.
Tisdale averaged 25.6 points and 10.1 rebounds during his three seasons with the Sooners and was voted Big Eight Conference player of the year each year. He still holds Oklahoma's career records for points and rebounds, as well as its single-game scoring mark — 61 points against Texas-San Antonio as a sophomore.
Gov. Brad Henry attended Oklahoma at the same time Tisdale did and later appointed him to the state's Tourism Commission.
"Oklahoma has lost one of its most beloved sons," Henry said. "Wayman Tisdale was a hero both on and off the basketball court. … He was one of the most inspirational people I have ever known."
Tisdale learned he had a cancerous cyst below his right knee after breaking his leg in a fall at his home in Los Angeles on Feb. 8, 2007. He said then he was fortunate to have discovered the cancer early.
"Nothing can change me," Tisdale said last June. "You go through things. You don't change because things come in your life. You get better because things come in your life."
His leg was amputated in August, and a prosthetic leg he wore was crimson, one of Oklahoma's colors. In April, he said of his cancer, "In my mind, I've beaten it."
Tisdale was the first freshman to be a first-team All-American since freshmen were allowed to play varsity ball again prior to the 1971-72 season. He was one of 10 three-time All-Americans. Patrick Ewing and Tisdale were the last to accomplish the feat, from 1983 to 1985.
Tisdale played on an Olympic team that sailed to the gold medal in Los Angeles. The squad was coached by Bob Knight and featured the likes of Ewing, Michael Jordan, Sam Perkins and Chris Mullin.
Perkins and Tisdale shared a love of music and became friends during the Olympics. Perkins later was the best man at Tisdale's wedding.
"That's a real friend who's got your back and would do just about anything for you," Perkins said. "That smile just gets you."
As a musician, Tisdale recorded eight albums. A bass guitarist who often wrote his own material, his most recent album, "Rebound," was inspired by his cancer battle and included guest appearances by several artists, including saxophonist Dave Koz and country star and fellow Oklahoma native Toby Keith.
Tisdale's "Way Up!" release debuted in July 2006 and spent four weeks as the No. 1 contemporary jazz album.
He performed in Las Vegas in April at the City of Lights Jazz Festival. He told the Review-Journal in an interview that he was more into music than basketball as a youngster.
"I didn't want to play basketball. My older brothers got me into it and made me like it, you know. They showed me the lucrative side of it," Tisdale said. "Then I fell in love with the game. But I never threw music away."
He said his fight with cancer toughened him and enriched his music.
"I had a lot of trials and tribulations, but you know what? It makes it better," Tisdale said. "Music became more meaningful in a different way. My interpretations, my melodies got better.
"Things happen for a reason. When you listen to my music, I want to make you happy. That's my personality."
Tisdale is survived by his wife, Regina, and four children.
Review-Journal reporter Steve Bornfeld contributed to this report.