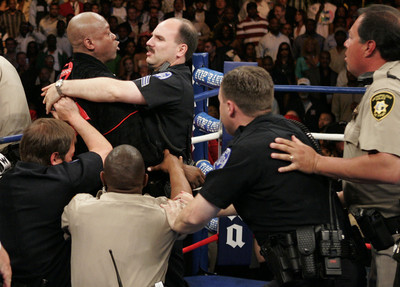 When Zab Judah climbs into the ring at the Palms on Aug. 2 to fight Josh Clottey for the vacant IBF welterweight title, he'll have a friendly and familiar face in his corner.
Judah's dad, Yoel, will work his corner as a second after the Nevada Athletic Commission reinstated him Wednesday following a year's suspension.
Yoel Judah's license was revoked after he jumped into the ring when a melee broke out in the 10th round of his son's April 8, 2006, fight with Floyd Mayweather Jr. at the Thomas & Mack Center. Judah also was fined $100,000, which his son paid in April.
Yoel Judah has had the right to reapply for a second's license for the past year. With Zab preparing to fight in Nevada for the first time since the Mayweather fight, Yoel reapplied Wednesday.
"We're like a team," Yoel Judah said. "We're a family. It's great to be back."
For a while, it was unclear whether the commission would grant Judah a license. He was lectured sternly by the commissioners, particularly chairman John Bailey. But Judah was contrite.
"I made a mistake, and I've learned from my mistake," Judah told the commission. "I should not have come into the ring. If a similar situation were to occur again, I'd let the officials handle it."
Commissioner Bill Brady told Judah, "If there's another incident, I'd frown on giving you a license in this state ever again."
Bailey said, "There's going to be zero tolerance for any inappropriate behavior."
• HUNTER'S DREAM OVER — It's official: Local heavyweight Michael Hunter Jr., will not be going to the Olympics after all.
The Palo Verde High School graduate said he will not be a replacement for Islam Timurziev. Apparently, Timurziev has overcome his shoulder injury and will compete in Beijing. Timurziev defeated Hunter in their super heavyweight Olympic box-off bout in November. Timurziev then contracted appendicitis and later injured his shoulder.
Hunter, 20, said he's unsure of his plans.
"I've got a lot of things I'm thinking about," he said. "Nothing's been decided. Right now, I'm just trying to stay in shape."
His mother, Gwen, said they've talked to a couple of people about Hunter turning pro but nothing serious has resulted from it.
"Michael's going to consider all his options," she said. "But we're not in any rush."
• COTTO-MARGARITO OFFICIALS — Las Vegas' Kenny Bayless has been selected to referee the July 26 WBA welterweight title fight between champion Miguel Cotto and Antonio Margarito at the MGM Grand Garden. Dave Moretti and Jerry Roth, both from Nevada, and Glen Hamada of Washington will be the judges.
The undercard will feature Giovanni Segura and Cesar Cancila, the WBA's No. 1- and No. 2-ranked contenders, meeting in a 12-round bout for the WBA interim light flyweight title. Mike Alvarado will face Cesar Bazan in a 10-round super lightweight bout, and Bernabe Concepcion will meet Adam Carrera in a 10-round super bantamweight bout.
• MALIGNAGGI UPDATE — IBF junior welterweight champion Paulie Malignaggi has had the cast removed from his right hand and has begun rehabilitation as he prepares for his Nov. 22 fight against Ricky Hatton at the MGM Grand Garden.
Malignaggi (25-1, five knockouts) had surgery May 28 to repair the metacarpal of the middle finger on his right hand. He was injured while successfully defending his title against Lovemore N'dou.
"Getting the cast off was the first step," Malignaggi said. "Now rehabilitation starts. There's no pain or swelling of the hand, and I'm moving forward. I'll be ready to rock 'n' roll against Ricky Hatton."
Contact reporter Steve Carp at scarp@reviewjournal.com or 702-387-2913.