K-State gets by without Pullen
December 24, 2010 - 12:00 am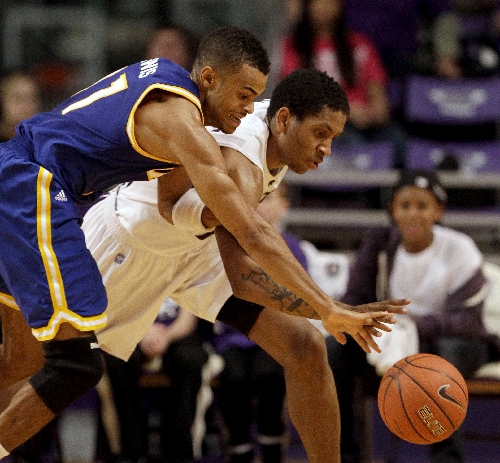 MANHATTAN, Kan. — Rodney McGruder shot 300 3-pointers in practice and then kept them coming Thursday night.
Ignoring the discomfort from an emergency root canal, the 6-foot-5-inch sophomore made seven 3-pointers and scored a career-high 24 points to help No. 11 Kansas State defeat Missouri-Kansas City, 80-64.
McGruder shot 7-for-10 from the arc for the short-handed Wildcats (10-3), who dominated the slower and shorter Kangaroos despite playing without their only two seniors, Jacob Pullen and Curtis Kelly, who are serving suspensions.
On Wednesday, McGruder stayed late after practice to work on his shot.
"I was feeling it. I was in rhythm," he said.
McGruder's lip was still swollen from the dental work after he chipped a front tooth when he fell face-first during the Wildcats' 63-59 home loss to UNLV on Tuesday.
"A little pain from having a root canal," McGruder said. "I had it done today and yesterday. Finished it today."
In a scene that was played over and over on sports highlight shows, McGruder wobbled off the court against UNLV as officials picked up his tooth.
"I had to have a cap put on my teeth because of how bad it was," McGruder said.
Pullen, the Wildcats' captain and preseason All-American, was ordered by the NCAA to sit out three games for receiving impermissible benefits. Kelly was suspended for a period that has not been determined.
Jay Couisnard scored 21 points for UMKC and made 11 of 11 free throws, matching Kansas State's team total from the line. The Wildcats, who have struggled at the foul line all season, made only 11 of 27.
Without Pullen and Kelly, the Wildcats are clearly not the team that was picked as the preseason favorite in the Big 12 and ranked as high as No. 3 in the nation.
But they had plenty left to take care of the Kangaroos (7-5), who dropped to 1-15 all time against Kansas State.
When Max Rockmann scored about seven minutes into the second half to make it 56-38, it was only the fourth two-point field goal by UMKC. It chipped away until Spencer Johnson's 3 cut the Wildcats' lead to 67-57 with 5:44 to play.
Kansas State's Wally Judge then banked home a short shot. After Will Spradling's driving runner and Judge's rebound and put-back, the Wildcats were back on top 73-57 with 3:25 left.
McGruder hit his seventh 3-pointer to make it 78-61. His seven 3s were one off the team record.
Judge had his best game of the season with 14 points and 11 rebounds. Spradling, taking over at point guard for Pullen, supplied 15 points.
"It was a big game for Wally," McGruder said. "I believe now he has that swagger back about himself."