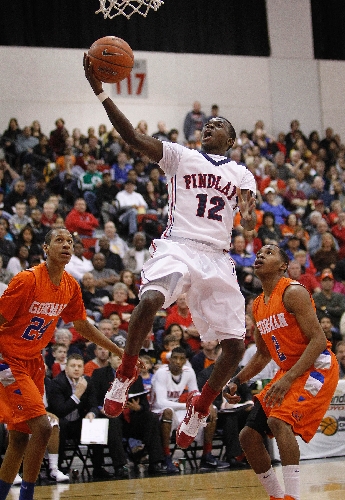 Looking to set up teammates before scoring is something of a lost art in high school basketball, even for many point guards.
Myck Kabongo could be compared to a vintage painting, and college coaches have been admiring the rare find for years.
Kabongo, Findlay Prep's senior point guard, directs traffic for the up-tempo Pilots with uncommon unselfishness. He finds nothing more satisfying than to "take control of the game without scoring."
"That's what a point guard does," Kabongo said. "Guys get caught up with their numbers in high school, like 'I'm scoring this many points.' I don't get caught up in that at all."
Pilots coach Michael Peck knew he was getting a real floor general when Kabongo decided to transfer from St. Benedict's (N.J.) to Findlay Prep entering his senior year.
With Kabongo at the controls, the Pilots have flown to a 21-2 start and are once again hovering near the top of several national polls.
Kabongo has proven he can take over as a scorer when needed. The 6-foot-2-inch speedster used an array of moves to get to the basket and score 26 points in an 89-86 double-overtime win over Bishop Gorman on Saturday.
But the key play came when he dished the ball to teammate Kevin Kaspar for an open 3-pointer just before time expired to seal the win.
"Myck's interested in making his teammates better with dribble penetration and setting them up," Peck said. "He gets that part of being a point guard, which nowadays a lot of kids don't get. They think, 'If I'm dribbling, I'm going to create for me.' Myck sees it like, 'I'm doing this to create for this guy or that guy.' "
Kabongo styles his game after Rajon Rondo of the Boston Celtics. If he finishes scoreless but every other starter scores in double figures, it'd be a perfect night — given the Pilots win.
"I'd rather see my teammates score than me," said Kabongo, who is averaging 16.7 points and 7.2 assists. "I feel like I have to get everyone involved, and I love doing it."
In November, Kabongo became the latest in a growing line of Findlay Prep standouts to sign with Texas.
Kabongo, who is originally from the Toronto area, takes pride in the fact that two other Ontario natives who played for Findlay Prep are shining as Texas freshmen this season.
Point guard Cory Joseph and power forward Tristan Thompson are in the Longhorns' starting lineup only a year after leading the Pilots to a repeat National High School Invitational title.
Kabongo looks at the growing talent pool in Canada, including his close friends Joseph and Thompson, and hopes the trio can one day play in the Olympics together.
"We're proud. The whole country's proud of us," Kabongo said. "A lot of people have been excited for us to continue doing well and hopefully get to the next level and beyond."
Peck said he expects Kabongo to be as prepared for the next level as Thompson and Joseph were because of the college-like travel and national schedule that players encounter with Findlay Prep.
"By coming here and going through this experience, this is your freshman year in college," Peck said. "They're past that stuff of living away from home and having to manage their own time. They go (to college) men, and it shows."
Kabongo won't carry a sense of entitlement into college despite garnering seemingly endless hype from recruiting services billing him as a future NBA point guard.
"I'm going in there with my hard hat and just to go to work every day, do as coach (Rick Barnes) says from day one," he said. "I have to gain the trust of my teammates. Good things can happen when you have trust from your teammates one through 12."
Of that, the Pilots have no doubt.
Contact reporter Tristan Aird at taird@reviewjournal.com or 702-387-5203.
In-depth high school sports coverage