Kendall Williams' clutch play helps New Mexico turn back UNLV
February 20, 2014 - 12:20 am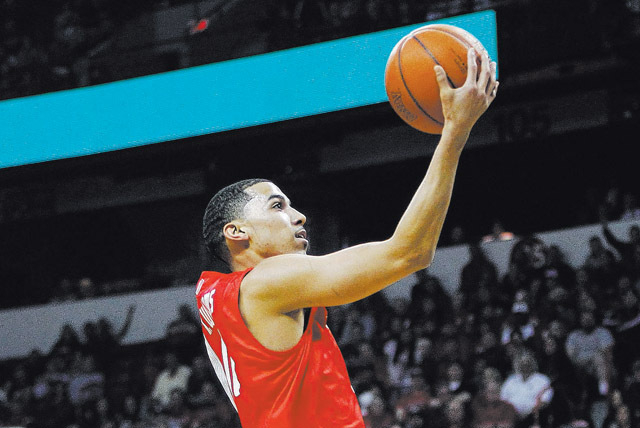 New Mexico didn't need guard Kendall Williams to play great to beat UNLV on Wednesday night. The Lobos just needed him to play like a senior and lead the team.
Williams did that and then some, scoring 29 points, several of them at big junctures when UNLV attempted to make a run, and moving New Mexico closer to first place in the Mountain West with a 68-56 win at the Thomas & Mack Center.
The Lobos (20-5, 11-2 MW) will host sixth-ranked San Diego State on Saturday at The Pit. The Aztecs lead the Mountain West with a 12-1 record.
"He was tremendous," Lobos coach Craig Neal said of Williams, the 2013 conference player of the year. "It speaks to his senior leadership, and it also speaks to how good he is."
Williams, who never had scored more than 15 points against the Rebels, knew UNLV coach Dave Rice would try to take away New Mexico's big-man tandem of Cameron Bairstow and Alex Kirk. Williams knew he probably would get open shots, especially early with Daquan Cook on the floor for Deville Smith, who did not start because he was late for the pregame shootaround.
"Yeah, that was big," Williams said. "When your starting point guard's not on the floor, it makes all the difference. I was able to get into an early rhythm, and we kept going inside to Cam and Alex."
The Rebels trailed 54-39 with 11:31 left but cut the lead to 54-47. But Williams nailed a 3-pointer to get the lead back to 10. Earlier in the half, Williams had stolen the ball from Smith, scored and was fouled, and his free throw gave New Mexico a 17-point lead.
"Those were big plays," Williams said. "You never want to give a team like that any life. I thought we did a great job of contesting them, and everyone helped out. It was a great team win."
Williams, who scored 46 points in a game against Colorado State last season, said he didn't know why the Rebels had contained him before Wednesday's game. He thought his experience from playing so many games against UNLV maybe worked to his advantage.
The Lobos needed his scoring. Bairstow had 18 points but was 8 of 20 from the field, and Kirk was limited to 16 minutes because of foul trouble and finished with eight points.
"I'm always going to look for my guys first," Williams said. "But they were doing a good job defending them, so I was a little more open than usual."
Neal said that's the beauty of Williams.
"Kendall understands that we need to run our offense through Alex and Cam," the coach said. "But he also knows there's shots for him, and he is great at deciding when to pass and when to shoot."
New Mexico also did a good job of controlling tempo and keeping it a half-court game. UNLV had only four fast-break points and shot 32 percent from the field, including 3 of 21 on 3-point attempts.
"We didn't let them get out in transition, and you have to control tempo against transition teams," Neal said. "We've got two monsters we can go to inside and a great guard in Kendall who can get them the ball and also get himself open and make shots."
The victory gives the Lobos momentum entering the nationally televised showdown with San Diego State on ESPN2.
"We've got a chance to tie for first place, so this was a big game for us to get," Williams said.
Contact reporter Steve Carp at scarp@reviewjournal.com or 702-387-2913. Follow him on Twitter: @stevecarprj.