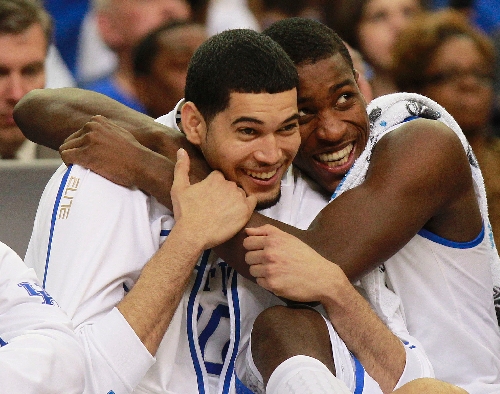 ATLANTA — Kentucky could have cut the nets down at halftime.
Actually, the Wildcats probably would have been good skipping the ceremony altogether.
An NCAA South Region title is fine, but what matters to this bunch of future NBA stars is breaking out the scissors in the Big Easy.
Top-seeded Kentucky advanced to the Final Four for the second year in a row with an 82-70 blitzing of Baylor, setting up a Bluegrass showdown with rival Louisville in the national semifinals Saturday at New Orleans.
Michael Kidd-Gilchrist scored 19 points, Anthony Davis added 18 points and 11 rebounds, and Terrence Jones dazzled in all the overlooked areas to lead the Wildcats (36-2).
For all the hoopla sure to surround the next game in its basketball-crazed state, Kentucky won't consider the season a success unless it wins two more games — culminating in a national title.
"I'm not satisfied yet," Kidd-Gilchrist said.
This group sure has the look of a champion, shaking off an early blow by the Bears (30-8) — a good team with a daring fashion sense that was simply no match for coach John Calipari's latest group of Fab Freshmen. Kentucky took control with an early 16-0 run and led by 20 at halftime.
"This team is better than I thought," Baylor coach Scott Drew said. "This is the best team we faced all year … probably in a couple of years."
Two years ago, Baylor lost to eventual national champion Duke in another regional final.
"Duke was a good team," Drew said, "but Kentucky is better."
The Wildcats beat Louisville 69-62 on New Year's Eve, but now they'll meet with the highest stakes ever. Kidd-Gilchrist shrugged when someone asked about playing the Cardinals.
"I'm just worried about us," he said. "That's it. I don't worry about anybody else."
Calipari, in his third season at Kentucky, just keeps recruiting the best high school players in the land, molds them into a top team, then sends most of them on to the NBA.
Then he starts the whole process over again.
"There are some opinions that will never change," Calipari said. "All I'm trying to do is coach these young people. I'm trying to do the best job for these kids and their families."
Two years ago, John Wall led Kentucky to the regional final. Last season, Brandon Knight helped guide the Wildcats to the Final Four. Now, with those guys in the NBA and Kidd-Gilchrist and Davis stopping off for what could be their only season in Lexington, Big Blue has a shot at what those last two teams failed to do — bringing Kentucky its first national title since 1998.
But for all the talk about Calipari's one-and-done pipeline, he's getting plenty of contributions from those who hung around beyond their freshmen year. Take Jones, a sophomore forward who passed up the draft. He had one point in the first half, but his fingerprints were all over Kentucky's dominating performance: nine rebounds, six assists, three blocks and two steals — most of that in the first 10 minutes.
"I was just trying to be aggressive early," Jones said. "That allowed me to get in great position for rebounds and to lead the fast break."
Then there's Darius Miller, one of two seniors on the roster. He gave up his starting role to Kidd-Gilchrist in this one — Kentucky essentially has six starters — but added four points, two assists and two steals in the first-half blowout.
At one point, Kidd-Gilchrist had as many points as Baylor did: 17 apiece. Kentucky led 42-22 at the break, and Baylor never got any closer than 10 points the rest of the way.
"It's kind of hard to play us," Davis said. "We're very long and very athletic. It makes it tough on the other team."
The Wildcats left New Orleans this month disappointed after a loss in the Southeastern Conference championship game. But that game is long forgotten now.
A national championship has been the goal all along.
"It's a great feeling to be part of something special," Davis said.
Quincy Acy led Baylor with 22 points, and Las Vegan Pierre Jackson (Desert Pines) scored 21. It wasn't nearly enough.
"They're a great team," Acy said. "They've got some good dudes down there."
With Baylor's Heisman Trophy winner Robert Griffin III cheering from the stands, Acy tried to send a message early on that Baylor would not be intimidated by the Wildcats.
Jones was in the clear and going in for a fast-break layup when the 235-pound Acy came up from behind, took a whack at the ball but mainly just crashed into the Kentucky player, sending him flying into the Baylor cheerleaders along the baseline. Jones was OK, and the officials assessed a flagrant foul on Acy after looking at the replay.
Jones made one of the free throws, Kentucky missed a jumper, and the Bears, seemingly inspired by Acy's bravado, ripped off an 8-0 run that led Calipari to call timeout. He already had yanked Doron Lamb for trying to make the highlight reels rather than taking a layup. The sophomore guard passed up a clear path to the basket, instead opting for a lob pass to the trailing Davis.
The big man missed the dunk, hanging on the rim as Baylor grabbed the rebound and took off the other way for a basket.
After Quincy Miller hit an uncontested 3-pointer from the top of the lane to give Baylor a 10-5 lead, Calipari lashed into his young team.
"I told them we've got to step on the gas here," he said.
They responded with 16 consecutive points, an NBA-like display of defensive dominance and easy baskets that sent the Georgia Dome, and the predominantly blue-clad crowd, into a frenzy.
Too bad RG3 couldn't suit up for the Bears, who couldn't wear the neon-green home uniforms they had specially made for the tournament. As the lower-seeded team, they switched to another special uniform, this one black and camouflage with neon trim.
Turns out, blue was the dominant color.
KENTUCKY 82
BAYLOR 70
■ KEY: The No. 1-seeded Wildcats used a 16-0 run to take a 20-point lead at halftime and coasted into the Final Four for the second straight year.
No. 1 KENTUCKY (36-2)
vs. No. 4 LOUISVILLE (30-9)
Time/TV: 3:09 p.m. Saturday, CBS (8)
Line: Kentucky -8 1/2 Total: 138 1/2