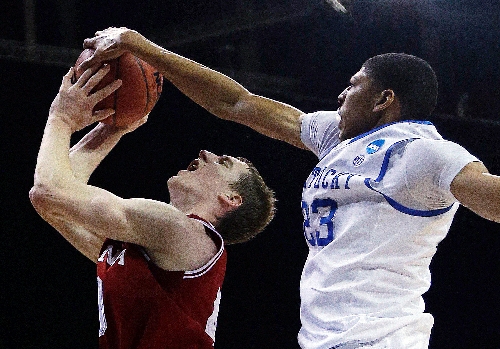 ATLANTA — They ran up and down the court, two storied programs going toe to toe.
In the end, Kentucky was just too big, too quick, too good for Indiana.
The top-seeded Wildcats moved another step closer to the only goal that matters in the Bluegrass State, shaking off a rather quiet night from freshman star Anthony Davis to pull away from the Hoosiers 102-90 in the South Regional semifinals Friday.
"It was a war and Indiana played great," Kentucky coach John Calipari said. "We just happened to play a little bit better."
Kentucky (35-2) simply had too many weapons. Michael Kidd-Gilchrist scored 24 points, Doron Lamb 21 and three of their teammates — not Davis, mind you — were in double figures. With that, the Wildcats dispatched the team that beat them back in early December and are off to a regional final for the third year in a row.
They'll face Baylor on Sunday for a trip to the Final Four.
"I feel like we did a pretty good job," said Kentucky's Darius Miller, who added 19 points. "So did Indiana. It was a very intense game. It was up and down for the most part. It was a fun game to be a part of, the way that both teams played."
Davis wasn't his usual dominating self after picking up two early fouls. He finished with nine points and 12 rebounds. So it was left to another of Kentucky's super freshmen to take the starring role. Kidd-Gilchrist had a double-double, also snatching 10 rebounds.
"In the huddles during timeouts, Michael was the guy firing us up," teammate Twany Beckham said. "It showed with his play."
Marquis Teague chipped in with 14 points and Terrence Jones 12.
Christian Watford had 27 points to lead the Hoosiers (27-9), who beat Kentucky 73-72 before Christmas but ended a comeback season with a loss to their border rival. Still, there was nothing to ashamed of, coming up two victories shy of the Final Four after winning a total of 28 games the previous three seasons.
Clearly, Indiana has regained its usual place among the college basketball bluebloods under coach Tom Crean.
"There's a lot of good things that have happened," Crean said. "This team has a lot of tremendous character, there's no doubt about that."
But Big Blue is moving on.