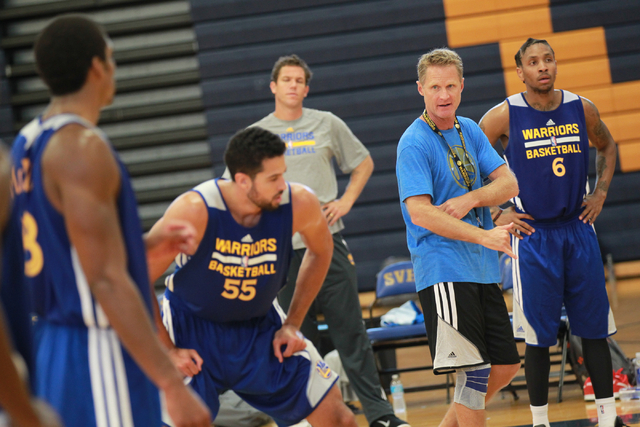 Repeating as a champion is difficult. And, realistically, it's unlikely the Vegas Summer League will see the Golden State Warriors hoisting the championship trophy for a second straight year on July 21 at the Thomas &Mack Center.
The Warriors went 7-0 last year and defeated the Phoenix Suns to win the first VSL title. But Golden State has a totally new look this year.
Steve Kerr is now the Warriors' coach, and he is trying to get acclimated in his first NBA coaching job. The roster is an amalgamation of second-year players, free agents and members of the Warriors' Development League team.
Many of the other 23 teams competing in Las Vegas saw what the Warriors did last year and have improved their rosters significantly to make a run at the title. So their 14-game VSL winning streak probably will end this year, perhaps even today when Golden State faces Charlotte at 5:30 p.m. at the Thomas &Mack on the event's first day.
"I heard the Warriors won like 43 straight summer league games, so there's a lot of pressure on me," Kerr said with a smile. "This is a great experience for me to be here running through practices and getting some game action. For our young players, it's important to get some game experience.
"You've got to get a feel for these guys, and you always have your eye out for other players. You never know who's going to stand out and sneak on and make your roster."
Assistant general manager Kirk Lacob said while winning remains an important component for the franchise, it's more important for Kerr to get settled in and get a long look at those players who can make the team in the fall, a team that won't have many open spots.
"We want to defend our title, but it's not our absolute No. 1 goal," Lacob said. "It was a great experience last summer, and there's no question it helped us as an organization carrying over to last fall. But it really goes back to two years ago when we were trying to learn to be winners. We had not experienced winning, and so it was more of an organizational thing.
"We feel we've established that and our guys have experienced winning. The guys who played for us last summer were able to show some toughness and gut it out. When other teams were looking to just get finished and get out of Vegas, our guys stayed hungry and motivated. That carried over to the regular season when they played alongside our veterans."
Kerr said don't expect the Warriors to empty out the playbook in the next 11 days, especially with so many players who probably won't be on the opening-day roster this fall.
"We're going to keep things relatively simple," he said. "We just want to get guys into a rhythm offensively where they can play with some pace and some flow, and we'll add some things here and there. But it won't be anything like the regular season."
Kerr said he wants to see what he has in guard Nemanja Nedovic and center Ognjen Kuzmic, second-year players who saw limited playing time last season for the Warriors.
"It's a big summer for those guys," he said. "It's a great opportunity for them. They didn't get much of a chance last year, so I'm definitely curious to see what they can do."
Golden State was hoping to have third-year center Festus Ezeli on the floor this week. But Ezeli, who missed the 2013-14 season after undergoing right knee surgery, has had inflammation in his right shin. He's with the team but won't play.
"There's no need to rush him back," Kerr said. "But having Festus here and watching what we do is a big plus, both for him and for us."
Kerr said he's looking forward to taking part in the summer league experience for the first time. He'll be there for a pregame banner-raising ceremony in the Thomas &Mack to honor last year's champs.
"It's its own little industry; it's exciting," he said. "It's great for the NBA. You get a lot of fans who come to Vegas and watch all these high draft picks in an informal setting. It should be a lot of fun."
Contact reporter Steve Carp at scarp@reviewjournal.com or 702-387-2913. Follow him on Twitter: @stevecarprj.