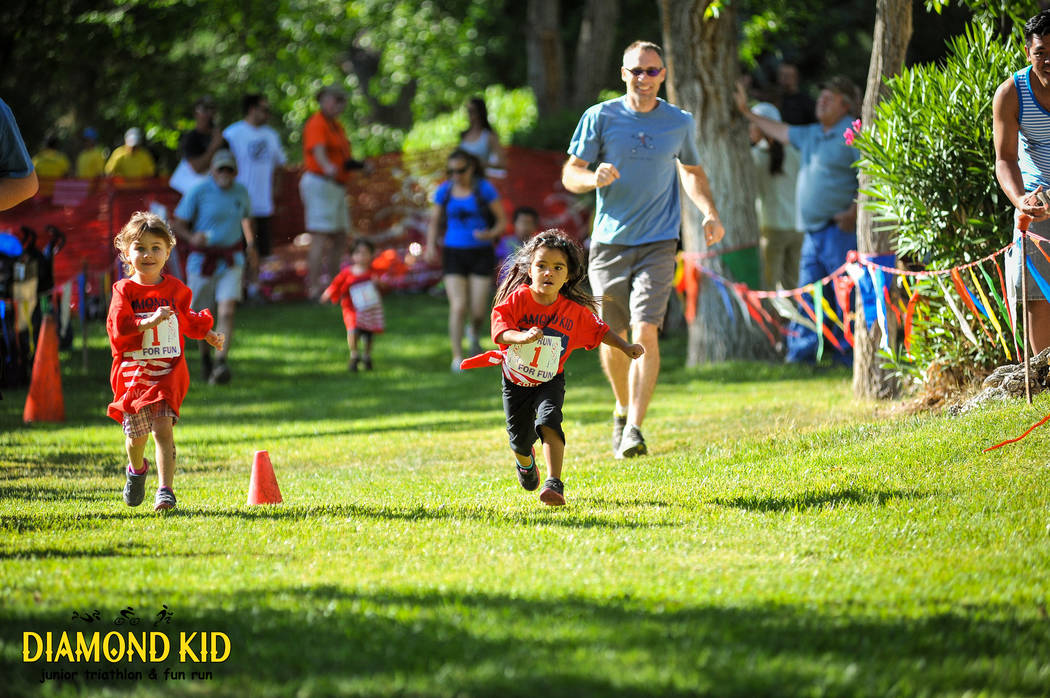 Longtime triathlete Heather Fisher wanted to inspire her kids to lead active lifestyles, but was searching for the right outlet. So, she just created her own.
Fisher is one of the co-founders of the Diamond Kid Junior Triathlon and Fun Run, which will celebrate its 11th anniversary Saturday at Blue Diamond Community Pool and Park. The event offers opportunities for children 2- to 15-years-old, and did its part to get Fisher's kids involved at a young age.
When Saturday comes, Fisher's 5-year-old daughter will be ready to race.
"The mission was to create a professional race for kids so we didn't spare any expense," Fisher said. "It's just for them to have a full experience, not a dumb-downed experienced. They have to do everything that a real triathlete would do in a real race."
There are four different competitions during the event: a fun run, parent assist triathlon, sprint triathlon and junior long triathlon. The difficulty and age range go up slightly in each competition, and generally the competition level does too.
The tight races are due at least in some part due to the size of the event, with 300 kids (and some of their parents) set to race on Saturday. The number of participants made the event a sellout for the 11th straight year, and Fisher and the other six mothers she runs the event with will send all the proceeds to the city of Blue Diamond.
"I've been doing triathlons for years and this race is by far the most fun," Fisher said. "It's very exciting because they're all going at the same time."
The races are set to start at 8 a.m. Saturday, with the fun run and junior long triathlon going first. In each triathlon runners will start approximately 10 seconds apart, with electronic timers recording their results and determining the ultimate winner.
"Those kids, they love having that timing chip," Registrar Suzanne Young said. "It makes it seem so official."
Following the competition the event will feature an awards ceremony, which, in Fisher's ideal world, will help inspire the athletes to get back to training for next year.
"We really wanted to inspire athletic lifestyles and make it super exciting and super fun," Fisher said. "That changed my life and changed a lot of people lives. When you do triathlons, you have to train all the time and they makes you healthier and happier."
The recreation notebook appears Wednesdays. Contact Ben Gotz at bgotz@reviewjournal.com. Follow@BenSGotz on Twitter.
Calendar
Saturday: Diamond Kid Junior Triathlon and Fun Run, Blue Diamond