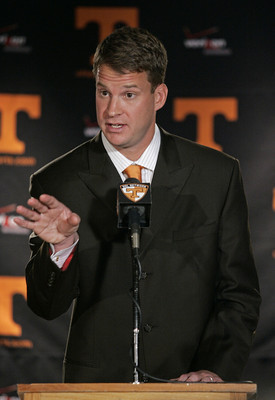 In preparation for spring football, first-year Tennessee coach Lane Kiffin continues to keep his name in the news with a seeming inability to avoid controversy.
According to a report on ESPN.com, Kiffin, during his recruitment of blue-chip wide receiver prospect Alshon Jeffrey, told Jeffrey that if he signed with South Carolina, he would end up pumping gas for the rest of his life. Evidently, Kiffin is unaware that NFL scouts do monitor games and video involving South Carolina, same as they do Tennessee.
Jeffrey, who had committed to Southern California, wound up signing with South Carolina. Walter Wilson, Jeffrey's high school coach, said USC coach Pete Carroll never gave up in his pursuit.
"You should have heard Coach Carroll (on the phone)," Wilson said. "He was wide awake at 3 o'clock in the morning. Remember, he was on West Coast time and fighting to get Alshon to the very end. But the war was over at that point."
• CURIOUS MARRIAGE — The honeymoon period barely has begun, and people still don't know what to make of the union between Terrell Owens and the Buffalo Bills.
Wrote Clark Judge of CBSSports.com: "So Owens is going from the glare of the media to the glare of the next snowdrift. Doesn't make a lot of sense, does it? Less attention is exactly what Terrell Owens needs, but it's not exactly what he wants.
"In fact, he craves the spotlight. He is to cameras what the lungs are to oxygen. Without one, the other can't survive."
• TALK ON THE STREET — From Dwight Perry of the Seattle Times: " 'Sesame Street' laid off 20 percent of its workers, but a couple already have new jobs lined up. The Count hired on as A-Rod's bookkeeper, Slimey the Worm became a boxing promoter, and Oscar the Grouch is UConn coach Jim Calhoun's new publicist."
• COMING UP SHORT — Golfer Natalie Gulbis, a Henderson resident, botched the cupcakes she was baking on NBC's "Celebrity Apprentice."
"Gulbis can putt and drive," Cam Hutchinson of the Saskatoon (Saskatchewan) StarPhoenix noted, "but I'm thinking her shortening game needs a little work."
• SACRIFICE FLY — JetBlue airlines announced special "Manny Fan Fares" in honor of the Los Angeles Dodgers re-signing Manny Ramirez.
"The fare's only $99 each way," noted Janice Hough of LeftCoastSportsBabe.com, "but there's a mandatory surcharge for excess baggage."
• IN HIS OWN MIND — From an item in the Chicago Sun-Times: "Bulls general manager John Paxson will be the featured speaker at ESPN Radio's 'Lunch With a Legend' series. Lunch is $40, including tax and tip and an explanation as to how Paxson ever came to be known as a legend."
• MORE ROCKET FUEL — Lab tests confirmed Roger Clemens' DNA and performance-enhancing substances on syringes supplied by former trainer Brian McNamee, The New York Times reported.
What's next, Clemens' fingerprints on Mindy McCready's Clearasil?
• PASS THE CIGARARS — Headline at Fark.com: "Federer to be a fatherer."
LAS VEGAS REVIEW-JOURNAL WIRE SERVICES