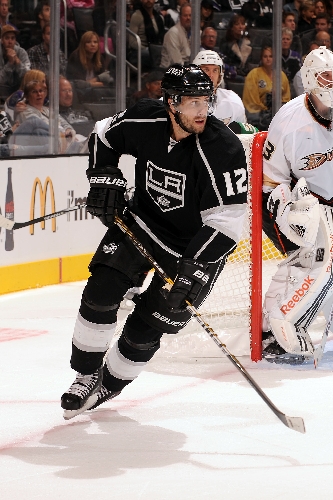 With the offseason additions of Simon Gagne and Mike Richards, the Los Angeles Kings have become a veritable West Coast version of the Flyers.
The former Philadelphia forwards join an array of Flyers alumni in Los Angeles in forward Dustin Williams, general manager Dean Lombardi, coach Terry Murray and assistant John Stevens.
"That's one of the reasons I wanted to come here," the 31-year-old Gagne said. "I feel comfortable coming in."
Gagne spent the first 11 years of his career with the Flyers before being traded to the Tampa Bay Lightning before last season.
The two-time NHL All-Star signed a two-year, $7 million free-agent contract in July with the Kings — who will play the Colorado Avalanche at 6 p.m. today in their annual Frozen Fury exhibition game at the MGM Grand Garden.
"The Kings have been pushing for me since last year," said Gagne, who scored 17 goals and 40 points in 63 games for the Lightning and tallied five goals and 12 points in their playoff run to the Eastern Conference finals.
Gagne and Richards are expected to bolster an offense that was near the bottom of the NHL in scoring and on the power play last season.
After playing on the same line for the Flyers for three years, Gagne, a left wing, and Richards, a center, will be reunited on Los Angeles' second line, alongside right wing Dustin Brown.
"If you look at the potential on that line, I know we can do a lot of great things together," said Gagne, a seven-time 20-goal scorer who has battled injuries in recent years.
After compiling 88 goals and 147 points in the 2005-06 and 2006-07 seasons, Gagne suffered a series of concussions that cut short his 2007-08 season.
He bounced back with 34 goals and 74 points in 2008-09 but underwent double hernia surgery early in 2009-10.
He also suffered a broken right foot in the first round of the 2010 playoffs but made a dramatic return 17 days later in the second round against the Boston Bruins. His overtime winner in Game 4 kept the Flyers alive and ignited their historic comeback from a 3-0 deficit to win the series en route to the Stanley Cup Finals.
Gagne, who scored two goals in Game 5 and also netted the series winner in Game 7, said he wasn't supposed to play in Game 4.
"Two days before that, I was still walking with crutches," he said. "To be able to find a way to come back and play with a broken foot and to be able to score that goal in overtime … that whole series is something special to remember."
Despite his playoff heroics, Gagne was traded to Tampa Bay shortly after the Flyers lost to the Chicago Blackhawks in the Stanley Cup Finals.
"I was shocked," he said. "I played with a lot of injuries, and you give so much to a team, and they ask if you're willing to remove your no-trade clause to get traded.
"After that, you understand it's a business, and you need to move on. But it was very hard, especially after 11 years at the same place."
A healthy Gagne has high hopes for the Kings, who equaled their franchise record for wins (46-30-6, 98 points) last season before losing in the first round of the playoffs to the San Jose Sharks.
"I think we can be really good and surprise a lot of teams," he said. "It's really clear what the organization wants to do. It wants to get to the next level, and I don't think losing in the first round of the playoffs is acceptable."
Contact reporter Todd Dewey at tdewey@reviewjournal.com or 702-383-0354.
LOS ANGELES VS. COLORADO
WHAT: Annual Frozen Fury exhibition game
WHEN: 6 p.m. today
WHERE: MGM Grand Garden