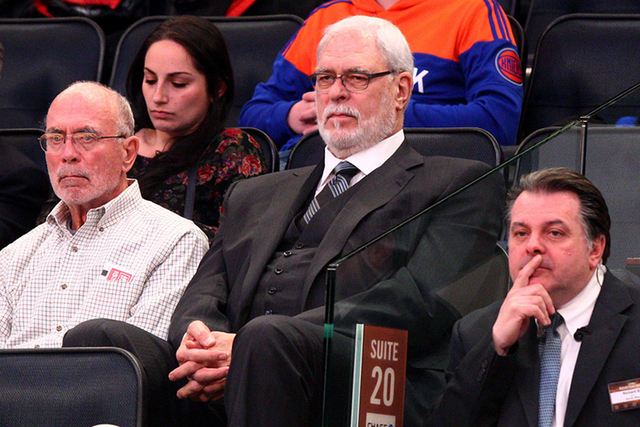 Recent comments by New York Knicks president Phil Jackson reportedly cost his team some money.
According to a Yahoo Sports report Tuesday night, the NBA fined the Knicks an undisclosed amount in response to Jackson's remarks after he watched Ohio State play Nebraska on Thursday in Columbus, Ohio.
Following the game, Jackson told Cleveland.com that Buckeyes freshman guard D'Angelo Russell is a "great looking kid, (a) great prospect."
NBA rules prohibit employees from commenting on college underclassmen.
Russell is widely viewed as the top guard prospect in this year's draft, assuming he leaves Ohio State after one season. He is averaging 19 points, 5.8 rebounds and 5.3 assists per game.
The Knicks figure to land one of the top selections in the draft, as their 12-47 record is the worst in the NBA.
Jackson was hired as the Knicks' president last March. He previously spent 20 seasons as an NBA coach, winning a record 11 championships combined between the Chicago Bulls and the Los Angeles Lakers.
Jackson was fined once previously during his Knicks tenure, receiving a $25,000 penalty last June for tampering with then-Oklahoma City Thunder guard Derek Fisher. Jackson said at the time he was considering hiring Fisher as New York's head coach. Fisher got the job weeks later.