Kurt Busch breezes through Indy 500 refresher test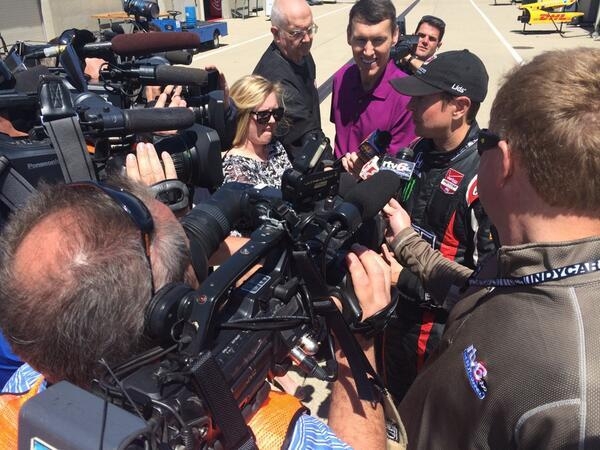 So far, so good.
So fast.
Las Vegas native Kurt Busch, who is attempting to become the fourth driver in auto racing history to do the "double" — drive in the May 25 Indianapolis 500 and that night's NASCAR Sprint Cup race, the Coca-Cola 600 at Charlotte, N.C. — passed his Indianapolis refresher test Tuesday before rains hit Indianapolis Motor Speedway.
Busch, driving the No. 26 Suretone Honda for car owner Michael Andretti, turned 66 laps on the narrow 2.5-mile oval with a top speed of 220.844 mph.
Jacques Villeneuve, the 1995 Indy 500 winner and 1997 Formula One world driving champion, also completed his refresher test, in which drivers complete laps in speed increments based on weather and track conditions.
Villeneuve, who will be attempting his Indy 500 return in a car owned by Henderson's Sam Schmidt, posted a top speed of 217.742 mph and turned 83 laps.
Last year, the slowest speed among the 33 Indy 500 starters was 223.176 mph by Katherine Legge. The pole speed was 228.762 mph for four laps set by Ed Carpenter.
"Overall, it was a good day just to settle in with the team and advance further than rookie orientation," Busch told a flock of reporters afterward. "It felt good to give feedback to the team from the car and have them explain things to me how we're going to move forward. They continued to change downforce combinations on the car and it was just neat to feel all that and check it off the list.
"The last run we made was just about where they would unload for race trim."
Busch indicated he was eager to get back in the Indy car when practice begins May 12.
"Now that all the newness and moments of smiling and 'this is Indy' are wearing off, that's when the serious hat goes on and we start to ramp up the program," he said.