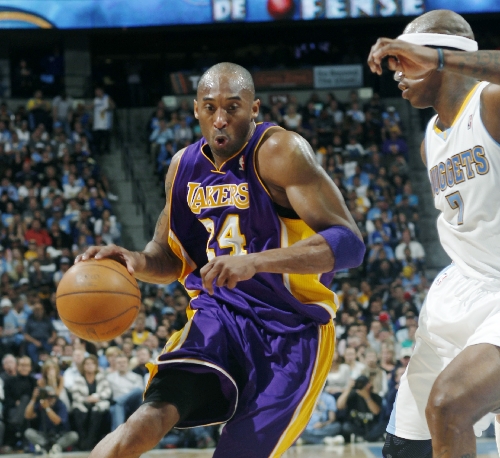 DENVER – Kobe Bryant and Andrew Bynum put up their usual big numbers. Their supporting cast came up even bigger, sealing the Los Angeles Lakers' 92-88 victory over Denver on Sunday night that put the Nuggets on the brink of elimination.
Bryant had 22 points and Bynum added 19 to help the Lakers overcome a six-point halftime deficit and take a 3-1 lead in the first-round playoff series that they can wrap up Tuesday when the series shifts back to Staples Center for Game 5.
Sixth-man Jordan Hill had 12 points and 11 rebounds, and recently acquired guard Ramon Sessions and reserve point guard Steve Blake each hit crucial 3-pointers in the final minute as the Lakers broke free.
Those were the players the Nuggets preferred had the ball in crunch time, and Bryant wasn't at all hesitant to oblige.
"Sessions has hit big 3s. Even when I was out he hit some big 3s to win games. He did it again tonight. I have confidence in him," Bryant said. "If you're observing the game in the third quarter I hit Sessions for an open shot, Blake for an open shot and (Matt) Barnes for an open shot and they missed all three of them.
"George (Karl), being observant as he is, saw I was (ticked). I was and didn't think I would trust them at the end of the game to knock down those shots, but they stepped up and knocked them down."
With the game tied at 86, Danilo Gallinari was covering Bryant when a hard screen by Pau Gasol sent the Italian to the floor grabbing his throat. While Gallinari stayed down, Sessions' 3-pointer from just in front of the Nuggets bench put the Lakers ahead 89-86 with 48 seconds remaining.
"It was a tough pick; you've got to expect that in the playoffs," Gallinari said. "I've got to be ready and play defense. Unfortunately they hit a big shot out of that."
Andre Miller was whistled for basket interference at the other end, and Bryant found Blake for a 3-pointer from the left corner with 18.9 seconds left for a six-point cushion, Los Angeles' biggest of the night.
Blake got a bear hug from Bryant during the 20-second timeout.
"Those moments don't scare him," Bryant said.
"It's always good when you get a hug from Kobe. It means you did something right," Blake said. "It was a total team effort for us tonight."
Sessions, whose acquisition from Cleveland this spring led to the trade of five-time NBA champion Derek Fisher, scored 12 points, and Blake had 10.
"They got the two 3s to go down at the end of the game," Karl said, "but conceptually what we're trying to do at the end of the game is not let Kobe, Bynum and Gasol beat you."
Instead, it was Sessions, Blake and Hill who did the damage.
Gallinari led the Nuggets with 20 points, and Miller had 15.
After torching the Lakers for 50 points combined in the previous two games, Ty Lawson was held to 11, and Nuggets big men Kenneth Faried and JaVale McGee weren't nearly as effective on offense or disruptive defensively as they were in Game 2, when they combined for 28 points and 30 rebounds.
Together, they had 14 points and 11 rebounds Sunday.
The game was briefly delayed with 1:10 left in the first half when a female fan started walking across the court while the Nuggets were setting up a play. The woman walked several steps onto the court as Lawson brought the ball past halfcourt. Officials blew the whistle to stop the play and the woman was escorted away by security.
The woman, identified as 20-year-old Savannah McMillan-Christmas of Denver, was cited for trespassing.
LOS ANGELES 92
DENVER 88
■ KEY: Ramon Sessions hit a go-ahead 3-point basket with 48 seconds left, and Steve Blake's 3 gave the Lakers a six-point lead, their biggest of the game.
■ NEXT: Game 5, Nuggets at Lakers, 7:30 p.m. Tuesday, TNT (18)
AROUND THE LEAGUE
■ PIERCE LIFTS CELTICS TO 3-1 LEAD – At Boston, Paul Pierce scored 24 points in 18 minutes and the Celtics opened a 37-point lead before rolling to a 101-79 victory over the Atlanta Hawks to take a 3-1 series lead. Boston can finish off the Hawks in Atlanta on Tuesday. Two nights after his triple-double in Game 3, Rajon Rondo had 20 points and 16 assists for the Celtics.
Josh Smith returned after missing Friday's game and had 15 points and 13 rebounds for Atlanta. Al Horford, playing for the first time in almost four months, scored 12.
■ ANTHONY, KNICKS SHOW PULSE – At New York, Carmelo Anthony scored 41 points, Amare Stoudemire had 20 points and 10 rebounds in his return from a cut hand, and the Knicks snapped their NBA-record 13-game postseason losing streak by beating the Miami Heat 89-87 in Game 4.
New York gained its first playoff win since April 29, 2001, but at a stiff cost. Guard Baron Davis dislocated his right kneecap in the third quarter.
LeBron James scored 27 points for the Heat, who will try to close out the series in Game 5 at home Wednesday.
■ 76ERS HAVE BULLS ON ROPES – At Philadelphia, Spencer Hawes scored 22 points and Jrue Holiday had 20 to help the eighth-seeded 76ers defeat the injury-riddled Chicago Bulls 89-82 and take a 3-1 lead in their Eastern Conference series.
Philadelphia has won three games in a row and can clinch the series in Game 5 on Tuesday at Chicago.
C.J. Watson (Bishop Gorman) scored 17 points for the Bulls, who were without Derrick Rose (torn ACL) and Joakim Noah (sprained ankle).