Lakers wear 'I can't breathe' shirts before Kings game
December 9, 2014 - 10:13 pm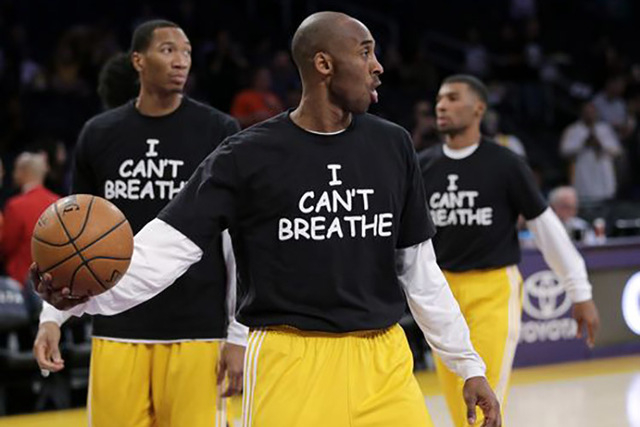 Los Angeles Lakers players wore black shirts that said "I can't breathe" while warming up before their game versus the Sacramento Kings in Los Angeles on Tuesday night.
Every player except backup center Robert Sacre wore the shirts, and had them on their dressing room chairs before the game, according to ESPN.
The shirts were in reference to the last words spoken by 43-year-old Eric Garner, an unarmed black New York man who died earlier this year after being put in a chokehold by a white New York City police officer. Garner was being arrested for selling untaxed cigarettes.
A grand jury announced its decision last week not to indict Officer Daniel Pantaleo, who was the arresting officer. U.S. Attorney General Eric Holder has said federal authorities are planning a civil rights investigation into the July 17 death.
Garner's last words have become something of a rallying cry since the grand jury's decision, particularly in the wake of the recent grand jury decision not to indict the Ferguson, Mo., police officer responsible for the shooting death of Michael Brown.
Hundreds of New Yorkers have taken to the streets to protest the decision, and some athletes have expressed their support for the Garner family. Some St. Louis Rams players wrote the phrase or the names of Garner and Brown on their wrist tape and cleats before their Sunday game against the Washington Redskins.
Cleveland Cavalier players LeBron James and Kyrie Irving, as well as multiple players on the Brooklyn Nets, sported shirts similar to the Lakers' during their Monday game.