Lamas gets crack at title against Aldo in UFC 169
January 30, 2014 - 12:10 am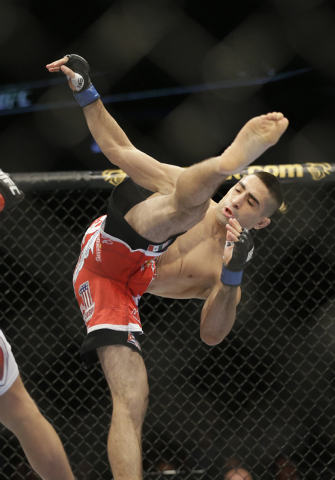 NEW YORK — After the battle Ricardo Lamas went through to get a title fight, beating featherweight champion Jose Aldo might seem like a breeze.
Because of injuries suffered by himself and Aldo, Lamas essentially has been the top contender for about 18 months.
Saturday finally will be the day Lamas gets to step into the cage for the title shot he earned and has been awaiting.
Hopefully.
"It's kind of in the back of your head that there's been so many delays, and it could happen again," Lamas said Saturday night in his hometown of Chicago before leaving for New Jersey, where he will fight Aldo at Prudential Center in Newark in the main event of UFC 169. "It's one of those things where you're not going to believe it's actually happening until you're walking into the cage, but I try not to dwell on those negative things. I just stay focused on my training and doing what I have to do.
"I just hope that polar vortex or whatever it is doesn't cause a blizzard that cancels the fight or something."
Lamas probably hasn't put much time into trying to forecast the weather. He has his hands full trying to get ready to fight Aldo, an ultra-talented Brazilian who has won 16 straight fights dating to 2005.
Aldo's mystique might be as strong as his immense skills.
"I think a lot of people see him as one of the pound-for-pound best fighters in the UFC, and he might be, and I think a lot of people go into the fight already mentally defeated before they actually step in the octagon with him," Lamas said. "It's not going to be like that for me. I'm very strong mentally and physically, and I will go in there and not be intimidated by his name."
It's not the name or the aura that do physical damage, however. It's Aldo's kicks and punches.
The champion has been particularly effective with leg kicks in the Ultimate Fighting Championship. But Lamas says he is ready for anything, at least anything human.
"He's a man just like anyone else," Lamas said. "He puts his pants on one leg at a time, or at least I think he does, unless he has some mutant powers I'm not aware of. Whenever you step in there with another man, it's an even match. Anyone can beat anyone on any given day."
Lamas, 31, said he's just glad to have the title shot he has earned by winning all four of his fights since dropping to 145 pounds in 2011. He's also happy just to be fighting. After two wins in 2011, Lamas fought only once in 2012 and once in 2013, which was in January.
The injuries — to him and Aldo — were one reason. But there also were times when Lamas thought he was passed over for opportunities he deserved.
He didn't want to let that happen again.
"I think that was because I wasn't that well known as a fighter," Lamas said. "I didn't talk a lot with the media. I'm not a loudmouth or anything like that. I think that definitely hindered my chances at getting the title shot. After my last fight, I started being more vocal about what I wanted and what I think I deserved, and I think that helped a lot in me getting this opportunity."
For the title, he must end one of the longest winning streaks in the sport. The fight is part of a pay-per-view card that includes a bantamweight title bout between Urijah Faber and Renan Barao.
Contact reporter Adam Hill at ahill@reviewjournal.com or 702-224-5509. Follow him on Twitter: @adamhilllvrj.