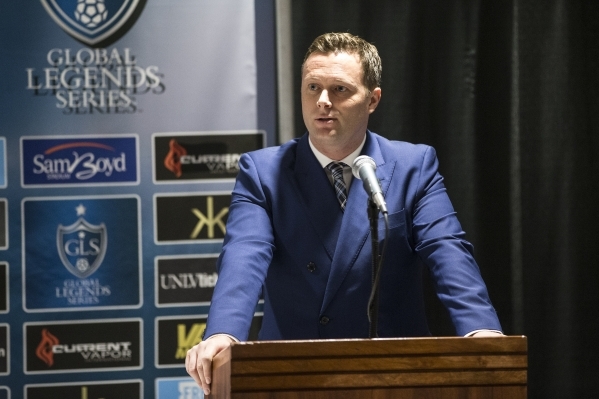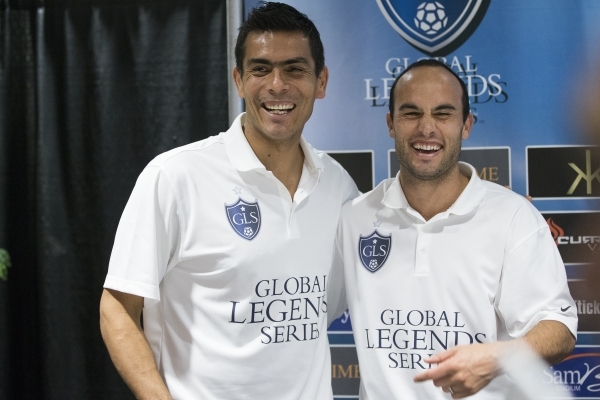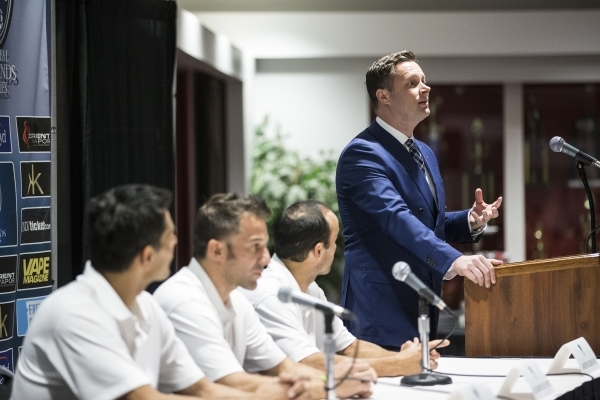 Landon Donovan and Alessandro Del Piero battled in a 2006 World Cup thriller between the United States and Italy. Now they could be teammates for one night in Las Vegas.
The Global Legends Series held a news conference Thursday to promote an exhibition match for Feb. 20 at Sam Boyd Stadium between the most decorated soccer players in the sport's history.
Donovan, arguably the best American soccer player ever, Del Piero, a former Italian national team standout, and Oswaldo Sanchez, a legendary Mexican goalkeeper, will play in what has become a senior tour of sorts for soccer players. GLS Las Vegas will feature two teams captained by Fabio Cannavaro, who won the 2006 World Cup with Italy, and Luis Figo, who is best-known for his day with Real Madrid and as a Portuguese standout.
"I think it's going to be a fun event," said Donovan, who competed in 57 matches for the U.S. national team. "I think people will get more than they probably realize from the players because we're all competitive and we have that in us.
"Maybe not the top quality they saw in our prime, but it's going to be a lot of fun and a great evening."
Meeting at the Si Redd Room at the Thomas & Mack Center, Donovan and Del Piero before speaking to reporters reminisced about their 1-1 draw in the second match of the Group E stage in 2006. Italy went on to win the World Cup, and the U.S. didn't make it past the group stage.
"We won every game but that one," Del Piero said.
Del Piero said he and Donovan have teamed before during a friendly on the Santa Monica, California, beach.
Las Vegas is the second stop on the GLS tour. The first destination was in Bangkok, Thailand, when Team Cannavaro defeated Team Figo 8-5 in 2014. GLS has scheduled matches in Dubai, Tokyo, Seoul and Qatar.
Cannavaro and James Davies Yandle co-founded GLS for players that wanted to keep playing after their careers were over.
But not every former player gets to compete in the GLS. Players must have won either a World Cup, a European Championship or a Champions League or have made at least 50 appearances for their country in international competition.
"We tried to develop a brand and basically a legends-only club," Yandle said. "We wanted to leave a good footprint wherever we want. We have a charity, Free the Children. We believe in that charity, and we are building a school in Kenya, and always leave clinics and bring football coaches back wherever we play.
"We want to give fans the experience of seeing these guys live all together."
Donovan falls under the third requirement, and that's OK with the former U.S. captain.
"I only made it because I played 50 times for my country," a smiling Donovan said. "It wasn't a European cup winner or a World Cup winner, but I appreciate the opportunity to be here."
Fourteen World Cup winners will be part of the exhibition match plus winners of 75 UEFA Champions League titles and 294 league crowns. The participants had more than 1,000 appearances for their countries, and player transfer fees of more than $1.4 billion will be on the squad.
Donovan said he hopes to see a Major League Soccer franchise in Las Vegas in the near future.
"I played with various players that played in Vegas. Herculez Gomez grew up in Henderson, and they rave about what a great place this is for soccer," Donovan said. "There's no reason why a city like this shouldn't be a successful if they were to get an MLS team. I think it would be fantastic. … Players would love it.
"This is the type of city that should have a major pro sports team. I would love to see Major League Soccer on the forefront of that and being the leader."
There will be plenty of soccer in Las Vegas next month. The Los Angeles Galaxy and the San Jose Earthquakes will play an exhibition match Feb. 13 at Cashman Field.
"This is the first time soccer legends will play in the United States," Sanchez said. "Soccer is growing in the United States, and Las Vegas is the perfect city to host this event."
Del Piero promised many goals will find the back of the net at Sam Boyd Stadium.
"Sorry, man," Del Piero told Sanchez, who was the Mexican national team's goalkeeper for 99 matches.
— Contact Gilbert Manzano at gmanzano@reviewjournal.com or 702-383-0492. Follow him on Twitter: @gmanzano24
GLOBAL LEGENDS SERIES
WHO: Former World Cup soccer players who have won a World Cup, a European Championship or a Champions League or have made at least 50 appearances for their country in international play.
WHAT: A five-city world tour of 32 soccer players.
WHEN: 4:30 p.m. Feb. 20
WHERE: Sam Boyd Stadium
TICKETS: Available at UNLVtickets.com. Tickets range from $35 to $95.