Las Vegas 51s offense stuck in second-half slump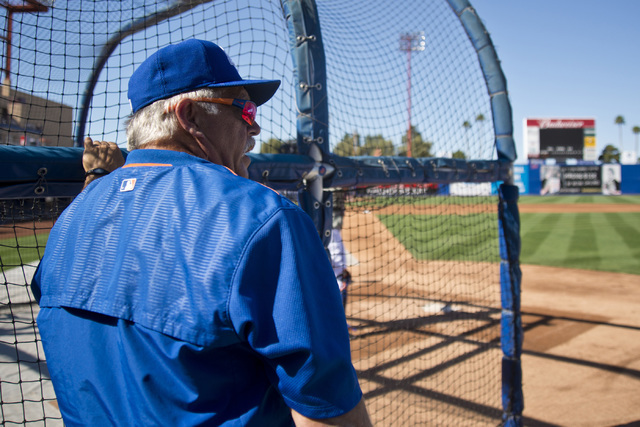 The second half of the Pacific Coast League season started well for Las Vegas. But after taking three of four from Iowa, the 51s have struggled, losing eight of 12 entering Friday's game at Fresno.
They lost three of four against an Omaha team that was 40-53 entering the series, then lost three of four to in-state rival Reno at Cashman Field. After splitting the first four against Fresno, a question has risen about where the offense went.
The problem is that the ability to get big hits has disappeared in the past 12 games. Starting with the July 18 series-opening loss to Omaha, the 51s are 21-for-112 (.187) with runners in scoring position. They also have left 66 runners on base, almost 5½ per game.
The worst came against Reno on Monday, when the 51s stranded eight and went 0-for-7 with runners in scoring position.
"We just couldn't put (hits) together," hitting coach Jack Voigt said after an 8-2 loss in Omaha on July 20. "It's not about getting them when they matter, it's about putting them together. We just didn't put enough of them together."
In that game, the 51s had eight hits spread across six innings. In only two innings — the two in which they scored — did Las Vegas record more than one hit.
The next night, a 4-2 victory, the 51s still couldn't string hits together the way Voigt would have hoped. They scored all their runs in one inning, and only twice did they have multiple hits in an inning.
Las Vegas averages 5.9 runs and 10.0 hits per game. It's near the top of the PCL in almost every offensive category. So when the pitchers go out and toss gems, those are games Las Vegas expects to win.
That's why the three games from Monday to Wednesday had to be particularly vexing. Pitchers Ricky Knapp, Robert Gsellman and Josh Zeid combined to throw 20 1/3 innings and allow four runs, a 1.77 ERA.
The 51s lost two of the three, falling 3-2 and 1-0.
"It's nice to see (the offense) come back the way we've swung the bats the last few days," manager Wally Backman said after Las Vegas' 6-3 victory Wednesday. "We've only won one game in the last three games, and we've probably had the three best-pitched games back-to-back-to-back."
While Knapp, Gsellman and Zeid were excellent in their last run through the rotation, it's been a rough go for the normal rotation stalwarts. Right-hander Gabriel Ynoa and left-hander Sean Gilmartin, each with a team-leading nine wins, have struggled lately.
Ynoa's struggle dates to the beginning of June, when his ERA was 2.40. In his 11 starts since a gem May 28 against Memphis, his ERA has soared to 4.52 and he has just four quality starts. In his last two outings, he has gone a total of 10 2/3 innings and given up 11 earned runs.
Gilmartin's struggles are less pronounced and less of a concern. In four starts from June 14 to July 9, he was superb, going 3-0 with a 2.51 ERA. In his past two starts, he has pitched 11 innings and allowed 10 runs, seven earned.
"We just really haven't consistently gotten big hits when we needed them," said Backman, whose team opens a four-game series Saturday against El Paso at Cashman Field. "The pitching was inconsistent, and the offense has been inconsistent as of late."
Justin Emerson can be reached at jemerson@reviewjournal.com. Follow on Twitter: @J15Emerson