Las Vegas 51s' season ends with more questions than answers
September 6, 2016 - 6:40 pm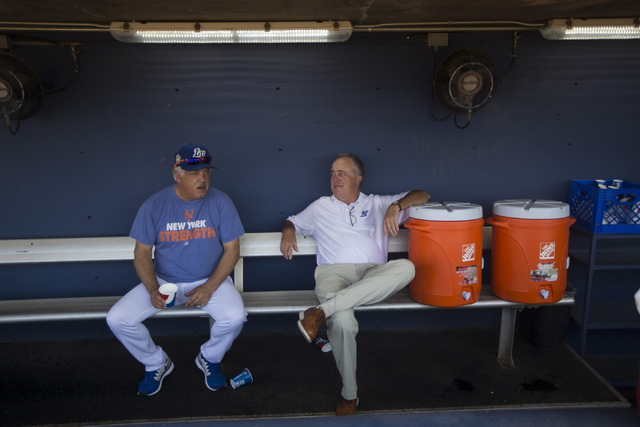 The Las Vegas 51s wrapped up their season Monday at 70-74, finishing in third place for the first time since the New York Mets came to town four years ago.
Third baseman T.J. Rivera eked out the Pacific Coast League batting title on the season's last day, beating teammate Brandon Nimmo by just a percentage point. Led in part by Rivera and Nimmo, Las Vegas spent the season as one of the top offensive teams in the league but never gained much traction due to some inconsistent pitching.
"It was crazy the whole season how many talented players we had and we didn't really put anything together," Rivera said. "Sometimes that happens, and there were a lot of moves, which you've got to expect in Triple-A. Unfortunately as a team, we didn't accomplish the things we kind of set out to get."
As the team heads into the offseason, there are still plenty of Las Vegas 51s questions to watch throughout. Here are a few of the most important storylines:
How will the September call-ups do?
The injury-depleted Mets have gotten serious reinforcements, with a total 11 September call-ups.
Michael Conforto, Ty Kelly, Kevin Plawecki and Gabriel Ynoa were the first round of call-ups on Sept. 1, with Matt Reynolds joining a few days later and Erik Goeddel, Josh Edgin, Gavin Cecchini, Eric Campbell, Nimmo and Rivera getting the call after the 51s' season ended.
"We've sent the whole 40-man roster up to the big leagues because they're in a race," Backman said. "These guys, T.J., Brandon Nimmo, those guys have an opportunity to help the organization go back into the playoffs, I think. They'll probably be in the bench but it's a pretty solid bench when you have guys like that. … Those guys can hit."
All but Cecchini, a shortstop, have been to the big leagues this season with varying results, and while most will likely see sporadic playing time, they could have a chance to contribute down the stretch.
Will Wally Backman be back?
Backman has managed the 51s for the past four years, but whether he'll come back next season is still up in the air.
"I've got to see what happens this offseason with major league teams," Backman said.
It's no secret that Backman wants to manage in the majors, but if he does come back to Las Vegas, it would be because of the strong relationships he's developed with members of the 51s' front office, including general manager Chuck Johnson and team president Don Logan.
"I'd say if Wally doesn't get a significant big league job, meaning either a manager's job or a bench coach's job or something like that, I would hope he's back," Logan said. "He's as good as anybody we've ever had manage. He's easy to work with. He's fun. He's a real benefit."
Who probably won't be back?
It might be too early to say — and a good portion of it depends on what the Mets do with trades in the offseason — but right now, Backman said catcher Johnny Monell and first baseman Marc Krauss are two free agents who might not be back.
As far as position players, Roger Bernadina is also a free agent and has expressed interest in staying. Among pitchers, Backman said starters Darin Gorski and reliever Chase Huchingson were free agents.
The organization can also lose players in the Rule 5 draft, which happened last year with 51s pitcher Matthew Bowman.
"There's a lot of things in the mix for what the team can really look like because you can't protect everyone," Backman said
What prospects might be here next year?
It's much easier at this point to figure out who could be back, and next year's roster could look fairly similar to this year's.
"It's going to have a couple of young players on it, but it'll be a more experienced team, without question," Backman said. "I would bet that at least 60 percent of the players and probably more than that that were here this year at some time will be here. At least. Probably 75 percent is even closer."
That means guys like Cecchini, Nimmo and Reynolds could be back.
Same with pitchers like Gabriel Ynoa, Robert Gsellman and Seth Lugo, though the latter two have impressed lately with the Mets.
"If everybody's healthy in the big leagues — (Matt) Harvey comes back, (Zack) Wheeler comes back — there's going to be no spots on the major league teams for those pitchers that have done a nice job in the big leagues," Backman said. "Those guys may all have to come back to Triple-A even though the success they've had in the big leagues."
That, combined with a couple more of the Mets top prospects who should swing through Las Vegas, figures to make up a pretty good team.
Backman said shortstop Amed Rosario, the Mets' top prospect, would start the season with the 51s. Rosario finished this year hitting .341 at Double-A Binghamton. Dominic Smith, the Mets' second-ranked prospect per MLB.com, should also see time after the 2013 first-round pick hit .302 and drove in 91 runs at Binghamton this year.
Rosario and Smith combined with Cecchini and Nimmo would give Las Vegas four of the organization's top-five ranked prospects.
Will a stadium deal be struck?
The ongoing talks for a new stadium are another thing to watch for throughout the offseason. Though those talks had stalled, Logan remained optimistic that a deal could be struck.
The 51s desperately want to leave Cashman Field for a stadium that would be built in Downtown Summerlin. If a deal was made with the city of Las Vegas during the offseason, team officials hope a stadium would be ready for play in 2018.
At the very least, talks might be slow until everything is sorted out with the pursuit of a 65,000-seat domed stadium.
Betsy Helfand can be reached at bhelfand@reviewjournal.com. Follow on Twitter: @BetsyHelfand
RELATED
Talks for new 51s stadium in Summerlin hit stalemate
It's not hard to find why 51s want out of Cashman Field
New York Mets, Las Vegas 51s extend affiliation deal
As many as 11 51s players expected to join Mets in September