Las Vegas approves United Soccer League team for Cashman Field in 2018
Updated February 9, 2018 - 4:43 pm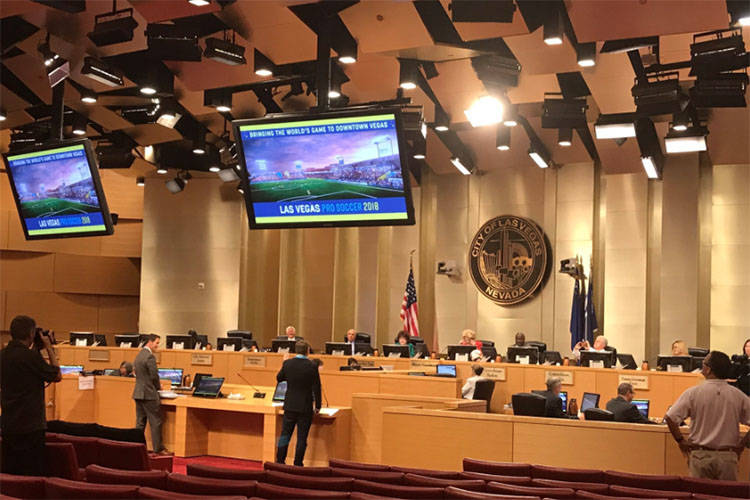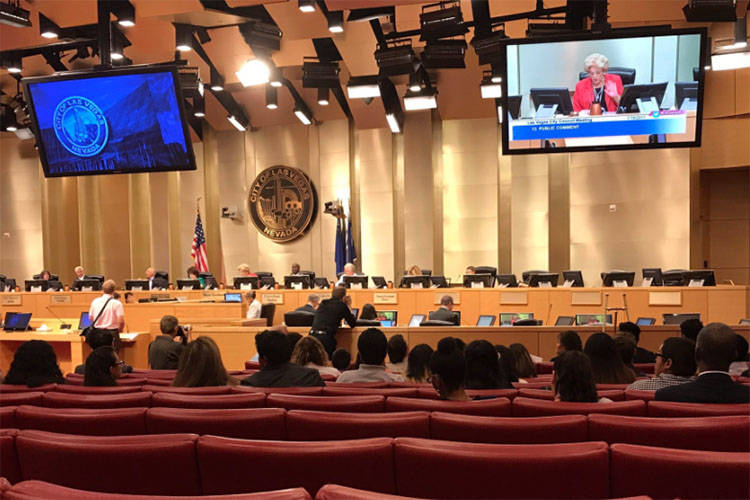 Brett Lashbrook had the support of city officials and wasn't seeking public money, but he still went to the podium Wednesday unsure if the Las Vegas City Council would allow him to bring soccer to downtown.
"Cautiously optimistic," was a phrase Lashbrook used often this week.
It's now full speed ahead for Lashbrook after seven council members voted unanimously to approve a 15-year lease agreement for a United Soccer League team to play its home games at Cashman Field starting in February for the 2018 season.
Lashbrook, who founded Las Vegas Soccer LLC, is the owner of the minor league franchise. Las Vegas becomes the 33rd team to join the USL, a developmental league for Major League Soccer.
Lashbrook's yet-to-be-named club will share Cashman with the 51s' minor league baseball team.
Brett Lashbrook all smiles after delivering first pro soccer franchise to Las Vegas pic.twitter.com/poZJDlzR8h

— Gilbert Manzano (@GManzano24) July 19, 2017
"We've been saying this for many, many months," Lashbrook said. "We've been having lots of meetings behind the scenes and talking to a lot of stakeholders around the community. We believe Las Vegas is a soccer city, and we believe we will prove this. Not only is it a soccer city but that it will support soccer toward record numbers."
Las Vegas' USL team will play 16 regular-season games at Cashman in 2018 and could face MLS and international clubs during preseason in February. The USL regular season and postseason run from March to early November.
Lashbrook has high hopes of selling out the 10,000-seat downtown stadium on a nightly basis. The average attendance for the USL's top 10 drawing teams in 2016 was 6,724, a 25 percent increase from 2015, league figures show.
According to the lease, Lashbrook's soccer club will pay the expenses for converting the field to accommodate the two sports. The soccer team is also required to put down a $50,000 deposit in case of damages to the field.
The lease allows the city to terminate if it enters into an agreement with an NFL, MLB, NBA or MLS team for the Cashman site or a developer for another use. Ownership of Cashman Field was transferred last month from the Las Vegas Convention and Visitors Authority to the city. The LVCVA will continue to be the operator of Cashman for as long as the 51s play there.
The 51s will remain the primary tenant of Cashman Field and have priority on scheduling. The Triple-A affiliate of the New York Mets has expressed interest in moving to a new stadium in Summerlin after its lease is up in 2022, or sooner.
If the 51s decide to move, the city has hopes of converting Cashman into a modern soccer stadium and released a rendering during the city council meeting.
Optimism for MLS
Lashbrook, who was previously a special assistant for MLS Commissioner Don Garber, has helped multiple cities land USL and MLS franchises. Most notably, Lashbrook was a big reason Orlando City SC was added to the MLS when he was serving as Orlando's chief operating officer two years ago.
"Looks like we're back in the hunt," Las Vegas Mayor Carolyn Goodman said about possibly making another run at an MLS team. The city's previous bid was denied in 2015 and awarded to Minnesota, whose team opened play this year.
"I do believe Major League Soccer will come here in the future," Lashbrook said.
Twelve cities are competing for four MLS expansion clubs. Las Vegas did not make a bid this time, but Goodman hinted at another attempt in the future.
"Bill Foley showed us how to do it," Goodman said, referring to the NHL's Vegas Golden Knights owner. "We also have Brett Lashbrook to lead the way, and we appreciate the LVCVA and the 51s for the support."
Reno's Greater Nevada Field is also home to both a minor league baseball team and USL squad.
"We have a great relationship with the 51s," Lashbrook said. "They were one of the first people we met with. Look around the country, other stadiums are sharing baseball and soccer. It has worked."
Las Vegas has added two pro teams in the past 13 months. The Knights were approved in June 2016 to join the NHL, and the NFL in March allowed the Raiders to relocate from Oakland to Las Vegas.
Lashbrook and the USL plan to introduce the team to fans in August. Team name suggestions are being taken on VegasProSoccer.com.
Councilman Ricki Barlow threw out the Las Vegas Neons as a possible team name.
"I got plenty of team names, but I won't say them right now," Goodman said.
Contact Gilbert Manzano at gmanzano@reviewjournal.com. Follow @GManzano24 on Twitter.
Ahead of today's #lvcouncil discussion about bringing pro soccer to Cashman, a rendering of what it could look like: https://t.co/IVufMvjaBW pic.twitter.com/iV77abQ8Mt

— City of Las Vegas (@CityOfLasVegas) July 19, 2017
Las Vegas Soccer LLC, Cashman Field lease breakdown
— Fifteen-year lease (2018-2032) with opt-outs for the city of Las Vegas.
— LV Soccer to cover field conversion expenses from 2018 to 2022.
— LV Soccer to put down $50,000 deposit in case of field damages.
— The Las Vegas Convention and Visitors Authory (LVCVA) will serve as the stadium's facility manager as long as the 51s play there.
— If 51s leave, LVCVA is the stadium, parking and concessions operator until 2022. The city takes over through 2032.
— LV Soccer has exclusive rights for hosting all soccer events.
— LV Soccer pays rent fee of $6,000 per game for 25 USL/MLS/collegiate matches.
— LV Soccer pays rent fee of $10,000 for non-USL soccer matches. Rate drops to $6,000 if city takes over operations.
— LV Soccer keeps parking and concession revenue.
— City to pay annual LVCVA management fee of $50,000 for handling expenses associated with soccer operations.
— LVCVA to keep LV Soccer's rent payments to help offset stadium expenses.