Las Vegas becoming hot spot for professional sports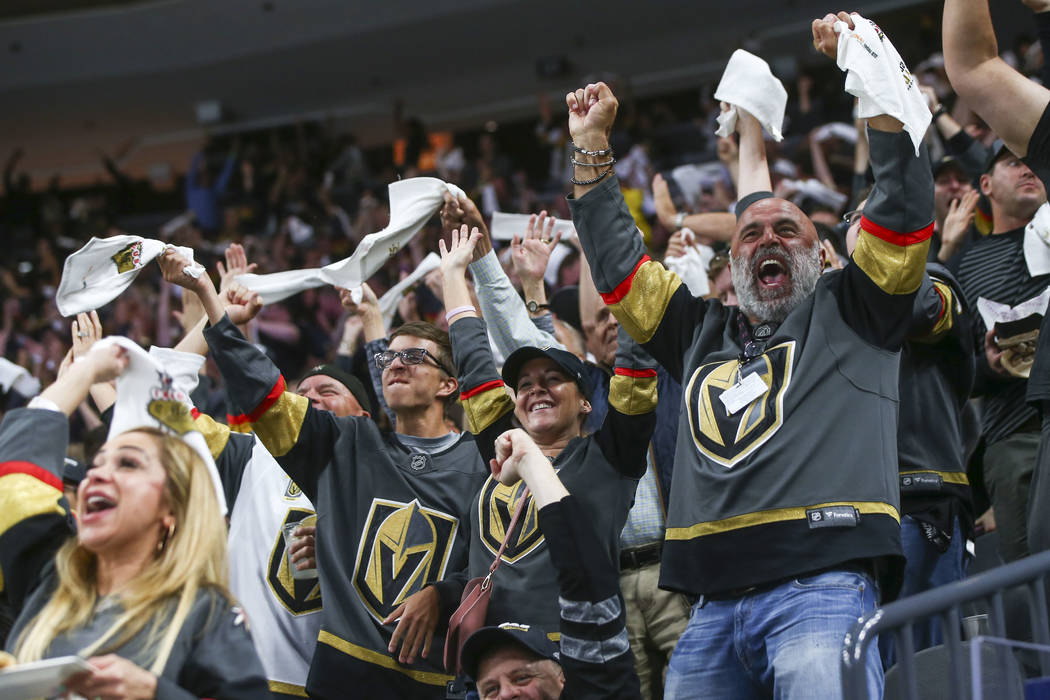 Don't look now but the world's favorite bachelor party destination is becoming a legitimate option for the world's biggest events.
Flashback to the Stanley Cup Final and recall how the city was overcome with hockey fever in a manner that only the most optimistic of puckheads could have predicted.
It's undeniable that the sports scene in Las Vegas has undergone a tectonic shift in a shockingly short amount of time. Two years ago there were no Vegas Golden Knights, no Las Vegas Lights FC, no Las Vegas Aces and no promise of the Las Vegas Raiders.
But the history of Las Vegas sports is longer than one might realize.
The Las Vegas Stars brought professional sports to the valley in 1983 when their baseball team started play. That team still exists, just under the 51s moniker and is moving to a brand new facility next year. The Las Vegas Thunder skated around Thomas & Mack Center in 1993. The Las Vegas Outlaws took their first snap in 2001.
"This is sort of an underrated sports town," said Marc Ratner, the UFC's vice president of regulatory affairs. "The allure of Las Vegas is very important."
Ratner has worn many hats over a Las Vegas athletics career that has spanned parts of seven decades. He recalls an earlier event that shined a spotlight on the city.
It was 1993, in a boxing ring erected outside of Caesars Palace. Evander Holyfield beat Riddick Bowe by majority decision. But it was the buzz in the crowd that Ratner remembers, and the eyes of the crowd pointed upward. The Fan Man, James Miller, crashed a parachute into the side of the ring, causing pandemonium and earning the fight "Event of the Year" by The Ring magazine.
"That's a moment that will always stick with me," said Ratner. "There's never been a more iconic stadium, I think, in the world than a fight outside Caesars Palace. Really a special place."
And Ratner was there.
"It's a magical place," Ratner said. "And for sports, it's perfect. They say we're the entertainment capital of the world? We'll be the sports capital of the world before it's all done."
We talked to six other current or former Las Vegas sports figures about their favorite Sin City sports moments:
Brett Lashbrook
Owner, Las Vegas Lights FC
Lived in Las Vegas since: 2015
What makes a great sports town?
"I think time and time and time again, those teams that are most supported by their communities, which in turn make them the most successful, which are those that are run and operated as civic assets. On paper the Green Bay Packers should never, ever, ever be successful. I've been to Green Bay. God bless the people of Green Bay, but no one would ever question that Green Bay is one of the greatest sports cities of all time."
What has held back Las Vegas?
"To me, Vegas has always been a big-league city, and for a variety of reasons, probably primary among them is this complete hypocrisy of professional sports shadows around gambling and sports gambling, has no-doubt stifled our growth."
What can make Las Vegas great?
"In so many ways it's a blank sheet of paper. To have an asset of 2.2 million people and such a short and shallow history of sports provides the opportunity for all of us to build something really, really cool together. I keep hearing Las Vegas referred to as the entertainment capital of the world. I really think we're on our way to being the sports and entertainment capital of the world."
Las Vegas sports fans:
"For so many years they have yearned, whether they knew it or not, they have yearned and cheered for a team by Las Vegas, from Las Vegas, for Las Vegas, of Las Vegas. There is something special about having your city — the one you live in and support and love and are proud to be from — on that jersey, and to represent and go take on the LAs of the world."
Favorite Las Vegas memory:
"It's the old Jerry Tarkanian Runnin' Rebel basketball days. To see what they did in the late '80s, early '90s, and people around the country still talk about those teams."
Don Logan
General Manager, Las Vegas 51s
Lived in Las Vegas since: 1984
On Las Vegas sports fans: "I've always felt that this is a great sports town. And the reason it's a great sports town is you can bet on everything. Nobody ever wants to talk about it – baseball was probably the worst about that – but I was just at Wolfgang Puck's for lunch and these guys are talking the World Cup and who they're going to bet on. And the U.S. isn't even in the World Cup, so I don't think the interest is there, but here there's interest because you can bet on it."
How Las Vegas has changed: "I've always felt that from a major league perspective, the first in has got the best chance for long-term success. … The NHL broke the lid and now you've got us, you've got the Lights, you've got the Knights, you've got the WNBA, you've got the Raiders. All of a sudden there's a lot of sports options for people.
Favorite Las Vegas sports memory: "I think my second or third year here, Devon White scoring from first base on a ball smoked up the gap off the fence, saying, 'Wow, I've never seen a guy run like that.' That just sticks out in my head to this day."
Desiree Reed-Francois
UNLV Director of Athletics
Lived in Las Vegas since: 2017
What interests her about her new home: Las Vegas is this dynamic, world-class city. What's interesting is there is this ethos of competition but also of guest service. What I've really seen is this wonderful spirit of proving the point that sports can really be a great unifier.
Las Vegas as a sports town: "We've got every ingredient necessary, from the UFC and what they've done, to having college sports teams, to having successful professional teams. You can put all that together and you can just make magic."
Other teams helping UNLV: "We want to be around other folks that are always striving for greatness. So seeing the Golden Knights' historic run, that benefits UNLV because people are talking about Las Vegas across the country and across the world. There's a power and a beauty in all that."
Favorite Las Vegas sports memory: "When I was at the University of Arizona (vs. UNLV basketball) game, it was my first time being in Thomas & Mack where I could just feel how special UNLV Runnin' Rebel basketball was, is and could be. It painted a picture of the future of UNLV athletics, and how it can really ignite and unite a community."
Karen Weitz
Centennial High School girls basketball coach
Lived in Las Vegas since: 1988
How the Golden Knights have energized Las Vegas: "I think the buzz around this city is great. You'll see Knights shirts at fancy events. I was at a funeral-type setting, people had Knights shirts on because it was game day. I was at a play, they had Knights shirts on because it was game day. And it's OK, because it's the Knights."
The new sports teams in Las Vegas: "When people think about Las Vegas, they just think about the Strip, and they forget there are actually schools and kids and people that have careers here. I just think it's given us purpose. I love it."
Getting season tickets with the Las Vegas Aces: "I was a little skeptical at first. I was like 'wow, what's this going to be like?' But they're fun, the games are really, really fun. I've enjoyed watching them."
Favorite Las Vegas sports memory: "I was here when UNLV won the national championship. It was crazy. People were honking on the Strip. You had people going crazy down there. It was just the best place to be. … It was almost like a pro sports team at that time. It's the only thing I can compare it to, when a pro sports team wins, everybody gets out and goes and parties."
Larry Brown
Clark County Commissioner, pitcher on original Las Vegas Stars
Lived in Las Vegas since: 1983
Las Vegas as a growing city: "I grew up in the Boston area, and have been to a lot of sports cities across the country, but nothing compares to Las Vegas. Not only as a gaming industry, but now as a sports destination, the community, everything is unique about Las Vegas."
What makes a sports town? "From the smallest community to the largest market, a sports fan is always wanting more. They want baseball, they want football, they want basketball, they want soccer, they want to be part of it because it's part of our nature, especially in America, the demand for sport being you either play it, you watch it, you tweet it, you bet it, sport is just a part of every community."
On Las Vegas becoming a sports town: "From a gaming standpoint, be it the boxing events or the UFC, it's always had that component, but the more traditional professional sports, you had to have that visionary, that person who was willing to take a risk on Las Vegas."
Favorite Las Vegas sports memory: "The one that I won't forget is showing up to Cashman Field for opening night in 1983. It was a sold-out house in a brand-new stadium. … That demonstrated to me that Vegas was more than the gaming capital of the world, it was a tremendous community here that was dying for professional sports, they were hungry to see something come to town and they responded in kind."
Tony Sanchez
UNLV football coach
Lived in Las Vegas since: 2009
How Las Vegas has impacted the sports world nationally: "We've won a Little League World Series, we've had a national champion football team (Bishop Gorman High School) here, we've had nationally ranked basketball teams here, we've had Findlay Prep here. You're starting to see guys playing in the NFL and NBA and Major League Baseball and Bryce Harper and all that. It's a growing city when it comes to franchises and that part, but you're starting to see the youth of Vegas make a major impact on the professional landscape, too."
Las Vegas sports fans: "Sometimes you wish you could plug yourself into the city because it's so electric. We're a city of energy, we're a city of vibrance, and you see that in our fans. When you go to those Knights games it was unbelievable. And we are a city that loves winners."
The football fandom in Las Vegas: "Football is America's sport — no bones about it. It's the most popular sport in the United States, far and away. And now having a professional team come here is a big-time deal. … I think bringing the NFL to Vegas is going to be bigger than anyone can imagine."
Favorite Las Vegas sports memory: "I remember sitting in T-Bones (Chophouse) one time eating a steak with Lorenzo Fertitta, and anytime you watch TV in there, there's no sound on, it's music in the background. I remember we're watching UNLV play North Carolina and it was one of the biggest games UNLV had had in a long time and he stopped (the performer) from playing and said, 'Turn the sound on,' and all of T-Bones listened to the last half of the basketball game, and we're rocking."
Contact Justin Emerson at jemerson@reviewjournal.com or (702) 387-2944. Follow @J15Emerson on Twitter.